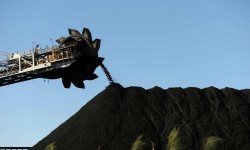 Friday - The Australian coal industry has begun lobbying the re-elected Morrison government to support hardline positions, including building new coal-fired power stations and weakening approvals processes for new mines.

20 May 19 - Since the news broke of his passing last week, former Australian leader Bob Hawke has been feted as the "environmental prime minister".

15 May 19 - Torres Strait islanders are about to file an unprecedented legal complaint against Australia, accusing the government of breaching their human rights by falling short on its Paris Agreement pledges.
14 May 19 - Most Australians see climate change as the number one threat to national interests. But in 2018, Australia was ranked 55th out of 60 countries in climate change performance.

8 May 19 - By ERWIN JACKSON | With Australia's current policy, the government is saying to business to sit on their hands and do little for another decade

7 May 19 - Just months after selling the last of its thermal coal assets, Wesfarmers – one of Australia's leading business conglomerates – has made a $776 million play to enter the lithium market and tap into the opportunities of the global switch to electric vehicles.

2 May 19 - Australia will cull more than two million untamed cats over the next year, cutting their numbers to about four million.
---
1 May 19 - Australia could be powered 100 per cent by "intermittent" renewables by the early 2030s, says climate change policy expert Professor Ross Garnaut.
15 Apr 19 - Rio Tinto has signalled it is prepared to quit its membership of industry associations, including the Minerals Council, if the council makes public statements inconsistent with Australia's Paris...
15 Apr 19 - More than 20 former fire and emergency chiefs from multiple states and territories say Australia is unprepared for worsening natural disasters from climate change and governments are putting lives at...
12 Apr 19 - Queensland has confirmed plans to put in place controversial new regulations for solar farm construction that will restrict the installation or removal of PV panels to licensed electricians.
11 Apr 19 - With demand set to rise across the world, Australia is set to become a global primary producer of hydrogen.
11 Apr 19 - Tasmania's bushfires might have resulted in the release of significant amounts of mercury from burnt trees into the atmosphere.
9 Apr 19 - Parts of Australia's climate change-impacted forests might never be the same again, scientists say.
4 Apr 19 - The Australian government has delivered its last budget before May elections with long-term climate and clean energy policies and technologies being ignored.
3 Apr 19 - A Bill Shorten Labor government in Australia would add about 100 high polluters to those subject to an emissions cap, and drastically slash the present cap's level.
2 Apr 19 - Japan's environment minister has announced he will "in principle" oppose any new plans to build or expand coal-fired power stations, as further signs emerge of a dramatic energy pivot by Australia's...
1 Apr 19 - Cuts to carbon emissions from vehicle efficiency standards have been left out of government projections for meeting Australia's Paris climate commitments, indicating the policy has been shelved.
26 Mar 19 - New analysis shows 22 of Australia's largest companies are actively working to undermine the Paris Agreement targets, betting shareholders' money on strategies that assume global climate change...
---