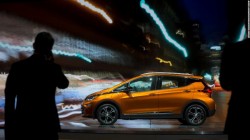 Monday - Someday, electric cars will just be cars. The big question is when will that happen?

17 Jul 19 - THE UK Government has handed Jaguar Land Rover a loan guarantee of more than $NZ900,000 to help to accelerate its progress in the global electric vehicle race.

16 Jul 19 - Emissions from government vehicles are falling.

9 Jul 19 - New emissions standards for cars could cut New Zealand's greenhouse gas emissions by more than five million tonnes over 20 years.

9 Jul 19 - The removal of plastic from Air New Zealand's in-flight service is cutting its carbon emissions, the airline says.

3 Jul 19 - The clouds created by jet engine pollution have a surprisingly powerful short-term impact on global warming.
1 Jul 19 - Deaths from air pollution caused by vehicles should be included in the road toll, doctors and electric vehicle campaigners say.
---
28 Jun 19 - Only a fraction of people flying to and from New Zealand are offsetting the greenhouse gas emissions from their flights, according to Air New Zealand figures.
28 Jun 19 - Energy and climate expert Professor Ralph Sims has been trying for years to get the message across to New Zealanders that driving cars is our climate downfall.
26 Jun 19 - Countries are being told to urgently upgrade their road and rail networks in the wake of a report predicting billions of dollars a year in damage from natural disasters.
17 Jun 19 - Aerospace companies gathering for the Paris air show this week are turning their thoughts to a future run on electricity rather than fossil fuels.
17 Jun 19 - Florida establishes a clear legal framework for self-driving cars to operate within the state.
12 Jun 19 - The highest-capacity hybrid-electric aircraft has taken to the skies in California on its first test flight.
30 May 19 - Tesla completely transformed the car landscape when it introduced the Roadster, pioneering the mass-market electric car. Now, it is doomed.
17 May 19 - Widespread automation, electrification, and connectivity are set to revolutionise the car of the future.
15 May 19 - Daimler, one of the world's leading producers of premium cars and commercial vehicles, is engineering a new future for the sector with a bold new climate commitment.
9 May 19 - Schoolchildren launched a fleet of origami boats carrying messages about climate change to delegates at UN shipping talks in London.
30 Apr 19 - People using public transport or walking or cycling should be given priority over cars and that might mean limiting traffic speeds to 30kmh, a new report says.
30 Apr 19 - Billions of dollars are being poured into autonomous vehicle research - but not much thought is going into how humans will respond to the new-fangled transport.
---