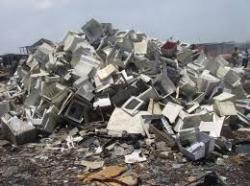 10 May 13 - Electronics retailers could be forced to build the cost of disposal into sale prices if Wellington local authorities have their way.
10 May 13 - Challenges to New Zealand's 100% Pure brand will be heard next week.
3 May 13 - Most campaigns promoting the advantages of green business are failing to gain traction because they are preaching to the converted, says a commercial lawyer who has found a new vocation.
26 Apr 13 - Australian company Transpacific Technical Services has won $550,000 of New Zealand Government money to get rid of hazardous waste from old electrical equipment.
26 Apr 13 - Environment Minister Amy Adams has announced a newly accredited product stewardship scheme for the reuse and recycling of carpet tiles.

12 Apr 13 - New Zealanders are recycling nearly 70 per cent of their glass products.
5 Apr 13 - The Advertising Standards Authority is to consider whether New Zealand's 100% Pure claims are misleading.
---
5 Apr 13 - Coromandel Watchdog says it is shocked that the Ministry of Conservation has granted access for prospecting on Schedule 4 land to mining companies in the Coromandel and in the Paparoa National Park.
28 Mar 13 - New Zealand scientist and bioenergy pioneer Dr Sean Simpson has been honoured twice this week.
28 Mar 13 - Electronics recycling company RCN e-Cycle is ramping up its South Island presence in preparation for the switch-over to digital television.
8 Mar 13 - Claims that Solid Energy's diversification into biodiesel led to its dismal financial state are being dismissed by both the industry and the Green Party.
1 Mar 13 - The Glenbrook steel mill and the Bluff aluminium smelter were the big winners in last year's hand-out of free carbon credits to industrial emitters.
23 Nov 12 - New Zealand businesses should be taking advantage of low international carbon prices to buy local units, says an Auckland businessman.
23 Nov 12 - Products ranging from raw petfood to biodegradable coffins have been recognised in this year's sustainable business awards.
23 Nov 12 - Innovation has become the key ingredient for business sustainability in the new "normal" financially constrained environment, says Ricoh New Zealand.
9 Nov 12 - The New Zealand Superannuation Fund might have to consider climate change and other environmental issues in its investment decisions in future.
19 Oct 12 - New Zealand's LanzaTech is working with Malaysia's government-owned national oil company, Petronas, to convert carbon dioxide to sustainable chemicals.
19 Oct 12 - Climate Change Minister Tim Groser is bound for South Korea, a country that is pegging its future on green growth.
5 Oct 12 - Water foot-printing is going to be as big as carbon foot-printing – and smart businesses are recognising that now, says Water New Zealand chief executive Murray Gibb.
---