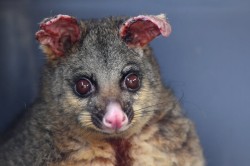 Tuesday - For many conservation biologists and land managers, the unprecedented extent and ferocity of the Australian bushfires has incinerated much more than koalas and their kin.

13 Dec 19 - The NSW state government is considering evacuating the residents of as many as 90 towns seriously affected by drought.

10 Dec 19 - Australia is at risk of becoming a dumping ground for cars pre-charged with a greenhouse gas 1400 times more potent than carbon dioxide, industry groups warn.

10 Dec 19 - International urban environment experts are gathering in Adelaide this week to tackle the challenge of climate change in increasingly hotter cities.

9 Dec 19 - By DANIELLE CLODE | It is only mid-November but we have to walk early to avoid the heat.

3 Dec 19 - Construction has begun on a pioneering hydrogen production facility in Adelaide, which will play a major role in South Australia's bid to become a global leader in certified green hydrogen.

26 Nov 19 - By RICHARD FLANAGAN | Australians everywhere are ready to get on with the job of dealing with the climate crisis. We just need a prime minister to lead us.
---
25 Nov 19 - Farmers, bird watchers and other Australians close to the land are noticing the impacts of climate change on the country's wildlife.
18 Nov 19 - Australians are embracing the 'virtual power plant', which advocates say can protect the grid, save money and combat the climate crisis.
8 Nov 19 - Australia's main electricity grid was briefly powered by 50% renewable energy this week in a new milestone that experts say will become increasingly normal.
5 Nov 19 - Australia's indigenous academics are calling for a fresh look at the governance and practices of mainstream environmental management institutions.
1 Nov 19 - Many coastal homeowners appear to be denying the need to act on rising sea levels for fear their property values will fall.
22 Oct 19 - Engineering firms in Australia are under increased pressure from their own employees to abandon controversial fossil fuel projects, as the sector turns its attention to the climate crisis.
17 Oct 19 - Farming communities in Australia are bitterly divided over an epidemic of land clearing they say is sabotaging efforts to address climate change.
16 Oct 19 - Queensland has proposed two-year jail sentences for Extinction Rebellion protesters caught with a locking device used to fix people in public places.
15 Oct 19 - Summer might be more than six weeks away, but out-of-control bushfires have already torn across parts of eastern Australia in recent days, destroying homes and threatening lives.
7 Oct 19 - Protesters who disrupt traffic should have their welfare payments cut and be subject to mandatory jail sentences, Australia's home affairs minister Peter Dutton has declared.
3 Oct 19 - The New South Wales government is considering legislation that could limit the ability for planning authorities to rule out coalmines projects based on the climate change impact of emissions from the...
1 Oct 19 - Livelihoods in Australia are now at risk from drought worsened by climate change, a predicament more familiar to developing countries.
---