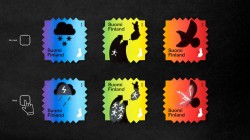 Thursday - Stamps by Finnish studio Berry Creative feature images of birds and snow clouds that turn into skeletons and thunderstorms when heated to send a message about the consequences of climate change.

Tuesday - Poland is moving closer to ending its heavy reliance on coal as the Government and miners' unions agree a landmark plan to phase out mines by 2049.

21 Sep 20 - The European Commission is defending its plan to bring carbon removals from agriculture, land use and forestry into the EU's updated climate target for 2030, saying this is in line with UNFCCC standards.

17 Sep 20 - Negotiators have ruled out an overhaul of private courts that allow energy companies to sue national governments when climate change policies hurt their profits.

14 Sep 20 - The European Parliament's environment committee has voted for a new EU-wide target to reduce carbon emissions 60 per cent by 2030, setting the stage for tough negotiations with EU countries and the European Commission, which is expected to propose a 55 per cent goal next week.

11 Sep 20 - France hopes to collaborate with Germany on clean hydrogen projects as part of Europe's green recovery from the pandemic, the country's finance minister has said ahead of a meeting with his German counterpart today.

10 Sep 20 - The 1991 Energy Charter Treaty must be profoundly overhauled in order to remove all "obsolete" provisions protecting fossil fuel investments and hindering climate action, lawmakers from Europe across say.
---
8 Sep 20 - Germany's conservative CDU/CSU Union has admitted to its own shortcomings when it comes to climate policy and is now searching for a new chairman and candidate for the chancellor's spot, which will...
26 Aug 20 - A European Union plan to cut greenhouse gas emissions up to 55 per cent below 1990 levels by 2030 is technically and economically possible, researchers say.
21 Aug 20 - Europe is planning a border tax to stop carbon leakage in the energy sector, but energy advisers say expanding the bloc's Emissions Trading Scheme would be more effective.
20 Aug 20 - The European Commission will table proposals next month to raise the EU's climate target for 2030, amid warnings from Eastern countries to safeguard jobs and growth from the coronavirus fallout.
11 Aug 20 - A planned link-up of the European Union and Swiss carbon markets will be operational from September, the European Commission says, giving companies a broader pool of potential partners with which to...
10 Aug 20 - Paris is facing one of its worst heat waves in more than a century, with daily average temperatures hovering around 30deg over a seven-day period and hitting a maximum of 39 degrees on Sunday,...
6 Aug 20 - The European Commission is proposing strengthening its 40 per cent greenhouse gas emission reduction target to 50 per cent or 55 per cent on 1990 levels in the next 10 years, but this doesn't meet...
5 Aug 20 - In what's being seen as a landmark judgement, Ireland's Supreme Court has ruled that the Dublin Government's policies on climate change are inadequate and has called for more action and clarity on...
31 Jul 20 - France's government has announced new environmental measures, including a ban on heated terraces for cafes and bars.
30 Jul 20 - The Dutch city of Arnhem is digging up asphalt roads and creating shady areas around busy shopping districts after concluding that the consequences of global heating are unavoidable.
29 Jul 20 - Deutsche Bank will end business worldwide with the companies most exposed to coal mining by 2025 at the latest, as part of a revamp of its policies on financing the fossil fuel industry.
24 Jul 20 - Renewable sources have overtaken coal, oil and gas in EU electricity generation for the first time, new analysis shows.
---