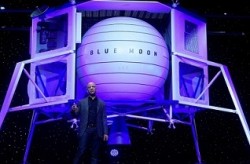 Monday - With Elon Musk, Jeff Bezos, Donald Trump and others making plans, the race is on to put people back on the moon.

Thursday - The language of climate emergency has exploded into public space in a spectacular way, with media and governments adopting new and stronger terms.

Wednesday - Ice loss from Antarctica and Greenland could cause far more sea level rise than previously thought, says a new report.

Wednesday - BlackRock, which controls $6.5 trillion in assets, has been urged to use its influence on the planet's biggest polluters.

Wednesday - If earthworms had feathers, wings or fur, or eyes that looked mournful – or eyes at all – perhaps they would fare better in the public's affections.

21 May 19 - Single-use plastic is clogging oceans and landfills. The industry that makes it has waged a decades-long campaign to keep it on the market.

21 May 19 - The topic of climate change features on television about as often as that of zombies, urine, or rhubarb.
---
20 May 19 - The 2.4 billion people worldwide who play video games present an opportunity for boosting environmental awareness and action, a new report points out.
17 May 19 - Increasingly complex, growing and related risks, from global warming to pollution and epidemics, threaten human survival if left to escalate, the United Nations has warned.
17 May 19 - Mismanaged waste is causing hundreds of thousands of people to die each year in the developing world from easily preventable causes, a report has found.
17 May 19 - Glass has always been a notoriously energy-inefficient building material – but an obsession with aesthetics led architects to ignore its shortcomings.
15 May 19 - Melting glaciers worldwide – all treasured for their beauty and as sources of summer water – could be half gone by 2100.
14 May 19 - Octogenarian entrepreneur Yvon Chouinard, who prefers gardening to meetings, says capitalism is destroying the planet.
13 May 19 - Almost all the world's countries have agreed on a deal aimed at restricting shipments of hard-to-recycle plastic waste to poorer countries, the United Nations has announced.
10 May 19 - Only a third of the world's great rivers remain free flowing, due to the impact of dams that are drastically reducing the benefits of healthy waterways.
8 May 19 - A Swedish company has launched the first banking service and credit card to manage your personal finances and your daily carbon emissions.
7 May 19 - New Zealand is being asked to declare a climate emergency just as the world is again reminded of the precarious state of the planet.
7 May 19 - The UN global assessment report paints a dire picture of our effect on the natural world.
7 May 19 - Climate-conscious shareholders who have long focused on fossil fuel damage are turning attention to the growing and related problem of plastics.
---