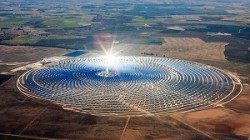 Tuesday - Luckily for the chances of avoiding global warming, the Paris climate deal isn't the only game in town. Here's a rundown of what else is cooking.

Tuesday - Humanity's impact on the Earth is now so profound that a new geological epoch – the Anthropocene – needs to be declared, according to an official expert group.

Tuesday - Low-energy or zero-energy housing is international best practice, but is still considered costly. Part of the problem is that studies of housing standards typically use only cost-benefit analysis to assess their value, and so often wrongly conclude that sustainable housing is unaffordable.

Tuesday - German scientists have just issued a financial weather forecast that in a world of unmitigated climate change, the financial losses for the US per hurricane could triple, and annual losses due to hurricanes could rise eightfold.

Tuesday - Australian climate sceptic Liberal MP Craig Kelly has been appointed chairman of the backbench environment and energy committee.

Monday - Excitement is building over the likely entry into force of the UN's climate deal – but that will only be the start of a new set of tricky negotiations.

Monday - Australian Prime Minister Malcolm Turnbull said tackling climate change "inspires and energises" him, but has he delivered?
---
Monday - Three-day weekends might be one of the easiest steps we can take to radically reduce our environmental impact – and future-proof our economy.
Monday - Black carbon – soot particles that absorb sunlight, spread by fossil fuel combustion – are thought to accelerate the thinning of the glaciers of Himalaya and Tibet. Scientists have just identified...
Monday - Japan is planning to make medals for the 2020 Olympic Games out of electronic waste and junked home appliances.
Monday - As climate change warms the Southern Ocean and alters sea ice patterns, the area of Antarctic water suitable for krill to hatch and grow could drop sharply.
Friday - More than 150 Australian experts have signed on open letter to the prime minister, Malcolm Turnbull, demanding urgent action on climate change that matches the dire warnings coming from climate...
Friday - Continents and oceans in the northern hemisphere began to warm with industrial-era fossil fuel emissions nearly 200 years ago, pushing back the origins of human-induced climate change to the mid-19th...
Friday - Columbus, Ohio, is a mid-size city known primarily as the home of Ohio State University, not as a hub of cutting edge technology for public transportation. But that is exactly what this city of...
Friday - Australia's ecosystems are already showing the signs of climate change, from the recent death of mangrove forests in northern Australia, to the decline in birds in eastern Australia, to the inability...
Friday - The world has warmed about a degree since the Industrial Revolution, and on our current emissions trajectory we will likely breach these limits within decades.
Thursday - What is so refreshing about the UN's Sustainable Development Goals is that they recognise the inherent tension between economic development and the ecology of our planet. Or so it seems.
Thursday - A group of 130 institutions that control $13 trillion of investments have called on G20 nations to ratify the Paris Agreement this year and accelerate investment in clean energy and forced disclosure...
Thursday - Human activities have taken a heavy toll on our environment. But there may be some hope.
---