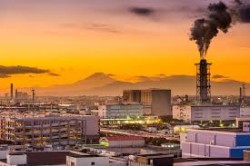 Today 10:00am - Japan's greenhouse gas emissions fell 3 per cent to a five-year low in the financial year through March due to lower power demand, growing renewable energy and the restart of nuclear power plants.
Today 10:00am - Australia's energy and environment minister, Josh Frydenberg, has folded in the face of internal pressure, declaring the Turnbull government will not pursue emissions trading as part of adjusting its climate policy.

Today 10:00am - Google's data centres and the offices for its 60,000 staff will be powered entirely by renewable energy from next year, in what the company has called a "landmark moment".

Today 10:00am - Climate change is set to cause a refugee crisis of "unimaginable scale," according to senior military figures, who warn that global warming is the greatest security threat of the 21st century.

Today 10:00am - British transport is set for a significant low-carbon boost with several new Government consultations and funding schemes announced in a bid to drive a green transport overhaul.

Today 10:00am - Miss Pacific Islands 2016, 23-year-old law graduate Anne Dunn, has been appointed Fiji's ambassador for climate change and the environment.

Today 10:00am - Toyota will expand the development of its gasoline-hybrid technology over the next five years to speed up the introduction of lower-emission engines.
---
Tuesday - Australian investors want clear climate policy that delivers certainty – and access to international carbon markets, says the Investor Group on Climate Change.
Tuesday - Australia's electricity and gas transmission industry is calling on the Turnbull government to implement a form of carbon trading in the national electricity market by 2022 and review the scope for...
Tuesday - The urgent threat of climate change means there is "no time to despair" over the election of Donald Trump, according to former vice-president Al Gore.
Tuesday - China aims to provide clean air in its largest cities for 80 per cent of each year, or more than nine-and-a-half months, by 2020, up from a figure of 76.7 per cent last year.
Tuesday - Climate scientists have identified Africa's single biggest export – the windborne dust that fertilises the Amazon forests, nourishes life in the Atlantic ocean and softens the noonday blaze of the...
Tuesday - Since Tesla unveiled its Powerwall, politicians, commentators and industry have hyped storage – and particularly batteries – as the solution for getting more renewable energy into electricity grids...
Tuesday - Denmark has cut food waste by 25 per cent in five years, thanks to a new approach to damaged and out-of-date food.
Monday - For centuries, humans have dreamed of harnessing the power of the sun to energise our lives here on Earth.
Monday - Three new studies illuminate the sheer complexity of the aspect of climate science known as the carbon cycle − how carbon dioxide gets into the atmosphere and out again.
Monday - The leaders of four major global cities say they will stop the use of all diesel-powered cars and trucks by the middle of the next decade.
Monday - The Turnbull government will maintain its blanket ban on the introduction of an emissions trading scheme and has ruled out an increase to the renewable energy target ahead of its long-awaited review...
Monday - Seven years ago, the US exported its crude oil to just one country — Canada. This year, 22 countries received American crude oil, marking a more than 1000 per cent increase in US oil exports since...
---