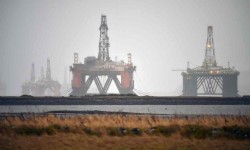 Today 12:00pm - A UK pension scheme with more than four million members is shifting almost 10 per cent of its investments into a new climate change fund designed to move people's money out of fossil fuels and into renewable energy.

Today 12:00pm - From Cambodia to California, industrial-scale sand mining is causing wildlife to die, local trade to wither and bridges to collapse.

Today 12:00pm - The UN has launched an unprecedented global campaign to eliminate marine litter, including microplastics in cosmetics and single-use plastic, by 2022.

Today 12:00pm - As US president Donald Trump announces a $54bn increase in defence spending, environmental agencies and UN climate funds face the axe.

Today 12:00pm - EU energy ministers have backed the third version of the 28-country bloc's clean energy package, praising its focus on renewables, energy efficiency and consumers.
Today 12:00pm - Since 1880, the average global temperature has increased by 0.8deg with large changes in rainfall redistribution. With these changing conditions upon us, and set to continue, gardeners will have to alter the way they do things.

Today 12:00pm - A new study by energy experts from the Australian National University suggests that a 100 per cent renewable energy electricity grid – with 90 per cent of power coming from wind and solar – will be significantly cheaper future option than a coal or gas-fired network in Australia.
---
Monday - The European Parliament has lost patience with shipping industry inaction over climate change and has outlined plans to include vessels in its Emissions Trading System.
Monday - Three years after it came online, Izdemir power station in Turkey has been stripped of its environmental licence, in a win for campaigners.
Monday - The world's biggest battery manufacturers say they will fight Australia's proposed new guidelines and recommendations that could ban battery storage units from inside homes and garages.
Monday - Deep-ocean creatures are facing a desperate future due to food shortages and changing temperatures, according to new research.
Monday - Six US states have proposed legislation this year that would add to the cost of owning an electric vehicle, worrying clean energy advocates who say owning emissions-free vehicles should be...
Monday - US fishing and conservation groups have sued the Environmental Protection Agency, seeking to protect wild salmon threatened by rising water temperatures attributed in part to climate change.
Monday - The Danish island of Samso's energy makeover took less than a decade and was spurred on by local commitment.
Friday - Ambitious plans have been drawn up for a network of "tidal lagoons" around the UK coast that could provide up to a quarter of the country's electricity – and there is potential to roll out the...
Friday - Australian homeowners with solar panels and batteries could soon trade their electricity in a digital marketplace developed by a consortium of electricity providers, energy tech startups, energy...
Friday - A leading UK voice in the debate on climate change says more attention should be paid to positive action being taken to tackle CO2 emissions in China rather than worrying about the US and Donald...
Friday - Solar power in Australia is more affordable than new fossil fuel and nuclear power, with costs plummeting by almost 60 per cent over the past five years, a new report released by the Climate Council...
Friday - Researchers will have to deal with attacks from a range of powerful foes in the coming years – and for many, it has already started.
---