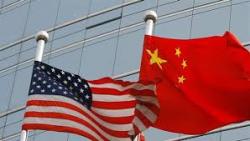 Monday - It's been called an historic agreement − a game changer in the battle to combat climate change. But can China and the US fulfill the promises in their announcement of plans to cut carbon emissions?

Monday - "As I read the agreement it requires the Chinese to do nothing at all for 16 years while these carbon emissions regulations are creating havoc in my state and around the country." – US Republican Senate leader Mitch McConnell, November 12, 2014.

Monday - China can achieve economic development, energy security and reduce pollution at the same time, according to a major new study.

Monday - Environmental groups want to have their say on a late tweak to the conditions imposed on the proposed $230 million Ruataniwha dam in Hawke's Bay in a High Court challenge.

Monday - Focusing on growth, the Brisbane G20 leaders' summit has not grappled with three key issues - how much more growth the planet can survive, how poorer nations can raise their living standards to parity with the developed world, and how can a fairer distribution of the benefits of growth be realised?

Monday - An American water quality expert who has studied and modelled the effects of nutrients in American lakes will be sharing his knowledge at a public forum in Rotorua this week.

Monday - Taking an environmental problem and turning it into a commercial success has seen a Queenstown social enterprise team taken under the wing of a business incubator.
---
Monday - The coal industry has many friends in high places, and none more so than Tony Abbott, Prime Minister of Australia − one of the world's major producers of a fuel that earns the country billions...
Monday - Despite promises to phase out subsidies to the coal, oil and gas industries, a new report says the UK and other G20 governments are still providing them with massive financial help.
Monday - * New Commission floats first 'kill list' of green EU laws * India feels heat as pressure mounts to deliver climate target * Global meat demand ploughs up Brazil's 'underground forest' * Giant...
Monday - American researchers confirm that a shift to vegetarian, Mediterranean or fish-based diets would cut greenhouse gases, conserve forests and savannah, and have a big impact on obesity-linked health...
Monday - An eco-conscious Kiwi designer is saying goodbye to leather.
Monday - Australia's Commercial Building Disclosure programme is the latest federal environmental policy to be placed under review.
12 Nov 14 - Spot NZUs did not trade yesterday, and finished $4.37 on CommTrade. OMFinancial reports:
10 Nov 14 - The second stage of Kiwi company Tustpower's project to build South Australia's largest wind farm has been launched, ahead of time and under budget.
10 Nov 14 - Scientists have identified a new hazard that will arrive as a result of climate change: a huge increase in hay fever and pollen allergies.
10 Nov 14 - The role of the United States in confronting the global climate crisis has been cast into serious doubt after an election that stacked the deck in Congress in favor of fossil fuel industries.
10 Nov 14 - The environment has long been a "silent casualty of war, United Nations Secretary-General Ban Ki-moon said yesterday as he warned that the fast-changing dynamic of conflict required solutions to...
10 Nov 14 - * Why the climate movement needs to get confrontational * Govt bid to strip Tasmanian forests of world heritage cover 'disappointing' * The world's 10 biggest tidal power projects * Energy storage...
---