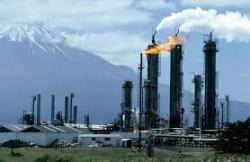 Monday - The Government is calling for energy companies to explore the potential of more than 400,000 square kilometres of land and sea, maintaining that oil and gas have a role to play in a low-carbon world.

Monday - By KEIRAN COOKE.- Zheng Guogang, head of the China Meteorological Administration, says future variations in climate are likely to reduce crop yields and damage the environment.

Monday - Scientists believe they may have found how to safeguard a staple tropical crop, on which hundreds of millions of people depend, from the depredations of climate change.

Monday - Maximizing the efficiency of converting sunlight to electricity was the primary goal for much of the history of solar power industry. Because solar cells were so expensive to make, they were used only in special applications, such as on spacecraft, where performance was more important than cost.

Monday - * Satellite data indicates sea levels rising faster than expected * UK faces European court over coal plant emissions * Pakistan shelves six coal-fired power projects * Rockefeller family tried and failed to get ExxonMobil to accept climate change

Monday - Fertiliser manufactuer Ballance Agri-Nutrients is taking on the chin a $60,000 fine for illegally discharging sulphur dioxide into the air at Mount Maunganui last year.

Monday - A new housing development in Aucklandís Wynyard Quarter will be the first to use the new 7 Homestar environmental rating.
---
Monday - A resource is now available for businesses and other organisations aiming to become more water-efficient in their processes and operations.
23 Mar 15 - A global investigation into every coal-fired power plant proposed in the past five years shows that only one in three of them has actually been built.
23 Mar 15 - As a professor of ecology, Shahid Naeem knows all too well that thereís no shortage of environmental ills to keep us awake at night Ė global warming, the spread of diseases, dead zones in the Gulf of...
23 Mar 15 - Without cooling, the supply of food, medicine and data would simply break down.
23 Mar 15 - Nature has been replaced by humans as the driving force behind changes on the planet − and we need to take urgent action if we are to avoid our own destruction.
23 Mar 15 - The world needs a lot of energy. Global energy demand is expected to increase by 37 per cent percent over the next 25 years, according to the International Energy Agencyís World Energy Outlook 2014.
23 Mar 15 - By KIERAN COOKE.- The wind turbines are turning across America, and a major report by the US Department of Energy says the wind energy sector now supplies 4.5 per cent of the nationís electricity.
23 Mar 15 - Efforts by major fashion brands to remove toxic chemicals from their supply chains and to tackle water pollution are under the public spotlight.
23 Mar 15 - * France decrees new rooftops must be covered in plants or solar panels * Gates Foundation has $1.4bn in fossil fuel investments * Costa Rica powered by 100% renewable energy for first 75 days of...
23 Mar 15 - Got ideas for cutting water use in manufacturing, energy production or the resources sector? Australia wants to hear them.
23 Mar 15 - A Tauranga wind engineer has been made a fellow of the Institution of Professional Engineers New Zealand for his leadership in the development of wind generation.
23 Mar 15 - European Environmental Markets chief executive Adrian Rimmer is the new president of the international Climate Markets and Investment Association.
---