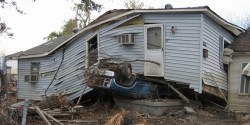 Thursday - Lloyd's, one of the world's biggest insurance companies, says the US government must stop providing insurance subsidies to homeowners building on flood plains and in coastal areas exposed to mounting risks related to climate change.

Thursday - Dosing farm animals with antibiotics increases greenhouse gas emissions from cow dung, research suggests.

Thursday - If the development of international carbon markets is your idea of a good story, settle back with your headphones and listen to this.
Thursday - ExxonMobil moved to squash a well-established congressional lecture series on climate science just nine days after the presidential inauguration of George W Bush, a former oil executive.
Thursday - Declining costs in China's solar industry could allow the government to reduce prices offered to photovoltaic developers by more than a third by 2020 and see plants powered by the sun become competitive with coal within a decade.
Thursday - One million solar power installations now dot America's rooftops and landscape, an achievement being hailed as a milestone by advocates of solar energy.
Thursday - Royal Dutch Shell is to cut at least another 2,00 jobs, with around 475 of those coming from its UK and Ireland oil and gas production business.
---
Thursday - Poland has adopted a new law banning construction of wind farms close to dwellings and hiking project costs in a move which the industry says could hobble the country's move to renewables and away...
Wednesday - German pharmaceutical giant Bayer has announced its intention to offer $62 billion in cash to take over agrochemical company Monsanto, as the debate over the use of the pesticide glyphosate continues.
Wednesday - An unprecedented level of coordination between Australian climate activists and conservation groups is aiming to raise the profile of climate change in this year's election.
Wednesday - Coastal management in Australia is subject to competing interests and challenges. These range from land use and strategic planning issues to ecosystems preservation.
Wednesday - Schools in Portland, Oregon, have voted to abandon textbooks that "express doubt about the severity of the climate crisis or its root in human activities".
Wednesday - Thanks to the fracking boom, the US has surpassed Saudi Arabia and Russia to become the world's leading producer of oil in 2013. The US became the top natural gas producer in 2011, and has led the...
Wednesday - Carmaker Hyundai is designing an electric vehicle with a 250-mile range for 2020.
Tuesday - One of Antarctica's great glaciers could become unstable if global warming continues at the present pace.
Tuesday - We might be what we eat, but our dietary choices also affect the health of the environment, and farmers' back pockets.
Tuesday - The big oil companies' on-off affair with renewable energies seems to be back on track.
Tuesday - The planet would warm by searing 10degC if all fossil fuels are burned, according to a new study, leaving some regions uninhabitable and wreaking profound damage on human health, food supplies and...
Tuesday - Glencore investors have agreed that the largest exporter of coal burned for power should provide more information on risks to its business from growing levels of government legislation to tackle...
---