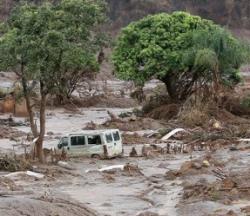 23 Nov 15 - Reduced river flows in Brazil, as global warming intensifies the drought there, mean more damage from a burst dam, scientists say.

23 Nov 15 - Russia has a reputation as one of the more difficult states involved in international climate negotiations – and don't expect things to change at the latest UN conference in Paris.

23 Nov 15 - Australia's bushfire preparedness is under threat from climate change as bushfire seasons there and in the Northern Hemisphere increasingly overlap, putting new demands on critical shared fire-fighting aircraft, a new report shows.

23 Nov 15 - The Organisation for Economic Co-operation and Development countries have agreed to limit subsidies for the export of inefficient coal-fired power plant technologies.

23 Nov 15 - In a move that is potentially transformative, the New York attorney general is investigating Exxon for financial fraud.

23 Nov 15 - New Zealand is proposing in Paris a climate agreement that is not legally binding. PETER NEWELL, Professor of International Relations at the University of Sussex, explains why legally binding agreements don't work.

23 Nov 15 - Several regions have been meeting in the run-up to the Paris climate talks to deliberate on pressing climate issues. Africa is no exception.
---
23 Nov 15 - Australia is likely to use carry-over credits from KP1 to cover an emissions blow-out, a commentator is predicting.
23 Nov 15 - Analysts say the Democratic Republic of Congo, one of the world's poorest countries, has more credible plans to cut greenhouse gas emissions from forestry than several more developed states.
23 Nov 15 - Most books report on what has already happened. John O'Brien has written one that describes the future.
23 Nov 15 - * Pacific temperature data shows El Niño gathering record strength * Super-rich Qatar delivers target-free UN climate pledge * Britain calls for closing of coal-fired power plants by 2025 * Egypt...
23 Nov 15 - Liechtenstein, Germany and Italy have the highest per capita rate of installed solar generation in the world.
19 Nov 15 - NZUs traded 20k yesterday, closing at $7.65. OMFinancial reports:
18 Nov 15 - NZUs traded 10k at $7.50 yesterday with the market holding $7.45/7.55. OMFinancial reports:
16 Nov 15 - Business has a clear plan for how it will lead on climate change over the next five years, according to the Sustainable Business Council.
16 Nov 15 - Looking around the OceaNZ Blue paua farm at Bream Bay, one thing Lynette Suvalko saw was lots of gumboots.
16 Nov 15 - Many of the world's biggest travel and tourism companies have improved their carbon efficiency by 20 per cent in the past decade and are on course to halve carbon dioxide emissions by 2035, according...
16 Nov 15 - Judges for the 2015 NZI Sustainable Business Network Awards have announced the finalists for the EECA Business Energy Management Award.
16 Nov 15 - * Paris is safe, France assures climate talks visitors * EU scientists advise higher safety limits on glyphosate * Science Museum ends sponsorship deal with Shell * World's largest ocean clean-up...
---