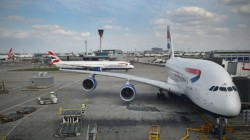 13 Nov 19 - A major airline has launched a review into a money-saving practice which increases its greenhouse gas emissions.

17 Oct 19 - Extinction Rebellion is eyeing a legal challenge after police placed a London-wide ban on the group's ongoing climate protest.

10 Oct 19 - Giant greenhouses will be used to grow up to 20 tonnes of tomatoes a day using the heat from water treatment facilities in the UK.

8 Oct 19 - Twenty of the UK's leading universities have struck a £50m deal to buy renewable energy directly from British windfarms for the first time.

4 Oct 19 - Developments that tackle climate change could avoid having to get planning permission, under proposals being considered by the Scottish government.

4 Oct 19 - The Royal Shakespeare Company is to end its sponsorship deal with BP amid growing opposition to fossil fuel sponsorship of cultural institutions.

3 Oct 19 - British police will deploy specially trained climate protest officers to London this weekend to help to deal with two weeks of protests planned by Extinction Rebellion.
---
2 Oct 19 - The UK was once the world's largest coal consumer, but the highly polluting fossil fuel has been pushed out by renewable energy and natural gas.
24 Sep 19 - Up to £1bn of UK aid funding will be spent on helping developing countries fight climate change.
20 Sep 19 - The voting age should be lowered to 16 because today's young people are the ones that face a "toxic inheritance" of environmental crises, a leading think tank has said.
13 Sep 19 - Farming can become climate neutral by 2040 without cutting beef production or converting substantial areas of farmland into forest, according to UK farmers.
28 Aug 19 - A coalition of climate campaigners and business groups have called for a ban on all petrol and diesel vehicles in Scottish cities as part of a multibillion-pound strategy to cut carbon emissions.
19 Aug 19 - Boris Johnson's partner Carrie Symonds said politicians had a "gigantic responsibility to make the right decisions" over the climate crisis, in her first solo public appearance since moving into...
14 Aug 19 - A university has banned the sale of beef in campus food outlets in order to help to tackle the climate emergency.
31 Jul 19 - All electricity consumers in Britain will pay a new UK nuclear tax, a levy on their bills to finance the construction of nuclear power plants under a scheme announced by the government.
25 Jul 19 - Here's what new British Prime Minister Boris Johnson has said and done about climate change.
19 Jul 19 - The Queen stands to make hundreds of millions of dollars from the world's biggest offshore windpower auction in a decade.
15 Jul 19 - The UK government says all new ships ordered from 2025 and aimed for its waters must be equipped with zero emission technology as part of a plan to cut maritime pollution.
12 Jul 19 - The UK government's own advisers have declared themselves shocked that the Britain has no proper plans for protecting people from heatwaves, flash flooding and other impacts of the climate crisis.
---