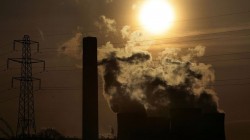 Today 11:00am - The average level of methane in the atmosphere increased last year by the highest amount in five years, according to new data.

Today 11:00am - Almost three quarters of new electricity generation capacity built in 2019 uses renewable energy, representing an all-time record.
Today 11:00am - Australia says it is a step closer to a hydrogen economy, with new research into a "nanobelt" catalyst for breaking down water.

Today 11:00am - Human inroads into tropical forests stretch far beyond oil plantations or the edge of cattle ranches and are a wider threat to conservation.

Tuesday - The glory of the world's oceans could be restored within a generation, according to a major new scientific review.

Tuesday - In a warming ocean, some species will swim, others sink. But all agree: the poles attract marine life without exception.
Tuesday - The Arctic is predicted to warm faster than anywhere else in the world this century, perhaps by as much as 7deg.
---
Tuesday - The Spanish government has submitted its energy and climate plan for 2030 to the European Commission, three months after the deadline, while five EU countries, including France, still need to turn in...
Monday - Financial help from taxpayers to airlines hit by the coronavirus crisis must come with strict conditions on their future climate impact, green campaigners have said.
Monday - Carbon dioxide emissions could fall by the largest amount since World War Two this year as the coronavirus outbreak brings economies to a virtual standstill, according to scientists.
Monday - The next time the fertile soils of North America turn to dust, the consequences will hit food stocks worldwide.
Monday - San Francisco is banning reusable shopping bags to prevent outside germs from entering grocery stores.
Friday - Green campaigners vowed to keep up the pressure on governments to make stringent new commitments on the climate crisis, as the COP26 climate summit was delayed until next year.
Friday - Analysts say the coronavirus pandemic and a savage price war means the oil and gas sector will never be the same again.
Friday - Former US president Barack Obama has urged voters to "demand better" of the government after the Trump administration rolled back a key Obama-era fuel standard intended to combat climate change.
Friday - The amount of energy generated by tides and waves in the past decade has increased 10-fold. Now governments around the world are planning to scale up these ventures to tap into the oceans' vast store...
2 Apr 20 - Barclays has bowed to investor pressure over its climate track record and announced plans to shrink its carbon footprint to net zero by 2050.
2 Apr 20 - Renewable hydrogen has the potential to slash the global greenhouse gas emissions of fossil fuel power generation by more than one-third, but it's not the answer for low-carbon automotive transport,...
2 Apr 20 - Record heat and drought across Australia delivered the worst environmental conditions across the country since at least 2000, with river flows, tree cover and wildlife being hit on an unprecedented...
---