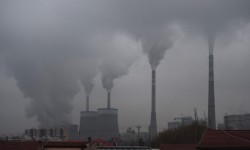 24 Nov 20 - Climate-heating gases have reached record levels in the atmosphere despite the global lockdowns caused by the coronavirus pandemic, the UN's World Meteorological Organisation has said.

23 Nov 20 - Out-going United States president Donald Trump railed against the Paris climate accord overnight, telling world leaders at a virtual summit that the agreement was designed to cripple the US economy, not save the planet.

20 Nov 20 - Many parts of the global economy, especially agriculture and the cement and steel industries, are heading in the wrong direction or cleaning up their act far too slowly to limit global warming to 1.5deg researchers are warning..

19 Nov 20 - New Zealand is being accused by countries most vulnerable to climate change of "defaulting on climate survival leadership".

19 Nov 20 - The G20 will miss the 1.5°C warming target set out in the Paris Agreement, according to the latest Climate Transparency report.

9 Nov 20 - Prime Minister Jacinda Ardern expects new United States President Joe Biden to act on climate change.

2 Nov 20 - Countries have a collective responsibility to agree on common rules for a global carbon market, to drive greater climate ambition beyond 2021, says the United Kingdom's lead climate negotiator.
---
27 Oct 20 - Twenty-eight countries, one American state and the European Union says they are committed to being carbon-neutral by 2050.
22 Oct 20 - Switzerland has struck a carbon offsetting agreement with Peru, in what the two nations say is the first deal of its kind under Article 6 of the Paris agreement.
14 Sep 20 - Global temperatures could exceed the 1.5deg limit set in the Paris Agreement in the next decade, according to a World Meteorological Society report for the United Nations.
4 Sep 20 - Most nations including top emitter China are likely to miss a 2020 deadline to upgrade national plans for fighting global warming, according to the UN's climate chief.
27 Aug 20 - Additional climate talks could be held next year to help countries prepare for the critical Cop26 summit, making up for time lost due to the coronavirus pandemic.
21 Jul 20 - New Zealand's 2030 emissions reduction target might be consistent with the Paris Agreement – it all depends on how you look at it, officials have told the Government.
12 Feb 20 - The Marshall Islands, Suriname and Norway have submitted plans for tougher action to tackle climate change before a five-year milestone of the Paris Agreement in 2020 - but almost 200 others -...
3 Oct 19 - Investors representing more than $55 trillion say just a fraction of companies are doing their part in meeting the Paris Agreement.
25 Sep 19 - Delivering on a goal of net zero emissions is a 'daunting', 'civilisational' task, which the UN climate summit in New York showed leaders do not have plans to meet.
25 Sep 19 - The world's fourth-largest emitter, Russia, has formally adopted the Paris Agreement, drawing an end to months of national tensions on the subject.
23 Sep 19 - New Zealand will again take centre stage at international climate talks in New York, with Prime Minister Jacinda Ardern giving a keynote speech in the early hours of tomorrow morning.
17 Sep 19 - As world leaders converge on New York City for the United Nations Climate Action Summit on September 23, they enter what may be the most consequential week in climate politics since Donald Trump's...
---