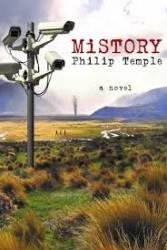 Monday - The winner of a copy of MiStory, Philip Temple's cli-fi story set in a futuristic New Zealand, is the out-going Labour MP and climate change spokesperson Moana Mackey.

16 Sep 14 - With talk of mass surveillance of New Zealanders dominating the news, Philip Temple's new novel is timely.

8 Sep 14 - New Zealand band The Nukes captures the essence of the country's environmental problems in Last Kauri, found on their just-released album Lucky Ones.

8 Sep 14 - Our free copy of Dirty Politics, Nicky Hager's expose of how politics is practised in New Zealand, at least by some, goes to Amelia Guy-Meakin. Congratulations - your book is on its way.

25 Aug 14 - Missed out on a copy of Dirty Politics, the book which uses private emails between politicians, bloggers and PR people to shine a little light on the murkier side of our politics? We've got a copy to give away to one of our readers.

29 Nov 13 - Veteran environmentalist Julian Fitter will be able to spend his Christmas break reading about rivers ... not birds.

22 Nov 13 - DAVID YOUNG has updated his 1986 historical geography Faces of the River. His new book is entitled, Rivers: New Zealand's Shared Legacy, from Random House. In the politically and ecologically altered landscapes of the past quarter-century, almost nothing remains the same. This is especially true of our river systems, and especially of our lowland rivers. To go in the draw to win a copy of Rivers just email editor@carbonnews.co.nz with 'rivers' in the subject line.
---
27 Sep 13 - Jane O'Loughlin of Wellington is the winner of Ecoman, the story of how Ecostore founder Malcolm Rands developed an international business out of eco-friendly cleaning products.
20 Sep 13 - Ecostore founder Malcolm Rands has written a book to explain how he built a successful, sustainable international business.
16 Aug 13 - Win a copy of Get Off the Grass, the prescription for the economy by the late Sir Paul Callaghan and Professor Sean Hendy, launched in Wellington last night.