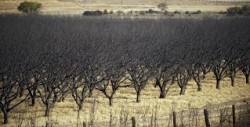 Friday - When California entered the fourth year of drought, everyone wanted to know what had gone wrong.
Friday - The global green bonds market will hit a record $US70 billion this year, according to an estimate from Moody's Investors Services.
Friday - Limiting oil exploration is not just good for the climate, it is good for investors. That is the conclusion of analysis from Carbon Tracker ahead of key shareholder votes at ExxonMobil and Chevron AGMs this month.
Friday - Erik Solheim of Norway is set to be named the new Executive Director of the United Nations Environment Programme.

Thursday - The election of Donald Trump would derail the landmark agreement on climate change reached in Paris last December, the architect of the accord has warned.

Thursday - Scientists in the US have identified a new hazard in a world in which the climates change and the oceans warm: measurable stretches of the seas could become sapped of oxygen.
Thursday - The largest political group in the European Parliament says it wants a greater proportion of EU carbon permits to be handed out free to industry from 2020.
---
Thursday - Germany is proposing a minimum price on European carbon emissions, according to a draft document outlining the nation's energy and climate policy through to 2050.
Thursday - The future will be thirsty unless governments place a price on water. That's the stark warning in a World Bank report urging lawmakers to make water conservation a national and international priority.
Wednesday - An interesting question is, what are you waiting for? Global warming is the biggest problem we've ever faced as a civilisation — certainly you want to act to slow it down, but perhaps you've been...
Wednesday - Facing the threat of climate-related flooding, residents of Louisiana's Isle de Jean Charles received this year a first-of-its-kind $48 million grant from the federal government to resettle.
Wednesday - The UN has selected Patricia Espinosa as the next head of its climate change body. Mexico's ambassador to Germany, she will take over from Christiana Figueres when she leaves on July 6, after two...
Tuesday - Almost half of the world's top 500 investors are failing to act on climate change - an increase of 6 per cent from 236 in 2014, according to a new report.
Tuesday - A judge's ruling in a lawsuit filed by eight kids forces the state of Washington to get dead-serious about the threat of climate change.
Monday - Europe's highest court has ruled that the European Commission's calculation for handing out free carbon permits to industries was flawed, raising the prospect of higher costs for big energy users.
Monday - The hot water temperature that drove the devastating bleaching on the Great Barrier Reef this year was made 175 times more likely by human-caused climate change, and could be normal in just 18 years,...
28 Apr 16 - France is preparing to introduce a floor price for carbon emissions, even if the rest of Europe does not follow.
28 Apr 16 - Chevron lobbied the EU to give foreign investors the legal right to challenge government decisions in a major US-EU trade deal because it would act as a deterrent against laws such as fracking bans.
28 Apr 16 - The Great Barrier Reef's coral is dying, and it may never be the same again. Last month, as historically high ocean temperatures bathed the waters around the reef, the Australian Government raised...
---