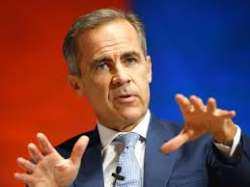 Today 9:00am - Bank of England governor Mark Carney has thrown his weight behind the fledgling market in green investments to help cut carbon emissions and boost global economic growth.

Monday - US president Barack Obama has signed a presidential memorandum establishing that climate-change impacts must be factored into the development of all national security-related doctrine, policies and plans.

Monday - European scientists have dug deep to dismiss once again the old argument that climate change might be a consequence of solar radiation rather than atmospheric chemistry.

Friday - Waste crime is the new narcotics, according to the head of the UK Environment Agency, offering huge profits as the authorities race to catch up with the damage caused to society.

Thursday - Barack Obama appealed for a scaling up of climate finance to reduce global inequality in his last speech to the UN General Assembly as US president.

Thursday - Bank of America and Amalgamated Bank have vowed to completely power operations with renewable energy by 2020.
Thursday - The unprecedented streak of record-hot months that the world has experienced over more than a year just tacked on one more month: Data released by the National Oceanic and Atmospheric Administration showed last month was easily the hottest August on record.
---
21 Sep 16 - The world's biggest polluters have released their fossil fuel subsidy peer reviews and the obstacles to reform are clear: the US will wait on Congress, while China will wait on China.
20 Sep 16 - World soccer body FIFA is the first international sports organisation to join Climate Neutral Now ¨C an initiative by the UN climate change secretariat.
19 Sep 16 - Arctic sea ice this summer shrank to its second lowest level since scientists started to monitor it by satellite, with scientists saying it is another ominous signal of global warming.
19 Sep 16 - A group of senior defence experts in the US has warned that climate change is a threat to the country's security, with the stark message that "the impacts of climate change present significant and...
19 Sep 16 - Like the EU, Scotland met its 2020 climate target six years early. Unlike the EU, Scotland plans to increase its target to maintain momentum.
19 Sep 16 - What is natural capital and why use it to refer to nature?
16 Sep 16 - A rushed transition to clean energy triggered by extreme weather events linked to global warming "will be very expensive" to swallow for the economy, investors have warned. | Read more
16 Sep 16 - Humanity is driving an unprecedented extinction of sealife unlike any in the fossil record, hunting and killing larger species in a way that will disrupt ocean ecosystems for millions of years,...
16 Sep 16 - Joshua trees could soon follow polar bears as one of the first species to be listed as threatened by climate change.
15 Sep 16 - The UK is pitching itself as a climate finance leader and a natural partner for China as the country's central bank plans a US$45.6 billion green bond release through 2016.
14 Sep 16 - Last month ranked as the hottest August on record -- and the month tied July as the hottest month the world has seen in the past 136 years.
14 Sep 16 - The typhoons that have slammed into the coasts of east and southeast Asia have become more violent, increasing in intensity by between 12 per cent and 15 per cent over the past four decades,...
---