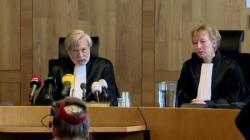 Monday - A Dutch court has ordered the state to slash greenhouse gas emissions nationwide by at least 25 per cent by 2020, in a case that could serve as a blueprint for activists around the world.

Monday - We are used to hearing that if everyone lived in the same way as North Americans or Australians, we would need four or five planet Earths to sustain us.

Monday - * Outcry as UK plans to privatise green bank * Climate change can destroy 50 years of health and development * Gates to invest $2bn in breakthrough renewable energy projects * Obama sets sizzling climate action pace in push to leave legacy * Why Cisco is buying solar energy

Monday - Global warming is unlikely to mean that fewer people in northern latitudes will die from cold during the winter, according to a study by scientists in the United States.

22 Jun 15 - In a document remarkable for its sweep and its depth, Pope Francis last week unveiled his long-awaited encyclical on the environment, in essence calling on humanity to address a climate and environmental crisis that calls for urgent global action.

22 Jun 15 - * Is Russia moving toward a fracking future? * Carbon emissions from aircraft endanger human health, says US * Venezuela: The climate paradox of the petro-state * It's Prost v Senna again – and this time the racing really is electric

22 Jun 15 - Fierce temperatures in India doubled the heat-related deaths normally recorded in May − and the government insists natural causes are not to blame.
---
22 Jun 15 - The insurance industry has been told it must play a strong role in shaping a more sustainable future.
15 Jun 15 - The G7 nations, at their summit in Germany, called for "a decarbonisation of the global economy over the course of this century". Of course, this group of nations is among those most heavily in...
15 Jun 15 - Some of the world's richest countries are not preparing to do anything like enough to limit their greenhouse gas emissions, according to new analysis.
15 Jun 15 - * Bonn meeting ends with last-minute compromise on Paris climate text * Nine things we learned at the UN climate talks in Bonn * Planes choking people and planet, says US environment agency *...
8 Jun 15 - The vision is simple, the cost would be eye-watering, and the result could stop the growing threat from burning fossil fuels in its tracks.
8 Jun 15 - Leaders of G7 countries at the summit in Germany are being called on to show leadership by pledging to end all coal burning for electricity generation in the industrialised world.
8 Jun 15 - * Ikea pledges $1b on renewable energy and climate change efforts * Ban rallies support for 'once-in-a-generation' UN sustainability agenda * Bishop rejects Kofi Annan claim Australia a...
2 Jun 15 - Despite a slowdown in its economy and the continued reliance on coal, China is pumping billions of dollars into its renewable energy industry.
2 Jun 15 - * Garnaut: Australia can slash carbon by 40pc at modest cost * Ignoring carbon risk is 'gross negligence', says pensions chief * Car makers gear up for next round of CO2 emission cuts * France...
2 Jun 15 - The world's financial system must undergo comprehensive change by 2035 if humanity is to make the transition needed to reduce the threat of dangerous climate change, says a new United Nations report.
25 May 15 - Climate change could mean that things get really tough for people in the US west in the second half of this century, according to new research.
25 May 15 - Hungarian president János Áder has become the first head of state to join the Live Earth: Road to Paris campaign that aims to ensure world leaders agree to a binding deal on tackling climate change.
---