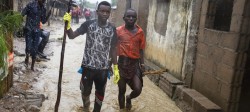 Thursday - Climate change threatens to undo the past 50 years of development, global health and poverty reduction, a United Nations expert says, citing the risk of a new era of "climate apartheid" where the rich buy their way out of rising heat and hunger.

Thursday - Investors managing more than $34 trillion in assets, nearly half the world's invested capital, are demanding urgent action from governments on climate change.

Thursday - The warmer weather creeping into cities across America is cause for international concern, but there's one group that loves it– rats.

Thursday - By the year 3000 Greenland could simply be green, with rocky outcrops and its icy mountains will have vanished.

Wednesday - G20 countries have almost tripled the subsidies they give to coal-fired power plants in recent years. G20 countries have almost tripled the subsidies they give to coal-fired power plants in recent years.

Wednesday - More than 70 protesters have been arrested outside the New York Times building as they called for more effective media coverage of the dangers of climate change.
Wednesday - Scientists from around the world are meeting in Germany to improve ways of making money from carbon dioxide.
---
Tuesday - UK Labour plans to give the Bank of England powers to help to check the readiness of City firms to cut carbon emissions and invest responsibly to tackle the climate emergency.
Tuesday - Resolving the climate crisis demands radical political change, a British author argues: the end of free market capitalism.
Tuesday - The Trump administration has stopped promoting US government-funded research into how higher temperatures can damage crops and pose health risks.
Tuesday - One of the biggest problems with global warming has been the failure of science to communicate to people that it is actually happening.
Monday - The European Council has failed to agree on a landmark climate strategy for 2050 as the Czech Republic, Estonia, Hungary and Poland baulked at the mention of a specific date.
Monday - Vanuatu, which has already introduced one of the toughest single-use plastic bans , is believed to be the first nation to propose a ban on disposable nappies.
Monday - Scientists have identified the US military as one of the world's great emitters of greenhouse gases, an agency which buys as much fuel as Portugal or Peru and emits more carbon dioxide than all of...
Monday - The $2.5 trillion fashion business produces more carbon emissions than aviation and shipping combined.
21 Jun 19 - Canadian Prime Minister Justin Trudeau has given the green light for a second time to a $5.5 billion pipeline expansion that has attracted strong opposition from environmentalists and some indigenous...
21 Jun 19 - Defending against rising seas could cost US communities $416 billion in the next 20 years, according to a new report.
21 Jun 19 - Australia's Northern Territory has a multi-billion dollar opportunity to invest massively in renewables, create a new hydrogen export industry, and create thousands of jobs, says a new report.
21 Jun 19 - Here is the long-term forecast: Rain will become more torrential, flash floods more frequent. Very heavy rain is a simple response to global temperatures.
---