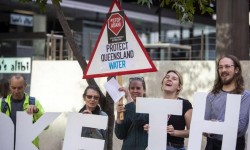 Thursday - The global engineering and consultancy firm Aurecon has severed a longstanding business relationship with the Adani Group, amid ongoing efforts by anti-coal activists to target firms working for the Indian conglomerate's Australian mining arm.

Wednesday - Power stations in Victoria's Latrobe Valley and New South Wales's Lake Macquarie region have been named on a list of the world's biggest hotspots for toxic air pollution.
20 Aug 19 - Australia's role as a leader in the global fossil fuel trade is underscored by a report that finds it is the world's third-biggest exporter and fifth-biggest miner of fossil-related emissions.

16 Aug 19 - This week's Pacific Islands Forum comes at an important time in the overall trajectory of Prime Minister Scott Morrison's very personal commitment to an Australian "stepping up" in the Pacific.

15 Aug 19 - Modelling by the Australian Government shows 50 per cent of new domestic vehicle sales will be electric by 2035.

6 Aug 19 - Big miner BHP is again reviewing its membership of the Minerals Council of Australia lobby group following disagreements over environmental policy.

30 Jul 19 - Extreme climate events such as heatwaves, floods and drought damaged 45 per cent of the marine ecosystems along Australia's coast in a seven-year period.
---
18 Jul 19 - A freedom of information request has revealed Adani sought the names of Australian scientists involved in reviewing groundwater management plans related to its proposed Carmichael mine.
16 Jul 19 - Plans to build a wind farm in Tasmania have come up against an unlikely opponent with Australian Greens founder Bob Brown adding his voice to protests that the project will damage views and ecology.
16 Jul 19 - Climate change is prompting Australian wine researchers to trial drought-tolerant grape varieties from Cyprus.
15 Jul 19 - An ambitious export plan could generate billions of dollars and make Australia the centre of low-cost energy in a future zero-carbon world.
10 Jul 19 - Australia is falling further behind its Paris emission reduction targets. New figures show a surge in the first quarter of 2019, increasing the gap between emissions and the trajectory that the...
2 Jul 19 - A report by Environmental Justice Australia has found problems at coal ash dumps in every mainland state.
21 Jun 19 - Australia's Northern Territory has a multi-billion dollar opportunity to invest massively in renewables, create a new hydrogen export industry, and create thousands of jobs, says a new report.
20 Jun 19 - Australia has been warned it risks "drifting into the future" if it fails to respond to challenges in a fast-changing world.
14 Jun 19 - Australia has given the final approval for construction to begin on a controversial coal mine to be built by Indian company Adani.
7 Jun 19 - Data showing the latest increase in Australia's greenhouse emissions was released late, in defiance of a Senate order, but leaked to a major newspaper.
7 Jun 19 - Half of the people living in New South Wales' coastal communities think rising sea levels will not affect them, and a quarter of accommodation businesses on the coast are unsure if sea-level rise is...
7 Jun 19 - Midnight Oil, Cloud Control, Vance Joy and Regurgitator have signed up to FEAT, a new platform encouraging their industry to back sustainability.
---