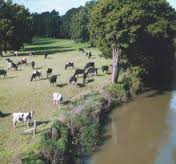 Friday - Philanthropist Gareth Morgan has followed through on his promise and thrown a large rock into the Government's water-policy pool.

Friday - People are going to have to learn to live with floods like those that have shut down large parts of Northland over the past two weeks, says an expert in river channel dynamics.

Friday - Australian Opposition leader Bill Shorten has taken his battle with Prime Minister Tony Abbott over climate policy to an international stage, saying the issue should be a priority for the G20 leaders' meeting in Brisbane.
Friday - The world does not have to choose between job creation and preserving the environment, says a senior United Nations labour official.

18 Jul 14 - New Zealand businesses are bouncing back into sustainability – but they've got a long way to go to catch up with the rest of the world, says a strategy and human resources expert.

18 Jul 14 - In the short term, the repeal of Australia's carbon tax, passed in the Senate yesterday, may provide some relief for businesses and households as electricity bills fall — although possibly not as much as official estimates.

18 Jul 14 - Carbon emissions in Australia's national electricity market would have been 11 to 17 million tonnes higher if Australia had not introduced a carbon price.
---
11 Jul 14 - A move to free-up the trade in environmental goods could see tariffs fall on goods ranging from bamboo products to high-tech machinery.
4 Jul 14 - By editor ADELIA HALLETT.- The Malaysian island state of Penang is out to topple New Zealand from its clean-green throne.
27 Jun 14 - Businessman and economist Gareth Morgan could pull the plug on the Government's plans for our crucial freshwater resources.
27 Jun 14 - Australia's emissions trading scheme is on again. Maybe.
27 Jun 14 - Clive Palmer's zero-price emissions trading scheme won't solve Australia's biggest problem - how to meet its 2020 emissions reduction target, says carbon market analyst Reputex:
27 Jun 14 - The bill to repeal Australia's carbon tax is poised to pass the Senate, potentially leaving Australia without a working price on carbon.
27 Jun 14 - An international carbon market watchdog is welcoming Australian politician Clive Palmer's shift on climate change.
20 Jun 14 - Maori angry about the Government's twin failures over carbon prices and sustainable economic development are looking to mobilise the crucial 18-to-34-years-old vote.
13 Jun 14 - One of the country's largest carbon blocs believes the Emissions Trading Scheme is here to stay.
13 Jun 14 - New Zealand appears unenthusiastic about our Tasman neighbour's plans to form a conservative alliance on climate change.
13 Jun 14 - Leading international business innovators and entrepreneurs will gather in Auckland in September for the launch of a new global business innovation campaign in New Zealand.
13 Jun 14 - The practice of business paying state scientists to give evidence in resource hearings is under fire.
---