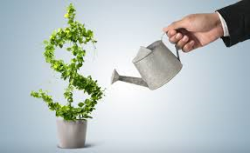 20 Dec 16 - Government officials are talking about the potential impact of carbon exposure on investments.
19 Dec 16 - Labour Party leader Andrew Little says he's backing the low-carbon economy as the future for New Zealand.

19 Dec 16 - The climate portfolio is now held by the deputy prime minister – the highest ranking it has ever had in New Zealand.

14 Dec 16 - Last month's 7.8 earthquake will delay the publication of New Zealand's next Greenhouse Gas Inventory.
12 Dec 16 - A proposal to make the Government report on environmental and social progress alongside economic performance is to go before Parliament.

9 Dec 16 - An international economist is in New Zealand preparing a report on how the country can cut all greenhouse gas emissions by 2050.

6 Dec 16 - Nearly two dozen more stock exchanges are bringing in sustainability reporting standards – but NZX is not one of them.
---
2 Dec 16 - Parliamentary Commissioner for the Environment Dr Jan Wright is welcoming the news that Treasury is talking about the possible impacts on New Zealand of sea-level rise.
30 Nov 16 - A group of eminent New Zealanders who petitioned Parliament to order a risk assessment of the impacts of climate change is welcoming Treasury's apparent support for at least part of the idea.
28 Nov 16 - Strutting environmental credentials is paying off for businesses, as climate change rises rapidly as an issue in the minds of the public.
25 Nov 16 - New Zealand has started talking to countries about supplying carbon credits to help to meet its Paris Agreement emissions reduction pledge.
25 Nov 16 - Environment Minister Dr Nick Smith is talking to his new Australian counterpart about aligning environmental regulation.
24 Nov 16 - International momentum for action on climate change is building, despite the United States electing Donald Trump president, says New Zealand's climate change ambassador.
23 Nov 16 - A first report on how New Zealand can adapt to climate change – including environmentally sustainable economic growth - should be with the Government by May.
22 Nov 16 - A new international survey ranks New Zealand as one of the five worst-performing countries when it comes to climate policy – alongside Spain, Japan, Turkey and the Ukraine.
18 Nov 16 - The Prime Minister says the Emissions Trading Scheme is operating "pretty well".
18 Nov 16 - Climate change will be one of the first subjects New Zealand raises with US President-elect Donald Trump, the Prime Minister says.
17 Nov 16 - New Zealand might buy international carbon credits to meet 80 per cent of its Paris Agreement emissions reduction commitment, a Government paper shows.
15 Nov 16 - Treasury is looking at setting up a working party into how much climate change-induced sea-level rise will cost the country – even if its minister doesn't think it's a good idea.
---