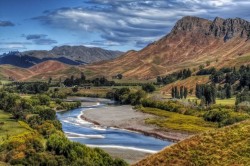 Tuesday - Balancing the environment with development is tricky. One way for policymakers to include the value of ecosystems in development is to set limits for pollution and other environmental impacts, known as environmental bottom lines.
Monday - The public has until September 2 to make submissions on New Zealandís ratification of the Paris Agreement on climate change.

Friday - New Zealand is stepping up the hunt for sources of quality carbon credits to help to meet its international emissions reduction targets.

Thursday - Carbon budgeting and a climate commission are not on the table for cross-party talks on climate change.
Thursday - Five National Party MPs have now joined a cross-party group investigating climate change Ė the most recent this morning.

17 Aug 16 - Business is being called in to help to plan New Zealandís transition to a low-carbon economy, as the Government pledges to ratify the Paris Agreement this year.
16 Aug 16 - Some of New Zealandís largest carbon emitters, along with forestry companies and even iwi are among the organisations that used cheap EURs to meet their liabilities under the Emissions Trading Scheme, a new report shows.
---
15 Aug 16 - Getting the Paris Agreement on climate change into force this year is technically possible, but getting across the emissions threshold will be hard, says a New Zealander at the heart of the process.
15 Aug 16 - The New Zealand Superannuation Fund has again scored an A-plus rating for governance and strategy around responsible investment in the latest benchmarking report by the United Nations-supported...
8 Aug 16 - New Zealand needs an Earthquake Commission-style Climate Change Fund to help to pay for the inevitable impacts of climate change, says an expert in public policy.
8 Aug 16 - Environmental groups are working on a plan they say will help the Government to do what it needs to do to meet the Paris Agreement emissions reduction target.
3 Aug 16 - The Government has only a handful of staff dedicated to working fulltime on climate change.
28 Jul 16 - New Zealand will take another look at its post-2020 emissions reduction target once it has ratified the Paris Agreement, the climate change minister says.
27 Jul 16 - Floods in Kapiti and Waitara last weekend show why the Government must take action over rising sea levels caused by climate change, says the Green Party.
26 Jul 16 - An announcement is imminent on the tricky question of when New Zealand will ratify the Paris Agreement.
26 Jul 16 - The Governmentís mission to make New Zealand predator-free by 2050 could have a positive spin-off for the battle against a warming climate.
22 Jul 16 - Heavy-emitting businesses could be buying more than $500 million worth of forestry credits a year by 2025, says the Crown Research Institute Scion.
22 Jul 16 - New Zealandís poor environmental management Ė including action on climate change and sustainable agriculture Ė has scored it a fail mark on five of the United Nationsí Sustainable Development Goals.
21 Jul 16 - Clean-tech manufacturing would have a seat at the Cabinet table under a Labour-Greens government.
---