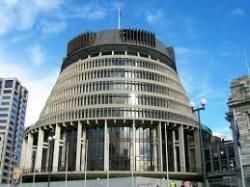 Tuesday - The Government still isn't talking about this year's scheduled review of the Emissions Trading Scheme.

Tuesday - Businesses showing leadership on climate change can expect to get the ear of new Labour Party leader Andrew Little.

15 Dec 14 - The Government is refusing to discuss what impact a 2030 carbon deficit will have on the economy – despite warnings from Treasury.

15 Dec 14 - New Zealand is using smoke and mirrors to meet its 2020 emissions reduction target, when it could get there by using clean heating and transport technologies, says one of our leading scientists.

8 Dec 14 - New Zealand has a $3 billion carbon headache looming – and Treasury says that's the conservative estimate.

8 Dec 14 - A climate change lobby group is calling for a national carbon budget and legally binding emissions reduction targets.

8 Dec 14 - Climate Change Minister Tim Groser says New Zealand will "push the envelope" on post-2020 emissions reductions.
---
1 Dec 14 - The Labour Party's Future of Work Commission will include analysis of the impacts on work of climate change and the low-carbon economy.
1 Dec 14 - The Government will use international Kyoto credits received in what's known as the KP1 true-up to cover its emissions blow-out.
1 Dec 14 - The need for rapid action on climate change in New Zealand in order to protect health is clear, according to a group of climate and health experts.
24 Nov 14 - The Government is under fire for the size of its contribution to a global fund to help developing countries to combat climate change.
24 Nov 14 - By editor ADELIA HALLETT.- New Labour Party leader Andrew Little appears to rank climate change only slightly more importantly than does Prime Minister John Key.
24 Nov 14 - Labour's new climate change and environment spokesperson says there's never been a time when she didn't believe in climate change.
17 Nov 14 - The Cabinet portfolios of agriculture and climate change should be given to the same person, says Labour Party leadership hopeful Nanaia Mahuta.
3 Nov 14 - New Zealand has no chance of meeting its 2020 emissions reduction target under current policies, says a leading scientist involved in the latest IPCC report.
3 Nov 14 - All three of New Zealand's major political parties say that the IPCC's latest call on climate change is important.
3 Nov 14 - New Zealand still has no plan to help climate change refugees – despite acknowledging that many Pacific Islands people might need to be relocated.
28 Oct 14 - The National Party is leading off its environmental package for its new term in power with plans to encourage more oil exploration – despite the burning of fossil fuels being the single biggest cause...
28 Oct 14 - The Environmental Protection Authority is making the national emissions register more user-friendly.
---