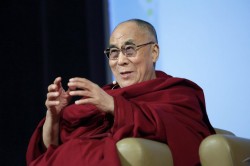 Today 11:45am - As the world's most powerful leaders prepare to come together for the President Joe Biden's virtual climate summit, the Dalai Lama and 100 other Nobel Prize winners have a clear message for them: Keep fossil fuels in the ground.

Today 11:45am - Three senior climate scientists argue the concept of net zero emissions effectively serves as a blank cheque for the continued burning of fossil fuel.
Today 11:45am - We have 10 years to prevent irreversible damage to the planet due to climate change. Despite this urgency, critical tools such as carbon offsetting, have been tarnished by claims of greenwashing, writes Bronson Griscom, Senior Director, Natural Climate Solutions at Conservation International.

Thursday - The IEA predicts that carbon dioxide emissions could rise to 33 billion tonnes in 2021 – the second largest rise in emissions ever.

Thursday - President Biden's climate summit, starting today, will see him aiming to bring Brazil's leader Jair Bolsonaro into line.

Thursday - The Columbia Journalism Review reports that journalism is entering a new phase of solution-focused climate reporting.
Wednesday - Californians alone use more power playing games and heating their pools than entire countries in Africa
---
Tuesday - Japan's Toyota Motor signalled a shift in its climate change stance on Monday (Apr 19), saying it would review its lobbying and be more transparent on what steps it is taking as it faces increased...
Tuesday - A 30-year-long project by some in the oil industry, who have spent millions of dollars manipulating public opinion and perceptions of climate change, is revealed in a new Al Jazeera documentary by...
Monday - The BBC's framing of upcoming talks between the US and China as a contest between human rights concerns and climate action came in for a blistering attack from Jeffrey Sachs, a former director of the...
Monday - From wines in Canada to mushrooms in the Czech Republic, some foods will fare better than others on a hot planet.
16 Apr 21 - Just three per cent of the world's land remains ecologically intact with healthy populations of all its original animals and undisturbed habitat, a study suggests.
15 Apr 21 - Youth activists are uniting to form a list of demands before President Biden's Earth Day summit.
15 Apr 21 - Thirteen thousands scientists have declared that climate change is the biggest environmental emergency to beset the earth in millennia.
14 Apr 21 - Landscape News reports that the newly popular field of soil microbiome restoration research could provide a major new tool for carbon capture.
13 Apr 21 - Over a third of the Antarctic ice shelf is at risk of collapsing as Earth continues to warm.
12 Apr 21 - A new study has found that economic growth and total greenhouse gas emission have been decoupled in 32 developed nations - including New Zealand... just.
12 Apr 21 - European Union plans to impose taxes on carbon at its border are "discriminatory" and unfair to developing nations, ministers from Brazil, South Africa, India and China have warned.
9 Apr 21 - Climate change may be sparking more lightning in the Arctic, a study has found.
---