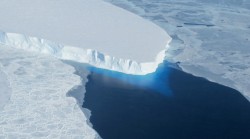 Today 9:00am - US and British science agencies have announced a multimillion-dollar research mission to study an enormous and exceedingly remote Antarctic glacier, one that they say could hold the potential for major sea level rise before the end of the century.

Friday - Top climate scientists have just under two years to deliver assessment of dangers and avoiding strategies for warming of 1.5deg.

Friday - The UN's world heritage body has made an urgent intervention to stop the construction of a coal power station in Bangladesh.

Friday - Climate change has been the elephant in the room during the three US presidential debates. Ignoring this issue would be more understandable if this metaphorical pachyderm weren't about to rampage through the lives of Americans, causing upheaval on a scale not seen since the start of human civilization.

Thursday - Greenhouse gas emissions from the main sectors covered by the European carbon market fell between 2014 and 2015, according to the European Environment Agency.

Thursday - Many Americans value environmental protection and want to see more of it.

19 Oct 16 - Up to 122 million more people worldwide could be living in extreme poverty by 2030 as a result of climate change and its impacts on small-scale farmers' incomes, a major UN report warns.
---
19 Oct 16 - The world has taken notice of a radical approach taken by New Zealand in 2014 when it adopted the Te Urewera Act which granted an 821-square-mile forest the legal status of a person.
18 Oct 16 - September set a record with temperatures 1.6deg above normal, besting the previous mark set in September 2014. It's the latest in a run of months — and years — where freakish global warmth has become...
17 Oct 16 - The industry committee of the European Parliament has voted 45 to 13 in favour of a compromise for reforming the EU's carbon market.
17 Oct 16 - We are constantly bombarded with bad news about climate change and the state of the planet – to the point where problems can seem so great that we feel powerless to do anything about them.
17 Oct 16 - Evidence collected along the New Jersey coastline suggests that the collision of a comet or other extraterrestrial body 55 million years ago coincided with an intense warming period that is the...
13 Oct 16 - Financial support and technology transfer are critical to tackling a climate timebomb in the chemical coolants sector.
13 Oct 16 - Retired Democratic warhorse Al Gore was trotted out at a rally in Miami with Hillary Clinton to highlight an issue he has long championed — combating climate change.
13 Oct 16 - Climate change has already doubled the number of forest fires in the western US since the 1980s − and it is a trend that will continue to increase, according to new research.
11 Oct 16 - A recently published study suggests that the droughts which have traditionally affected Brazil's semi-arid northeast are being worsened by the effects of climate change.
10 Oct 16 - A gigantic overhaul of the world's buildings, public transport and energy infrastructure costing trillions of dollars is required if dangerous climate change is to be avoided.
10 Oct 16 - Why do we think that climate sceptics are irrational? A major reason is that almost none of them have any genuine expertise in climate science (most have no scientific expertise at all), yet they're...
7 Oct 16 - Antarctica is at a crossroads. The frozen continent at the bottom of the planet has the potential to either become one of the most fiercely contested zones in the world, or the most collaborative.
---