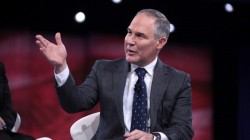 Friday - Donald Trump has reportedly nominated an attorney-general who has sued and reviled the Environmental Protection Agency to be the body's new chief.

Friday - In potentially one of the biggest climate commitments since the 2015 Paris deal was agreed, Indonesia has banned development on its remaining 15 million hectares of peatlands.

Thursday - The ability of the global insurance industry to manage society's risks is being threatened by climate change, according to a new report.

Thursday - Campaigners have won a court case to block construction of a 1.6GW coal plant in northern Poland.

Thursday - There's a UN climate change meeting involving nearly 200 governments taking place right now in the Mexican holiday resort of Cancun.

Wednesday - Japan's greenhouse gas emissions fell 3 per cent to a five-year low in the financial year through March due to lower power demand, growing renewable energy and the restart of nuclear power plants.

Wednesday - Climate change is set to cause a refugee crisis of "unimaginable scale," according to senior military figures, who warn that global warming is the greatest security threat of the 21st century.
---
Tuesday - The urgent threat of climate change means there is "no time to despair" over the election of Donald Trump, according to former vice-president Al Gore.
Tuesday - China aims to provide clean air in its largest cities for 80 per cent of each year, or more than nine-and-a-half months, by 2020, up from a figure of 76.7 per cent last year.
Tuesday - Climate scientists have identified Africa's single biggest export – the windborne dust that fertilises the Amazon forests, nourishes life in the Atlantic ocean and softens the noonday blaze of the...
Tuesday - Denmark has cut food waste by 25 per cent in five years, thanks to a new approach to damaged and out-of-date food.
Monday - More than 50 trillion kilograms of carbon could be released into the atmosphere from the soil by mid-century if no moves to mitigate climate change are successful, says a new report.
2 Dec 16 - On average, one person is displaced each second by a disaster-related hazard. In global terms, that's about 26 million people a year.
2 Dec 16 - The European Commission's Winter Package is a further step toward harmonising the bloc's climate and energy strategy, says the International Emissions Trading Association.
1 Dec 16 - As the short Antarctic spring ends and long summer days approach, geo­scientists are flocking to the frozen continent to start a new kind of exploration.
1 Dec 16 - Europe will begin phasing out coal subsidies and cut its energy use by 30 per cent before the end of the next decade, under a major clean energy package just announced.
1 Dec 16 - The EU carbon market's generous handouts to industries deemed at risk of losing business abroad are undermining the system, a watchdog has warned.
1 Dec 16 - Alongside her husband, Doug, Kris McDivitt Tompkins bought up vast swaths of Patagonia to save it from developers.
30 Nov 16 - Donald Trump's election portends a major shift in how one of America's greatest bulwarks against the impacts of climate change will be protected and used for fossil fuel development.
---