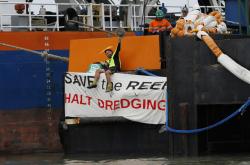 20 Apr 15 - The almost 600 environmental groups that hold tax-deductibility status in Australia are being scrutinised by a Federal Government inquiry, with reports that more than 100 of them face being struck off the list.

20 Apr 15 - * Dutch government facing legal action over failure to reduce carbon emissions * US greenhouse gas emissions spiked 2 per cent in 2013 * Brazil to offer ambitious climate plan with more renewables * Brompton Bicycles – the unfolding saga of a two-wheeled success story

13 Apr 15 - A state-of-the-art British plant designed to re-use spent nuclear fuel so as to cut greenhouse gas emissions is to close after years of what its critics call "commercial and technical failure."
13 Apr 15 - * Former UN climate chief defends coal finance * US carbon emissions set to fall to lowest level in two decades * Bloomberg pours $30m more into fighting coal * Top development banks agree definition for climate finance * World mayors call for prompt action to fight climate change * Vancouver commits to run on 100% renewable energy

7 Apr 15 - The United States is a nation where hunger and obesity go hand in hand. More than 17 million households struggle to put food on the table, and when they do, it's often high in fat and sugar because healthy options are scarce in low-income neighborhoods.

7 Apr 15 - * Carbon floor price hike will trigger UK coal slowdown, say analysts * EU reaches tentative deal to cap food-based biofuels * One million green jobs projected by 2030 in China, EU and US * Guardian Media Group to divest its £800m fund from fossil fuels * Ontario plans cap-and-trade on greenhouse gas emissions * California water restrictions signal new era of drought risk

7 Apr 15 - The official target of limiting global warming to a 2C rise has been described by a senior scientist as "utterly inadequate" to protect the people most at risk from climate change.
---
30 Mar 15 - By KEIRAN COOKE.- Zheng Guogang, head of the China Meteorological Administration, says future variations in climate are likely to reduce crop yields and damage the environment.
30 Mar 15 - * Satellite data indicates sea levels rising faster than expected * UK faces European court over coal plant emissions * Pakistan shelves six coal-fired power projects * Rockefeller family tried...
23 Mar 15 - Nature has been replaced by humans as the driving force behind changes on the planet − and we need to take urgent action if we are to avoid our own destruction.
23 Mar 15 - Efforts by major fashion brands to remove toxic chemicals from their supply chains and to tackle water pollution are under the public spotlight.
23 Mar 15 - * France decrees new rooftops must be covered in plants or solar panels * Gates Foundation has $1.4bn in fossil fuel investments * Costa Rica powered by 100% renewable energy for first 75 days of...
16 Mar 15 - Analysis of temperature records and reconstructions of past climates indicates that the pace of global warming is about to accelerate.
16 Mar 15 - Time is divided by geologists according to marked shifts in the Earth's state. Human activity has clearly altered the land surface, oceans and atmosphere, and re-ordered life on Earth. This suggests...
16 Mar 15 - A senior French political leader has told an international conference on how to reduce the risk from natural disasters that 70 per cent of them are now linked to climate change, twice as many as 20...
16 Mar 15 - * Norway's giant fund increases stake in oil and gas companies to £20b * China's dirty coal plants face climate risk, investors warned * Japan continues to re-embrace coal * Energy efficiency...
9 Mar 15 - * EU commits to cut emissions 'at least' 40% by 2030 in UN pledge * Canadian government pushing First Nations to give up land rights for oil and gas profits * China blocks web access to documentary...
2 Mar 15 - International business leaders say that the success of new climate and energy plans for Europe hang on how effectively they are implemented.
2 Mar 15 - China's push for more intense farming has kept its city dwellers well-fed and has helped to lift millions of rural workers out of poverty … but it has come at a cost.
---