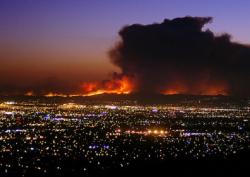 Monday - The firefighters are primed, hoses at the ready. May and June are often the peak months for forest fires in the southwest of the US, and the outlook for this year is grim.

Monday - Single-use plastic bags could soon become a thing of the past in European supermarkets.

Monday - * Tesla unveils home battery to rev up low carbon transition * US, Japan and Canada miss Green Climate Fund donation deadline * Obama signs energy efficiency bill into law * Solar power plant floating on wastewater hailed for multiple environmental benefits * Russia to power Arctic drilling with floating nuclear reactors * UN chief and Pope Francis discuss climate change

Monday - Malaysia's Home Ministry has seized an explosive book on timber corruption in the Malaysian state of Sarawak.

28 Apr 15 - In the aftermath of the 2008/9 global financial crisis central banks around the world pumped billions of dollars into the monetary system to safeguard the world economy.

28 Apr 15 - The whole issue of climate is much too important to be left to governments and their leaders, says Mary Robinson, the UN Secretary-General's special envoy on climate change.

28 Apr 15 - * Will 2015 be the warmest year on record? * Like shale gas, solar power shaking up global energy * Coal faces a day of reckoning in New Mexico * Pension funds failing to manage climate risk could get sued * Formula One technology makes fridges more energy efficient
---
28 Apr 15 - Permafrost - a vast, frozen subsurface layer of soil - covers nearly a quarter of the land in the northern hemisphere. It contains centuries worth of carbon in the form of plants that have died since...
20 Apr 15 - The almost 600 environmental groups that hold tax-deductibility status in Australia are being scrutinised by a Federal Government inquiry, with reports that more than 100 of them face being struck...
20 Apr 15 - * Dutch government facing legal action over failure to reduce carbon emissions * US greenhouse gas emissions spiked 2 per cent in 2013 * Brazil to offer ambitious climate plan with more...
13 Apr 15 - A state-of-the-art British plant designed to re-use spent nuclear fuel so as to cut greenhouse gas emissions is to close after years of what its critics call "commercial and technical failure."
13 Apr 15 - * Former UN climate chief defends coal finance * US carbon emissions set to fall to lowest level in two decades * Bloomberg pours $30m more into fighting coal * Top development banks agree...
7 Apr 15 - The United States is a nation where hunger and obesity go hand in hand. More than 17 million households struggle to put food on the table, and when they do, it's often high in fat and sugar because...
7 Apr 15 - * Carbon floor price hike will trigger UK coal slowdown, say analysts * EU reaches tentative deal to cap food-based biofuels * One million green jobs projected by 2030 in China, EU and US *...
7 Apr 15 - The official target of limiting global warming to a 2C rise has been described by a senior scientist as "utterly inadequate" to protect the people most at risk from climate change.
30 Mar 15 - By KEIRAN COOKE.- Zheng Guogang, head of the China Meteorological Administration, says future variations in climate are likely to reduce crop yields and damage the environment.
30 Mar 15 - * Satellite data indicates sea levels rising faster than expected * UK faces European court over coal plant emissions * Pakistan shelves six coal-fired power projects * Rockefeller family tried...
23 Mar 15 - Nature has been replaced by humans as the driving force behind changes on the planet − and we need to take urgent action if we are to avoid our own destruction.
23 Mar 15 - Efforts by major fashion brands to remove toxic chemicals from their supply chains and to tackle water pollution are under the public spotlight.
---