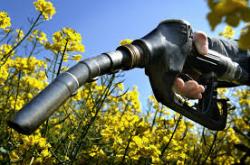 Friday - Britain has proposed a way to lower the European Union's 2020 target for renewable energy by counting the contribution from biofuels twice, avoiding the need for billions of euros in investment, a document shows.

Friday - Australia's climate council is calling for fossil fuels to remain in the ground.

Friday - Agroforestry, diversification of crops with legumes and other practical measures must be scaled up to end hunger, says United Nations Secretary-General Ban Ki-moon.

Friday - Ten Sydney women have joined forces to make savings on their energy bills that would be enough to power four average family homes for a week.
Friday - * China says poorly prepared to fight impact of climate change * Newly discovered greenhouse gas '7000 times more powerful than CO2' * Extreme heat risk on rise - Climate Council * Bloomberg launches new "carbon bubble" risk analysis service * European cities hesitant to adapt to climate change * Climate change leading to scarcity of farmland, investors say * World's poorest nations 100 years behind richest on climate change

6 Dec 13 - The Australian Government's proposed $2.55 billion Emissions Reduction Fund could be exposed to serious budget risk, according to carbon analytics firm RepuTex.

6 Dec 13 - China is facing significant environmental and social challenges that must be addressed if it is to achieve its sustainable development goals, the United Nations says.
---
6 Dec 13 - * UN's 2C target will fail to avoid a climate disaster, scientists warn * Chinese province's emissions trading move leaves Australia behind * Public-private partners at UN pledge to seek...
29 Nov 13 - The Australian Coalition Government has announced its 2014 parliamentary calendar, with a rare mid-winter sitting for the new Senate as it seeks to fast track its repeal of the Carbon Pricing...
29 Nov 13 - Almost 200 countries have signed a deal on climate change in Warsaw, marking the start of a journey toward a binding international agreement at the 2015 UN climate talks in Paris.
29 Nov 13 - The economic loss suffered by the Pacific region could range from 2.9 per cent to as high as 12.7 per cent of annual GDP by 2100, according to a new study from the Asian Development Bank.
29 Nov 13 - * Top polluter China expands emissions trading * Markets have 'deep roots' in UN climate process * Coalition carbon policy not popular * Business beats the politicians in tackling climate...
22 Nov 13 - The UN COP19 climate conference is approaching the critical stage and could be scuttled over who pays for damage from events like Typhoon Haiyan, says Green MP Dr Kennedy Graham.
22 Nov 13 - The first California forest carbon credits issued under the cap-and-trade offset protocols have been issued by the Air Resources Board.
22 Nov 13 - Higher gas prices, and the impending repeal of the Australian carbon price mechanism are set to resume the emphasis on coal-fired generation in the Australian National Electricity Market (NEM).
22 Nov 13 - The coal industry must radically transform and diversify to avoid the worst impacts of climate change, a senior United Nations official said in Warsaw, stressing that companies must assess the risks...
22 Nov 13 - * China to launch Beijing, Shanghai carbon markets * Why banks in London are exiting the carbon trade * Just 90 companies caused two-thirds of man-made global warming emissions * Tony Abbott...
22 Nov 13 - The Carbon Reduction Fund in Australia, backloading in Europe, markets linking in North America and the first carbon auction in China ... Westpac's carbon desk reviews the international carbon...
22 Nov 13 - The European Union says it is seeking a balanced package of decisions out of Warsaw to advance international climate action.
---