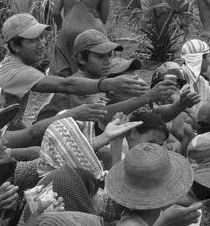 Monday - A new study informs delegates to the Paris summit that extreme weather in the past two decades has claimed well over half a million lives and cost trillions of dollars.

Monday - * Christiana Figueres: the woman whose job it is to save the world * Gates to launch clean energy project in Paris * Unilever vows to go 'carbon positive' by 2030 * Malaysia targets cut in last-minute pledge * Key dates in fight to save world from climate change

Monday - As the Paris climate talks begin, Reporters Without Borders has released a report called Hostile Climate for Environmental Journalists that examines the often tragic difficulties for reporters covering environmental issues.

23 Nov 15 - Reduced river flows in Brazil, as global warming intensifies the drought there, mean more damage from a burst dam, scientists say.

23 Nov 15 - In a move that is potentially transformative, the New York attorney general is investigating Exxon for financial fraud.

23 Nov 15 - * Pacific temperature data shows El Niño gathering record strength * Super-rich Qatar delivers target-free UN climate pledge * Britain calls for closing of coal-fired power plants by 2025 * Egypt to go nuclear using Russian money * Senators move to block Paris deal * Geely aims for 90% of sales to be green by 2020 * Kia wants range of 11 green cars by 2020 * Methane becomes electricity becomes Toyota cars

16 Nov 15 - * Paris is safe, France assures climate talks visitors * EU scientists advise higher safety limits on glyphosate * Science Museum ends sponsorship deal with Shell * World's largest ocean clean-up operation one step closer * Impact on oceans needs urgent attention at talks * Animal poo fuels a French zoo's biogas unit
---
9 Nov 15 - A former key figure in UN climate change policy-making says economists now see that development without destroying the environment is the only way forward.
9 Nov 15 - * Pacific Islands make last-ditch plea before Paris * Obama rejects Keystone XL pipeline * Canada gets first climate change minister * IMF to factor climate risk into forecasts * Renewable energy...
9 Nov 15 - Everyone has experienced it. Striding along in a purposeful hurry, your progress is thwarted by a slow-moving pedestrian, dawdling along the pavement. Perhaps they're talking into their mobile phone,...
2 Nov 15 - The Persian Gulf is already one of the hottest parts of the world, but by the end of the century increasing heat combined with intense humidity will make the region too hot for habitation, according...
2 Nov 15 - * MEPs vote to cap some agricultural emissions, but not cow burps * World's climate pledges not yet enough to avoid dangerous warming * VW's 'dieselgate' puts spotlight on electric cars in Germany...
27 Oct 15 - Climate reformers woke up last Tuesday with a reason to smile. North of the 49th parallel, Canadian voters turfed out the decade-old government of Stephen Harper.
27 Oct 15 - Lord Stern, an expert on the economic impacts of climate change, says the stakes have never been higher for radical action to be agreed at the Paris summit.
27 Oct 15 - Analysis of insurance data convinces environmental economists that climate change is pushing up the cost of dealing with the disastrous effects of extreme weather events.
27 Oct 15 - * One month to Paris, nations cannot agree on meaning of decarbonisation * Paris climate deal unlikely to need Senate approval, says US envoy * Europe entering the era of 'precision agriculture' *...
27 Oct 15 - Researchers say the economic costs of failing to take action on climate change will be much greater than previously thought – with average global incomes cut by almost a quarter.
19 Oct 15 - Rich countries are failing to fulfil pledges to make billions of dollars available to help the developing world to tackle climate change.
19 Oct 15 - Clothing brand Patagonia gives 1 per cent of its sales "to support environmental organisations around the world".
---