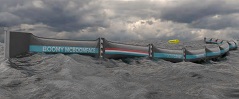 Friday - A bid to clear the Pacific of its plastic debris has moved a step closer with the launch of the biggest prototype clean-up boom yet by the Dutch environment minister.

Thursday - The role of carbon funds in the growth of the carbon market is the subject of the fifth chapter of IETA's oral history of the carbon market, From Kyoto to Paris.

Wednesday - The Chinese government has outlined a plan to reduce its citizens' meat consumption by 50 per cent, in a move that climate campaigners hope will provide major heft in the effort to avoid runaway global warming.
Wednesday - The expert group which advises the Irish Government on climate change has come out in favour of a minimum price for carbon under the EU Emissions Trading Scheme.

Tuesday - US President Barack Obama has attacked those who pay lip service to natural beauty while blocking efforts to tackle climate change.
Tuesday - The Dutch presidency of the European Union is seeking political support from member states to enshrine in a carbon market reform a flexibility provision that would enable strengthening the world's biggest cap-and-trade programme.
Tuesday - The worst oil bust since the 1980s is putting Texas and other oil producing states on the hook for thousands of newly abandoned drilling sites at a time when they have little money to plug wells and seal off environmental hazards.
---
Tuesday - More than three people were killed a week defending their land from mining or logging interests last year.
20 Jun 16 - May was the 13th month in a row to break temperature records in a string of incredible climate milestones which scientists have described as a bombshell and an emergency.
20 Jun 16 - Research shows that the effects of extreme heat and weather events on production of raw materials has far-reaching and costly financial implications.
17 Jun 16 - We're officially living in a new world. The last station on Earth without a 400 parts per million CO2 reading has reached that mark.
17 Jun 16 - A "yes" Brexit vote would leave a large pro-market void in Brussels and will hold back the development of international carbon markets, the International Emissions Trading Association is warning.
17 Jun 16 - It's time for the fourth chapter of the International Emissions Trading Association's series on the development of carbon markets – and this time it's about the Clean Development Mechanism.
17 Jun 16 - Nearly 400 scientists from more than a dozen countries are urging President Obama to stop future oil and gas drilling in the Arctic Ocean because of significant environmental and climate risks.
17 Jun 16 - Homeowners will qualify for reduced repayment on their mortgages if they undertake energy efficiency renovations, and lower interest rates on loans to pay for them, under "pioneering" plans being...
16 Jun 16 - As carbon dioxide in the atmosphere reaches a historic high point that could continue for a lifetime, summer temperatures are also heading toward record levels
16 Jun 16 - Norway's parliament has approved a radical goal of achieving climate neutrality by 2030, two decades earlier than planned.
16 Jun 16 - In the heart of Siberia's boreal forest gapes a monstrous chasm local Yakutians call a "gateway to the underworld," connecting this life to the next.
15 Jun 16 - May was record warm for the globe, according to NASA. It's now even more likely that 2016 will be the hottest year ever recorded.
---