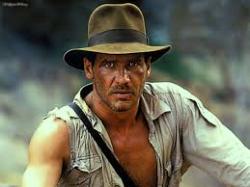 Friday - By KIERAN COOKE.- There's Harrison Ford in the jungles of Indonesia, investigating deforestation and the plight of orangutans. There's Arnold Schwarzenegger, battling wildfires in California, Don Cheadle seeing the impact of drought in Texas, and Matt Damon examining the consequences of a heat wave.

Friday - * UK green bank invests £460m in offshore windfarms * Climate action only way to grow economy, says Unilever * Toyota launches world-first metal recycling scheme * Climate change worries Chinese businesses

4 Apr 14 - By ALEX KIRBY.- A warming climate is closely related to political and social instability and a higher risk of conflict, according to American scientists.

4 Apr 14 - By PROF NICK ROWLEY.- In Australia, any sense of the need for an urgent policy response has stalled, despite this week's reminder from the IPCC of the threats the country faces – not to mention the warming already seen and the increase in extreme climate events.

4 Apr 14 - * US, China and EU agree to cooperate on UN climate treaty * Hubei starts China's second-biggest carbon exchange * Social media explosion powered by dirty energy, report warns * California pays residents to offset higher energy costs from cap and trade * Airlines find a smart way to cut carbon footprint * For sustainable agriculture, big is beautiful * Climate change impacting entire planet, says new UN report

4 Apr 14 - THE COMMITMENT of small islands in the Pacific to low-carbon development has been praised by the head of the United Nations.

4 Apr 14 - BIG ENERGY-guzzling companies will get a handout of up to $US2.75 billion under proposed new state aid rules due to be finalised by the European Commission by April 9, according to an analysis by the Öko Institute.
---
4 Apr 14 - TWO researchers who tried to work out the economics of reducing global climate change to a tolerable level have come up with a perhaps surprising answer: essentially, we do not and cannot know what...
28 Mar 14 - WITHIN the course of five days, Brussels will play host to Barack Obama and Xi Jinping. As the international community looks to keep global warming under 2°C, these leaders must insist on the same,...
28 Mar 14 - By MICHAEL HOPKIN.- A Labor-dominated Senate committee has set the stage for the post-July tussle over carbon policy, recommending that Australia commit to much deeper emissions cuts than the...
28 Mar 14 - THE EUROPEAN Commission is preparing new policy proposals to reduce waste and reach greater recycling rates, in order to move towards a zero-refuse economy.
28 Mar 14 - AIR POLLUTION killed seven million people across the globe in 2012, making it the world's largest single environmental health risk, according to new figures.
28 Mar 14 - * Long-term sea level rise will be much higher, says IPCC * Failing carbon trading markets provide key lessons for the future * China prepares to expand carbon market with sixth scheme *...
21 Mar 14 - European Union heads of states preparing for a summit opening in Brussels today are divided about when to adopt a new climate change target, as the EC's preferred 40 per cent greenhouse gas...
21 Mar 14 - Carbon traders and investors are calling on Europe to reach a clear and early political agreement on the 2030 climate and energy framework.
21 Mar 14 - China is using drones to spy in heavily polluted areas for illicit pollution emissions, according to a senior Government official.
21 Mar 14 - The number of climate change laws on the statue books of the world's leading economies grew from less than 40 in 1997 to almost 500 at the end of 2013 SAM FRANKHAUSER, co-director of the Grantham...
21 Mar 14 - * MEPs block moves to exempt long-haul flights from trading scheme * Steel industry urges overhaul of EU carbon trading system * Tokyo firms over-achieve on emission targets: official * Wyoming...
21 Mar 14 - By KIERAN COOKE .- India is in the midst of a massive hydro electric dam building programme, necessary, it says, to fuel the energy needs of its fast growing economy.
---