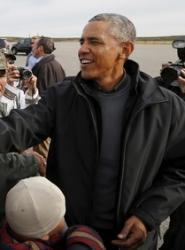 Monday - Recent trips by President Obama highlight the costs of adapting – or responding – to climate change that we are paying today and will pay tomorrow.

Monday - Scientists warn that densely packed cities face even greater health hazards as greenhouse gases continue to push up temperatures.

Monday - * World's oceans facing biggest coral die-off in history * UN releases 20-page negotiating text for climate deal * Cars, aviation, steel ... the stranded assets risk spreads * California governor signs 50% renewables pledge into law * Vulnerable nations unite to step up calls for climate finance * Southeast Asia coal use to triple – IEA * UN climate change panel elects new leader * EU heating strategy draft favours renewables
5 Oct 15 - The world's most influential banker says an orderly switch from fossil fuels to renewables is needed to avoid turmoil on world stock markets.

5 Oct 15 - Pacific island nations have a crucial role to play in efforts to advance a sustainable future, Secretary-General Ban Ki-moon told the region's leaders as they met at United Nations Headquarters.
5 Oct 15 - * The highs and (mostly) lows of Shell's failed Arctic adventure * Climate pledges by 140 countries will not be enough * India unveils climate change plan * Netherlands enters appeal against climate ruling * Offer investors in booming renewables security, says IEA * Volkswagen to refit cars affected by emissions scandal * Europe's largest solar park connected to the grid * Blame an FAA blunder for the lack of electric planes

28 Sep 15 - China, the world's largest carbon polluter, has reiterated its carbon trading commitment and has pledged $3.1 billion in climate financing to assist developing countries.
---
28 Sep 15 - The United Nations General Assembly has adopted a set of bold new global goals, which Ban Ki-moon hailed as a universal, integrated and transformative vision for a better world.
28 Sep 15 - India, the world's third-largest polluter, is planning to balance development with environment protection as it tackles climate change.
28 Sep 15 - * Q&A: Obama opens up on climate change * Pope to Congress: Act on issues of life and death, including climate * Shell accused of strategy risking catastrophic climate change * BP tops the list of...
21 Sep 15 - For years, scientists and environmentalists have debated the best ways to conserve and protect natural resources from pollution and over-exploitation.
21 Sep 15 - * Australian homes among first to get Tesla's Powerwall solar-energy battery * Ministers unite on mandate for Paris climate talks * Canada having a green energy boom — with or without PM Harper *...
21 Sep 15 - In recent years there has been significant movement toward land acquisition in developing countries to establish forestry plantations for offsetting carbon pollution elsewhere in the. This is often...
14 Sep 15 - At the world's last blockbuster climate summit, in Copenhagen in 2009, the person in the president's chair was former EU climate commissioner and Danish environment minister Connie Hedegaard.
14 Sep 15 - Back in 1839, public health expert J. F. Murray published his article The Lungs of London, in Blackwood's Edinburgh Magazine. Even then, city dwellers appreciated the advantages of open, green spaces.
14 Sep 15 - * Australian solar farms given $350m push * Civil aviation falling short of climate commitments * Southern Ocean showing revival in carbon absorption ability * Israel's 300 days of sun no help as...
7 Sep 15 - Much of the world still lacks clean, safe water. Progress on sanitation is falling far short of the United Nations' Millennium Development Goals.
7 Sep 15 - Internationally renowned artists have released a song urging world leaders to reach a global agreement during the Paris climate conference in December to limit the impacts of climate change.
7 Sep 15 - * Shell to axe thousands of jobs amid $7 billion in spending cuts * What do chief executives really think about climate change? * Climate action will reduce risk of heart disease, say experts *...
---