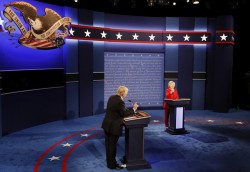 Friday - Climate change did not come up in the first presidential debate – well, not in any real sense.

Friday - Bill McKibben, the US environmentalist who is one of the world's foremost authors and activists on issues of global warming, does not mince his words.

Friday - Fresh from quitting what is becoming an increasingly brutal race to replace Ban Ki-moon as UN secretary-general, Christiana Figueres is back with a new project: Mission 2020.

Friday - Paris has voted for the ban of vehicles on the road running along the right bank of the river Seine.

Wednesday - Scientists say that 2016 will be the year that carbon dioxide officially passed the symbolic 400 ppm mark, never to return below it in our lifetimes.

Wednesday - Current greenhouse gas concentrations could warm the world 3-7deg (and on average 5deg over coming millennia. That's the finding of a paper just published in Nature.

Wednesday - The International Criminal Court is not known for prosecuting people responsible for huge oil slicks, chopping down protected rainforests or contaminating pristine land. But these people might now one day find themselves on trial in The Hague.
---
Tuesday - Bank of England governor Mark Carney has thrown his weight behind the fledgling market in green investments to help cut carbon emissions and boost global economic growth.
Monday - US president Barack Obama has signed a presidential memorandum establishing that climate-change impacts must be factored into the development of all national security-related doctrine, policies and...
Monday - European scientists have dug deep to dismiss once again the old argument that climate change might be a consequence of solar radiation rather than atmospheric chemistry.
23 Sep 16 - Waste crime is the new narcotics, according to the head of the UK Environment Agency, offering huge profits as the authorities race to catch up with the damage caused to society.
22 Sep 16 - Barack Obama appealed for a scaling up of climate finance to reduce global inequality in his last speech to the UN General Assembly as US president.
22 Sep 16 - Bank of America and Amalgamated Bank have vowed to completely power operations with renewable energy by 2020.
22 Sep 16 - The unprecedented streak of record-hot months that the world has experienced over more than a year just tacked on one more month: Data released by the National Oceanic and Atmospheric Administration...
21 Sep 16 - The world's biggest polluters have released their fossil fuel subsidy peer reviews and the obstacles to reform are clear: the US will wait on Congress, while China will wait on China.
20 Sep 16 - World soccer body FIFA is the first international sports organisation to join Climate Neutral Now ¨C an initiative by the UN climate change secretariat.
19 Sep 16 - Arctic sea ice this summer shrank to its second lowest level since scientists started to monitor it by satellite, with scientists saying it is another ominous signal of global warming.
19 Sep 16 - A group of senior defence experts in the US has warned that climate change is a threat to the country's security, with the stark message that "the impacts of climate change present significant and...
19 Sep 16 - Like the EU, Scotland met its 2020 climate target six years early. Unlike the EU, Scotland plans to increase its target to maintain momentum.
---