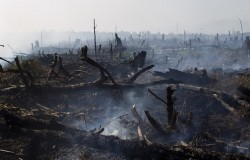 Friday - The news recently followed 200 firefighters tackling a blaze in California, while this May the world watched the evacuation of more than 50,000 people from Fort McMurray in Canada.

Friday - Thirty years after atomic fallout from the Chernobyl meltdown, Ukraine is seeking investors to develop solar power near the defunct Soviet reactors.
Friday - Rio 2016 and the Brazilian Mint have shown their commitment to the environment by using sustainable resources in the Olympic Games' medals.
Thursday - Presidential candidates begin to make clear their stark differences on climate change, energy production and stem cell research.
Thursday - Military bases along the US East and Gulf coasts are at risk of losing large chunks of land as rising sea levels from climate change swamp installations from New Hampshire to Florida.
Thursday - Amazon deforestation due to soy production has fallen 86 per cent in the last decade as a result of Greenpeace's soy moratorium.

Thursday - Mesmerising new climate visuals tell the story of how emissions have stoked global warming since 1850.
---
Wednesday - Last week, he said he would not honour the Paris climate agreement. Yesterday, Philippines president Rodrigo Duterte said global warming was a "top priority".
Tuesday - More research is needed on the risks involved in even 1.5 degrees of warming, a Scientists call for new report shows.
Tuesday - Globally, 2016 is poised to be another record-breaking year for average temperatures. This means more air-conditioning. Much more.
Tuesday - Climate scientists have reported that armed fighting is prone to follow droughts, heatwaves and other weather-related calamities in turbulent countries.
Tuesday - The Paris Agreement on climate change has the backing of America's largest and oldest Black church.
Tuesday - The United Nations has unveiled new software, developed in partnership with Google, to help to tackle climate change, deforestation and food production issues.
25 Jul 16 - Delegates attending the Republican convention eerre asked if they agree with scientists that climate change is happening and whether people contribute to it.
25 Jul 16 - US Secretary of State John Kerry has told envoys at the Montreal Protocol talks in Vienna that their moment to contribute to a global warming solution has come.
22 Jul 16 - The world is on track for its hottest year on record and levels of carbon dioxide in the atmosphere have reached new highs, further fuelling global warming, the World Meteorological Organisation says.
22 Jul 16 - The massive economic and health losses that climate change is already causing across the world are detailed in six scientific papers published today.
22 Jul 16 - Canadian Prime Minister Justin Trudeau says the government will impose a "strong" price on carbon — and won't rule out a cap to ensure provinces meet a national standard.
22 Jul 16 - Nick Hurd, former head of Energy Africa initiative, has been handed the climate change portfolio in the UK's new department for business, energy and industrial strategy.
---