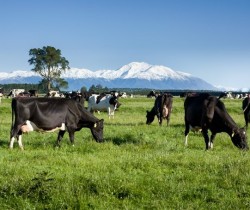 Tuesday - Farmers will find out on Thursday whether they will be brought into the Emissions Trading Scheme.

Tuesday - A report by the Environment Select Committee has made the zero-carbon bill even stronger, says climate minister James Shaw.

Tuesday - Ten years ago, business was warning that emissions subsidies proposed by the National Government could cost taxpayers $3.5 billion.

Monday - The Environment Select Committee has taken a bob each way on methane targets – recommending the Government's target stay in place but that the Climate Change Commission should be able to change it.

Monday - New Zealand First is talking "sustainable transition" for the agricultural sector as the country waits for the zero-carbon bill to come back into Parliament.

Monday - Does the zero-carbon bill have cross-party support or not? The Environment Select Committee is due to tell Parliament today what changes it wants made to the Climate Change Response (Zero-Carbon) Amendment Bill – if MPs from opposite sides of the House can agree.

Monday - Ten years ago, it looked like a select committee considering climate legislation would fail to agree on anything and would send draft amendments to the Emissions Trading Scheme back to Parliament untouched.
---
Friday - Direct action by protesters is the only thing that will push politicians into treating climate change as the crisis it is, says the chair of Air New Zealand's sustainability board, Sir Jonathon...
Friday - Ten years ago, New Zealand accountant Nick Main – head of Deloitte's international sustainability team – was telling businesses that talking about climate change was all very well, but what was...
Thursday - Climate change and ocean acidification are piling pressure on a marine system already stressed by the impacts of human activities, the latest official state-of-the-environment report says.
Thursday - High carbon prices could hinder electrification of New Zealand's energy sector, the country's largest electricity retailer says.
Thursday - The Government's Green Investment Finance fund says it is working on "a number of opportunities" for investment.
Thursday - Ten years ago, the Government's plan to give free carbon credits to the holders of fishing quota instead of to fishingboat owners, who would bear the cost of carbon pricing on fuel, was dividing the...
16 Oct 19 - Green financial markets will not develop in New Zealand if companies don't use them, Westpac says.
16 Oct 19 - Finance minister Grant Robertson is joining the Coalition of Finance Ministers for Climate Action.
16 Oct 19 - Ten years ago, business leaders were angry the Government was rushing through changes to the Emissions Trading Scheme, giving them little time to respond.
15 Oct 19 - Unions want reform of the tax system and redundancy payments for all laid-off workers as part of a "just transition" to a low-carbon economy.
15 Oct 19 - National MP Judith Collins' dismissal of the need for urgent action on climate change is being called ill-informed, dangerous and just plain wrong.
15 Oct 19 - Ten years ago, two of the Government's support parties joined forces with the Opposition to stop National restricting the number of organisations allowed to make oral submissions on proposed changes...
---