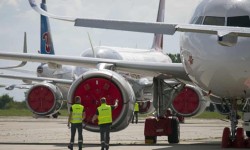 1 Mar 21 - Planes sold by Airbus in 2019 and 2020 will produce well over a billion tonnes of carbon dioxide during their lifetimes, according to landmark first estimates of the aerospace manufacturer's emissions.

26 Feb 21 - Despite the pandemic slamming the brakes on flying, UK-based engineering firm Rolls-Royce - whose main clients include the aviation industry - has not backed away from its work to slash planet-heating emissions, according to its technology director.

19 Feb 21 - Taxes on international transport could provide finance to help developing countries cut greenhouse gas emissions and cope with the impacts of climate breakdown, a group of climate finance experts say.

16 Feb 21 - The European airline industry has launched a sustainability plan to achieve carbon neutrality in the aviation sector by 2050.

10 Feb 21 - The latest round of Government funding to help cut the country's traffic emissions has gone to projects including hydrogen trucks, EV charging and car-and-bike-sharing schemes.
5 Feb 21 - Scientists are working on recovering atmospheric carbon to conjure aviation jet fuel from thin air.

4 Feb 21 - Dunedin airport is on a new international list of airports most vulnerable to climate change.
---
3 Feb 21 - Where will hydrogen fit in the clean transport mix? Not in trucking, says one of the world's largest heavy-duty-vehicle manufacturers.
28 Jan 21 - The Government is pre-empting likely criticism from the Climate Change Commission by today announcing a suite of policies tackling greenhouse gas emissions from transport.
11 Dec 20 - A major shareholder in New Zealand's only oil refinery says it should be converted to producing renewable fuels.
9 Dec 20 - Z Energy is sticking with its dream of selling low-emissions biodiesel, albeit with an Australian product because its own production plant has been mothballed.
27 Nov 20 - The aviation sector's climate impact is three times bigger than the effect of its carbon dioxide emissions alone, a new study shows, prompting calls for action.
26 Nov 20 - British Prime Minister Boris Johnson's "jet-zero" goal of a commercial transatlantic flight producing no carbon emissions by 2025 is a gimmick, according to experts, who say technology alone cannot...
23 Nov 20 - Just one per cent of the population is responsible for half of global emissions from aviation, a study shows.
19 Nov 20 - The tourism and export sectors need to prepare for growing transport costs, Climate Change Commission chair Dr Rod Carr is warning.
19 Nov 20 - Countries have agreed a package of energy-efficiency measures that will allow emissions from global shipping to continue to rise until 2030.
13 Nov 20 - For one Greek island the future is green - it's switching from internal combustion-driven transport to electric vehicles.
9 Nov 20 - One of the biggest investors in Tesla has defended the explosive growth in the US electric carmaker's share price, arguing that it is "far from an aberration".
9 Nov 20 - Aviation is gearing up for big changes in how the industry is regulated, as climate targets bite. The options available to decarbonise planes are plentiful and the challenge now is to invest enough...
---