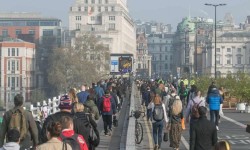 Monday - People across Europe must move to nine-hour week if carbon levels do not change, says a thinktank.

Friday - The EUís global climate leadership is at stake as a new political cycle begins amid increasingly polarised public opinion.

14 May 19 - Students at Irish schools are being let down by the countryís education system, say lawmakers demanding full climate change literacy.

13 May 19 - Controversy has erupted over the environmental impact of football fans travelling across Europe in coming weeks Ė to watch English sides play each other hundreds of miles from home.

10 May 19 - Three of the largest ports in Europe will be used to capture and bury 10 million tonnes of CO2 emissions under the North Sea.
10 May 19 - More than 30 years after the nuclear accident that scared the world, the Chernobyl is inhabited by brown bears, bisons, wolves, lynxes, wild horses, and more than 200 bird species.

9 May 19 - The names of Germany, Italy and Poland were notably absent from an appeal to boost EU climate action ahead of a major summit on the future of Europe taking place in Romania tomorrow.
---
6 May 19 - Cars and motorbikes running on petrol or diesel will be banned from driving in Amsterdam from 2030.
1 May 19 - Spaniards have thrown their weight behind a Green New Deal programme in re-electing the pro-climate Spanish Socialist Party.
30 Apr 19 - The French professional football governing body and environmental group WWF have signed a partnership to reduce the ecological footprint of football clubs.
23 Apr 19 - Fears over climate change have led many to rethink the way they travel and, in Sweden, they've even invented a new word for the shame associated with flying.
18 Apr 19 - Europe needs its own Green New Deal to stave off the perfect storm of populism, climate change and economic crisis.
17 Apr 19 - A Finnish political party that campaigned against ambitious climate change policies has won the second-highest number of seats in parliamentary elections.
10 Apr 19 - Human appetites drive global rainforest destruction. Now science has measured how Europeís food imports leave scorched tropical soils and greenhouse gases.
4 Apr 19 - Germanyís Greens want to stabilise their steep rise in popularity and formulate new basic principles. What do they want to do differently?
3 Apr 19 - While Germany and Eastern European countries continue to oppose raising the EUís 40 per cent emission reduction target for 2030, a new analysis insists the bloc will actually manage at least 50 per...
3 Apr 19 - Low-cost carrier Ryanair has made it to the list of Europeís top 10 carbon emitters, meaning it now ranks as high as the continentís coal power plants in terms of pollution.
2 Apr 19 - Slovakiaís first female president, Zuzana »aputovŠ, will challenge long-standing industrial interests and the financing of coal mining after being elected at the weekend.
18 Mar 19 - The European Parliament have voted in favour of increasing the EUís 2030 emission cuts target to 55 per cent and a net-zero mid-century target, bringing an end to weeks of infighting.
---