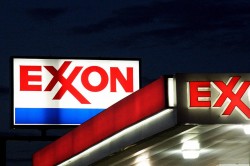 Today 9:30am - ExxonMobil has gone on trial in a packed courtroom in New York, where the oil giant stands accused of defrauding investors by misleading them about the risks it faces from future climate regulations.

Tuesday - The New York attorney-general says Exxon used two sets of books and misled investors by downplaying the potential costs of carbon emissions.

18 Oct 19 - Donald Trump's administration is proposing to lift longstanding restrictions on logging in part of southeast Alaska known as "America's Amazon".

27 Sep 19 - Air pollution scientists disbanded by the Trump administration plan to continue their work with or without the US government.

24 Sep 19 - In the past five decades US bird numbers have plummeted by 29 per cent. As populations dwindle, so do the chances of species survival.

23 Sep 19 - California and 23 other states have filed a lawsuit to stop the Trump administration from blocking California's authority to set emission standards for cars and trucks.

19 Sep 19 - Oil and gas executives are holding an exclusive invitation-only forum with delegates to next week's UN climate summit, in what critics have condemned as an attempt to influence negotiations.
---
19 Sep 19 - The Trump administration is poised to end California's authority to set its own vehicle emissions standards and bar states from establishing their own regulations.
17 Sep 19 - The White House is not only overturning as many environmental protections as it can - it also wants to significantly change the legal landscape to make it harder to reinstate them.
16 Sep 19 - Two-thirds of Americans believe climate change is either a crisis or a serious problem, with a majority wanting immediate action to address global heating and its damaging consequences, a new poll...
16 Sep 19 - The Trump administration has repealed an Obama-era policy designed to protect US waterways.
9 Sep 19 - The Trump administration has finalised its rollback of an Obama-era rule that would have required US light bulbs to be more energy efficient.
4 Sep 19 - As Amazon wildfires blaze, the world's largest intact temperate rainforest, in Alaska, faces a wholly different threat: corporate exploitation.
4 Sep 19 - In Las Vegas, a laissez-faire attitude toward growth has allowed high temperatures to become more deadly and the scorching heat now threatens the city's basic functionality.
2 Sep 19 - The Trump administration has proposed eliminating US federal requirements that oil and gas companies control leaks of methane from new wells, storage facilities and pipelines.
29 Aug 19 - CNN will host a live seven-hour "climate crisis town hall meeting" next week with 10 Democratic primary candidates.
28 Aug 19 - The US Navy has quietly shuttered a task force created under former President Barack Obama to prepare the military branch for the impact of global warming.
27 Aug 19 - Donald Trump did not attend yesterday's crucial discussion on climate and biodiversity at the G7 meeting in Biarritz, missing talks on how to deal with the Amazon rainforest fires as well as new ways...
23 Aug 19 - Democratic presidential candidate Bernie Sanders has unveiled a $16.3 trillion plan for a Green New Deal, giving shape to a massive programme to overhaul the nation's economy and eliminate fossil...
---