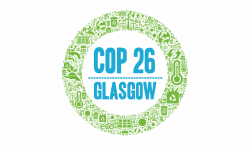 Wednesday - Vital international climate talks due to be hosted by the United Kingdom are expected to be delayed until late next year because of the coronavirus crisis, it has emerged, dashing hopes they could be reconvened sooner.

Wednesday - A rethink on the risks of low-level radiation would imperil the nuclear industry's future − perhaps why there's never been one.

Tuesday - Ian Dunlop - the former head of the Australian Coal Association - worries about his grandchildren. He worries time is running out.

Tuesday - Bullet trains are back on Australia's political agenda. As the major parties look for ways to stimulate the economy after the COVID-19 crisis, Labor is again spruiking its vision of linking Melbourne, Sydney, Canberra and Brisbane with high-speed trains similar to the Eurostar, France's TGV or Japan's Shinkansen.

Tuesday - Bricks, concrete and other construction materials could one day be made from recycled PVC, waste plant-fibre or sand, thanks to a remarkable new kind of rubber polymer.
Monday - Australian businesses, unions, investors and environmentalists are joining forces in a call for a covid-19 pandemic economic recovery programme based on energy efficiency.

Monday - The country's youngest MP is on a mission, inspired by Greta Thunberg, as climate moves up political agenda.
---
Monday - Uniper is threatening to sue the Dutch government over a plan to phase out coal power by 2030, in a case experts warn could have a chilling effect on climate ambition internationally.
Monday - Replacing just 20 per cent of car miles travelled with e-bike travel could cut Britain's greenhouse gas emissions from transport by up to eight million tonnes a year, new research shows.
Monday - Leading health professionals, including a Nobel laureate and a former Australian of the Year, say the Australian Government must put human health "front and centre" in a new generation of environment...
Friday - It's a racing certainty that sea levels everywhere will go on climbing. Unless the world's nations act to contain global warming, by 2100 the tides around the world will be one metre higher. And by...
Friday - Australia's oil and gas producers have warned against the Morrison government underwriting a massive expansion of the domestic industry, saying the country does not have a gas shortage and...
Friday - Scientists have produced a new generation of experimental solar energy cells that, for the first time, pass strict International Electrotechnical Commission testing standards for heat and humidity.
21 May 20 - Warming temperatures in Antarctica are helping the formation and spread of "green snow" that in places can be seen from space.
21 May 20 - Denmark plans to build two "energy islands" totalling 4GW of offshore wind capacity, under plans to reduce emissions by 70 per cent from 1990s levels by 2030 and become a green energy exporter.
21 May 20 - British supermarkets have warned Brazil they might have to boycott its products if lawmakers there pass a contentious bill that could enable faster destruction of the Amazon rainforest.
21 May 20 - Seattle has made bold moves to put pedestrians and cyclists first by permanently closing up to 20 miles of roadways to nonessential through traffic to encourage people to exercise safely.
21 May 20 - Two British startups have announced plans to invest as much as $4 billion in building the UK's first large-scale battery factory, in a move that could prove a major boost to the country's struggling...
20 May 20 - Spot NZUs opened at $24.75 bid and $25.10 offered on the CommTrade platform this morning, after last fixing at $25.00.
---