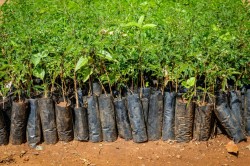 Friday - The coronavirus pandemic has grounded thousands of aircraft, contributing to the largest-ever annual fall in CO2 emissions. But at some point the planes will fly again and with them, global emissions.

Friday - In March 2017, a scientist named James Enstrom rattled many public health experts by publishing a study concluding that there was no link between fine soot air pollution and premature death.

Friday - There's plenty of room for more of the main greenhouse gas on this planet – as long as it's caught and trapped in carbon storage underground.

Friday - Clean-energy companies are doing better in the covid-19 crisis than their fossil-fuel counterparts, says analytics company GlobalData.
Thursday - Climate change is the top priority for sustainability professionals working in New Zealand, new research shows.

Thursday - Every few years, the idea that gas will help Australia transition to a zero-emissions economy seems to re-emerge, as if no one had thought of it before.
Thursday - It's now official: the EU's updated seven-year €1 trillion budget proposal and €750 billion recovery plan will both be geared towards the green and digital transitions.
---
Thursday - Back in the 1970s, scientists came up with a revolutionary idea about how Earth's deep interior works.
Thursday - Since last summer's bushfire crisis, there's been a quantum shift in public awareness of Aboriginal fire management.
Wednesday - Vital international climate talks due to be hosted by the United Kingdom are expected to be delayed until late next year because of the coronavirus crisis, it has emerged, dashing hopes they could be...
Wednesday - A rethink on the risks of low-level radiation would imperil the nuclear industry's future − perhaps why there's never been one.
26 May 20 - Ian Dunlop - the former head of the Australian Coal Association - worries about his grandchildren. He worries time is running out.
26 May 20 - Bullet trains are back on Australia's political agenda. As the major parties look for ways to stimulate the economy after the COVID-19 crisis, Labor is again spruiking its vision of linking...
26 May 20 - Bricks, concrete and other construction materials could one day be made from recycled PVC, waste plant-fibre or sand, thanks to a remarkable new kind of rubber polymer.
25 May 20 - Australian businesses, unions, investors and environmentalists are joining forces in a call for a covid-19 pandemic economic recovery programme based on energy efficiency.
25 May 20 - The country's youngest MP is on a mission, inspired by Greta Thunberg, as climate moves up political agenda.
25 May 20 - Uniper is threatening to sue the Dutch government over a plan to phase out coal power by 2030, in a case experts warn could have a chilling effect on climate ambition internationally.
25 May 20 - Replacing just 20 per cent of car miles travelled with e-bike travel could cut Britain's greenhouse gas emissions from transport by up to eight million tonnes a year, new research shows.
25 May 20 - Leading health professionals, including a Nobel laureate and a former Australian of the Year, say the Australian Government must put human health "front and centre" in a new generation of environment...
---