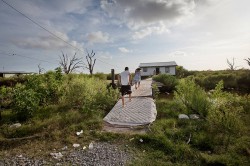 Wednesday - Louisiana has issued a blueprint for coping with the impacts of a warming planet, including a human migration that has already begun.

20 May 19 - Efforts to build offshore wind turbines to power up to sx million homes will create more than 10,000 jobs under Climate Jobs New York's plan.

20 May 19 - California has banned a pesticide that has been proven to cause brain damage in children.

16 May 19 - US President Donald Trump faces fines of more than $2 million a year unless he reduces carbon emissions from his New York buildings.
16 May 19 - US States are preparing to fight back as the Trump administration moves to erase Obama-era standards for lightbulbs.

13 May 19 - Washington has committed 100 per cent clean energy sources by 2045 - and six other US states are expected to follow suit.

8 May 19 - Renewable energy in April surpassed coal generation in the United States for the first time since records began.
---
1 May 19 - Mayor Eric Garcetti has unveiled a sweeping plan for a more sustainable Los Angeles, calling for dramatic changes to the car culture, buildings and air quality of America's second-largest city.
23 Apr 19 - New York City has set an ambitious new standard for combating greenhouse gas emissions, approving a package of climate policies designed to slash energy use in big buildings.
12 Apr 19 - Big real estate firms are pouring resources into calculating climate risk and its likely effect on property portfolios — everything from increasingly extreme weather to sea-level rise.
10 Apr 19 - Patti Poppe used to drive around with an "I Love Coal" bumper sticker, but now the CEO of Michigan-based CMS Energy Corp. is eager to talk about phasing out the fossil fuel.
5 Apr 19 - New York is set to become the first US city to charge drivers a fee for releasing planet-warming pollution from their cars.
2 Apr 19 - A judge's ruling restores former president Barack Obama's orders putting large parts of the Arctic off-limits to offshore drilling and throws Donald Trump's oil and gas lease sale plans into question.
1 Apr 19 - Hundreds of US corporate companies have joined together for a renewable-energy alliance.
28 Mar 19 - The US Senate has defeated a motion to take up the Green New Deal, the non-binding proposal spearheaded by progressive Democratic lawmakers.
28 Mar 19 - Around three-quarters of US coal production is now more expensive than solar and wind energy in providing electricity to American households, according to a new study.
22 Mar 19 - In the first significant check on the Trump administration's "energy-first" agenda, a US judge has temporarily halted hundreds of drilling projects for failing to take climate change into account.
22 Mar 19 - About 70 per cent of fresh produce sold in the US has pesticide residues on it even after it is washed, according to a health advocacy group.
20 Mar 19 - For the first time in years, a broad spectrum of US climate advocates is going on the offensive.
---