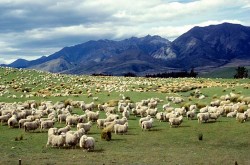 Thursday - Farmers want research into alternative land uses to help them to cope with climate change, and greater incentives to plant carbon-storing trees on their farms.

Thursday - Every mouthful of food eaten by virtually every creature on Earth depends ultimately on the sun.

22 Feb 17 - The Government is looking at changing some current land uses – including forestry and farming – to cut New Zealand's greenhouse gas emissions.

22 Feb 17 - Seattle start-up Cow Crowd works directly with ranchers across the US, cutting out the middleman and giving farmers an alternative to selling calves to factory farms.

13 Feb 17 - Mini-drones sporting horsehair coated in a sticky gel could one day take the pressure off beleaguered bee populations by transporting pollen from plant to plant.

10 Feb 17 - Tiny, biointensive operations show smallholder farmers from around the world how they can grow far more food than conventional approaches.

8 Feb 17 - Urgent action is being called for to prevent salt intrusion causing severe damage to rice production and loss of drinking water in Bangladesh and Vietnam.
---
26 Jan 17 - Harvests in the United States are liable to shrink by between a fifth and a half of their present size because of rising temperatures, an international scientific team has found.
16 Dec 16 - A rapid increase in global methane emissions could put New Zealand under renewed international pressure to cut greenhouse gas emissions from agriculture.
8 Dec 16 - Bio-waste from places like dairy sheds can be used to transform degraded soils into top-producing land, research is showing.
8 Dec 16 - While carbon pollution gets all the headlines for its role in climate change, nitrogen pollution is arguably a more challenging problem.
7 Dec 16 - Up-front payments of $400 a kilogram to cut nitrogen run-off from farms would see dairy farms turned into forests, Government-funded research shows.
6 Dec 16 - New Zealand will be billions of dollars a year better off if it plants trees along waterways.
30 Nov 16 - Farmers and consumers have just been issued another warning: global warming will almost certainly reduce wheat yields.
29 Nov 16 - A rural bank is warning New Zealand farmers that poor environmental performance could create trade barriers against their produce.
21 Nov 16 - The Environmental Defence Society is going to court to stop land-use conversions in the Mackenzie Country.
9 Nov 16 - Climate taxes on meat and milk would lead to huge and vital cuts in carbon emissions as well as saving half a million lives a year via healthier diets.
1 Nov 16 - A new technology that measures the precise level of carbon in soil could drive an Australian boom in carbon farming.
1 Nov 16 - Rainfall patterns will have changed so drastically by the end of this century that agriculture, forestry and fishing will all be seriously affected, warns the UN's latest State of Food and...
---