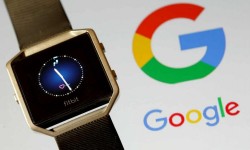 3 Aug 20 - The EU probe of Google's deal for Fitbit is a harbinger of a future in which Big Tech is central to healthcare.

3 Aug 20 - Usually, at this time of year, Corfu would have submitted to the soporific rhythms of the relentless summer heat.

3 Aug 20 - The Irish government has been ordered to take more aggressive action on climate change, following a ruling by the country's top judges.

31 Jul 20 - The Biden campaign's ambitious new plan for domestic climate action might help renew collaboration between the world's two largest greenhouse gas emitters.

31 Jul 20 - A record 212 land and environmental defenders were killed last year, equivalent to an average of more than four per week, according to a new report.

31 Jul 20 - Super-rich individuals who pledged to give away most of their money to good causes are instead sitting on rising wealth fuelled by the "warehousing" of cash in dedicated family foundations or funds, a new study has found.

30 Jul 20 - Picture yourself giving nearly the same speech hundreds of times, filled with rock-solid facts, detailed charts, and impassioned moral pleas. Despite years of these efforts, you're hoarse and exhausted and can't shake the sense that people still aren't listening.
---
30 Jul 20 - Drones of all sizes are being used by environmental advocates to monitor deforestation, by conservationists to track poachers, and by journalists and activists to document large protests.
24 Jul 20 - Doomsayers and hopemongers alike may need to revise their climate predictions after a study that almost rules out the most optimistic forecasts for global heating while downplaying the likelihood of...
17 Jul 20 - Official dietary advice across the world is harming both the environment and people's health, according to scientists who have carried out the most comprehensive assessment of national dietary...
16 Jul 20 - While the world has been focused on a global pandemic and widespread protests, another crisis is gathering in the atmosphere.
16 Jul 20 - If a plant can't germinate, it's heading for extinction. For many tropical trees, conditions could soon become too hot to procreate.
15 Jul 20 - More than 200,000 tonnes of tiny plastic particles are blown from roads into the oceans every year, according to research.
15 Jul 20 - Putting a price on carbon should reduce emissions, because it makes dirty production processes more expensive than clean ones, right?
13 Jul 20 - A decade after prospectors struck gas off Cabo Delgado, northern Mozambique, a consortium led by Total is signing contracts worth $16 billion to exploit it.
13 Jul 20 - As the global climate shifts, it's important to know which species have adaptations to survive. Our research published today in PNAS found it largely depends on where they evolved.
10 Jul 20 - The amount of carbon dioxide in the Earth's atmosphere is approaching a level not seen in 15m years and perhaps never previously experienced by a hominoid, according to the authors of a study.
9 Jul 20 - More than 5600 companies in the fossil fuel industry have taken a minimum of $3b in coronavirus aid from the US federal government, according to a new analysis.
8 Jul 20 - Lithium is used in everything from medication to mobile phone batteries, but where does it come from?
---