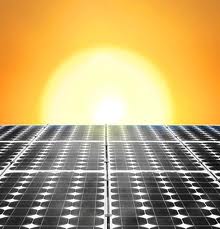 Monday - * Big power out, solar in: UBS urges investors to join renewables revolution * Renewable energy investments create larger returns than pension funds * Researchers say this year's ecological footprint has already been exceeded * Shell prepares for 2015 Arctic drilling * Pacific makes substantial progress in reducing carbon footprint * How a church in West Virginia get solar panels for just $1

Monday - Small island states offer opportunities for genuine and sustainable business partnerships, according to executives and officials at United Nations private sector forum in Samoa.

Monday - Outside the semi-arid area of the north-east, Brazilians have never had to worry about conserving water. Year in, year out, the summer has always brought rain.

25 Aug 14 - * World's largest tidal energy project gets £50m funding boost * 'Grand bargain' may secure enough support for Direct Action to pass Senate * Global climate inaction will mean economic turmoil for South Asia, warns bank * What would a fair UN climate change deal look like? * Environmentalists, business on collision course for putting cars on CO2 market

25 Aug 14 - The United Nations expects more than 300 initiatives to be announced next week at a major world conference in Samoa aimed at fostering partnerships with small island developing states.

25 Aug 14 - An effective treaty to reduce greenhouse gas emissions will probably remain elusive, according to a new research study, because the steps likely to win political agreement would be ineffective, while those that could produce results would be politically unfeasible.

25 Aug 14 - Itís tempting to view The Australianís latest broadside at the ABC as just another salvo fired between the nationís two biggest media organisations.
---
25 Aug 14 - It has been suggested that a recent fall in recycling rates in Britain is due to green fatigue, caused by the confusing number of recycling bins presented to householders for different materials.
25 Aug 14 - Climate change is gradually turning Spain into a fire zone Ė but itís also the change in the economic climate that is inflaming the situation.
18 Aug 14 - A Texas judge has dismissed a million dollar lawsuit filed by a family who say their lives have been ruined by noxious emissions from oil and gas facilities near their home.
18 Aug 14 - * Corporate Australia in denial over climate change, says former coal executive * Korean businesses decry carbon trading plan * India deals blow to climate negotiations * Tuvalu PM says climate...
18 Aug 14 - Scenic cascades will carry water through Sydney Parkís wetlands to the cityís largest storm water harvesting system to create a haven for native frogs and birds and encourage bush regeneration.
18 Aug 14 - Sydney is putting its recycling system under ground
11 Aug 14 - Beijing will ban coal sales and use in its six main districts and other regions by the end of 2020 to cut air pollution.
11 Aug 14 - Adapting for climate change is no longer just a recommendation in New York State - it's about to become the law.
11 Aug 14 - * The corporatisation of US green energy: a double-edged sword worth billions * World's top PR companies rule out working with climate deniers * European electric car sales continue to...
11 Aug 14 - The European Commission is reviewing its impact assessment guidelines amid accusations that science is becoming increasingly politicised and scientists manipulated by policymakers and powerful...
11 Aug 14 - By KAROLINA WYSOCZANSKA.- During Chinese premier Li Keqiangís last visit to Britain, China signed a series of deals on energy and low carbon technology, and a declaration of cooperation on climate...
4 Aug 14 - Failure to factor immediate action on climate change into American policies and business plans aimed at economic prosperity will lead to havoc, warns former United States Trade Secretary.
---