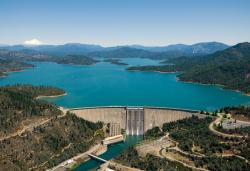 Monday - Climate change could mean that things get really tough for people in the US west in the second half of this century, according to new research.

Monday - Hungarian president János Áder has become the first head of state to join the Live Earth: Road to Paris campaign that aims to ensure world leaders agree to a binding deal on tackling climate change.

Monday - * Energy industry will decide climate battle, says Kerry * Canadian scientists say Government is muzzling them * Obama scales back ambitious goals for electric car use * Axa to divest from high-risk coal funds due to threat of climate change * Governments not planning properly for energy efficiency, report warns

18 May 15 - Republican New Jersey governor and presidential hopeful Chris Christie briefly made news last week when he said that global warming is real and that "human activity contributes to it."

18 May 15 - Switching to a zero-carbon economy is more than just a dream, according to the World Bank. But costs will be high for countries that fail to act quickly.

18 May 15 - * China is on track for the biggest reduction in coal use ever recorded * Merkel calls for global emissions trading system * Tar sands still full speed ahead, but Canada promises emissions cuts * Renewable energy vital for internet lifestyles, says Greenpeace * Charlize Theron: Mad Max landscape awaits unless we tackle climate change

18 May 15 - Canada has been dubbed an international disgrace for its climate change policies, but now one of its major cities is aiming to be the greenest in the world by 2020.
---
18 May 15 - As temperatures soar to record heights, blame it on global warming − but only about three-quarters of the time. And when the rain comes down by the bucketful, you can attribute one downpour in...
11 May 15 - A declaration at the end of a meeting in Rome hosted by the Vatican made a plea to the world's religions to engage and mobilise on the issue of climate change.
11 May 15 - * Australia PM's adviser: climate change is UN hoax to create new world order * Tesla says Powerwall sold out for 12 months, demand 'just nutty' * Canadian water for California's drought? * South...
11 May 15 - Forests may be the green investment with the richest returns for humankind, according to new research.
4 May 15 - The firefighters are primed, hoses at the ready. May and June are often the peak months for forest fires in the southwest of the US, and the outlook for this year is grim.
4 May 15 - Single-use plastic bags could soon become a thing of the past in European supermarkets.
4 May 15 - * Tesla unveils home battery to rev up low carbon transition * US, Japan and Canada miss Green Climate Fund donation deadline * Obama signs energy efficiency bill into law * Solar power plant...
4 May 15 - Malaysia's Home Ministry has seized an explosive book on timber corruption in the Malaysian state of Sarawak.
28 Apr 15 - In the aftermath of the 2008/9 global financial crisis central banks around the world pumped billions of dollars into the monetary system to safeguard the world economy.
28 Apr 15 - The whole issue of climate is much too important to be left to governments and their leaders, says Mary Robinson, the UN Secretary-General's special envoy on climate change.
28 Apr 15 - * Will 2015 be the warmest year on record? * Like shale gas, solar power shaking up global energy * Coal faces a day of reckoning in New Mexico * Pension funds failing to manage climate risk...
28 Apr 15 - Permafrost - a vast, frozen subsurface layer of soil - covers nearly a quarter of the land in the northern hemisphere. It contains centuries worth of carbon in the form of plants that have died since...
---