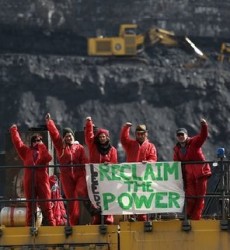 Today 10:00am - An interesting question is, what are you waiting for? Global warming is the biggest problem we've ever faced as a civilisation — certainly you want to act to slow it down, but perhaps you've been waiting for just the right moment.
Today 10:00am - Facing the threat of climate-related flooding, residents of Louisiana's Isle de Jean Charles received this year a first-of-its-kind $48 million grant from the federal government to resettle.
Today 10:00am - The UN has selected Patricia Espinosa as the next head of its climate change body. Mexico's ambassador to Germany, she will take over from Christiana Figueres when she leaves on July 6, after two terms leading the UN Framework Convention on Climate Change.
Tuesday - Almost half of the world's top 500 investors are failing to act on climate change - an increase of 6 per cent from 236 in 2014, according to a new report.

Tuesday - A judge's ruling in a lawsuit filed by eight kids forces the state of Washington to get dead-serious about the threat of climate change.
Monday - Europe's highest court has ruled that the European Commission's calculation for handing out free carbon permits to industries was flawed, raising the prospect of higher costs for big energy users.
Monday - The hot water temperature that drove the devastating bleaching on the Great Barrier Reef this year was made 175 times more likely by human-caused climate change, and could be normal in just 18 years, according to preliminary findings by leading climate and coral reef scientists.
---
28 Apr 16 - France is preparing to introduce a floor price for carbon emissions, even if the rest of Europe does not follow.
28 Apr 16 - Chevron lobbied the EU to give foreign investors the legal right to challenge government decisions in a major US-EU trade deal because it would act as a deterrent against laws such as fracking bans.
28 Apr 16 - The Great Barrier Reef's coral is dying, and it may never be the same again. Last month, as historically high ocean temperatures bathed the waters around the reef, the Australian Government raised...
28 Apr 16 - Stanford University has rejected a bid backed by students, faculty and alumni to divest the school's $22.2 billion endowment from holdings in oil and gas companies.
27 Apr 16 - Thousands of bankers, investors, business journalists and just plain fans will flock to Omaha this weekend in a yearly pilgrimage to glean insight from the world's most famous investor: Warren...
26 Apr 16 - Research in China shows that the changing monsoon pattern in East Asia and heavier rainfall is having a detrimental effect on the yield and quality of tea.
26 Apr 16 - The World Bank has unveiled its ambitious plan to support renewable energy development and fulfil its pledge under the Paris Agreement.
26 Apr 16 - Exxon, the Competitive Enterprise Institute and their allies are invoking free speech protections in a pugnacious pushback against subpoenas from attorneys general seeking decades of documents on...
22 Apr 16 - An unprecedented number of countries will be gathering in New York City this weekend to sign the Paris climate deal. But there are still some countries absent from the UN's official list of attendees...
22 Apr 16 - A difference of half a degree centigrade may be barely noticeable day to day, but the difference between 1.5C and 2C of global warming is a shift into a new, more dangerous climate regime.
22 Apr 16 - When world leaders gather in New York this weekend to sign the Paris climate accord, they will do so against a changing backdrop. As the cost of wind and solar power has plummeted, the solid...
22 Apr 16 - Implementing the Paris Agreement will unlock at least $13.5 trillion of economic activity globally, according to a new analysis.
---