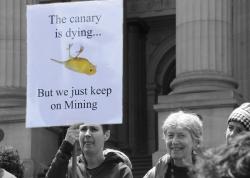 Monday - The president of Ireland, Michael D Higgins, says the world needs a whole new economic framework to tackle the consequences of the warming caused by emissions of greenhouse gases.

Monday - * Australia's dirtiest power station considers clean energy biomass burning option * Fresh negotiating text promises strong foundation for Paris Climate Summit * Startup bets e-scooters can give urban power grids a makeover * UK suspends ban on pesticides linked to serious harm in bees * Small island states set example for large polluters ahead of Paris talks * Kenya vows to cut emissions 30 per cent by 2030 * Who's who in the world of climate change diplomacy

20 Jul 15 - The Open Championship has returned to St Andrews, one of the world's oldest and most prestigious golf courses and one that has been recognised for its commitment to sustainability.

20 Jul 15 - The risks of climate change are comparable to those posed by nuclear conflict, says a new report.

20 Jul 15 - If you think you're getting an unusually hard soaking more often when you go out in the rain, you're probably right.

20 Jul 15 - * Japan to deliver 26% emissions reduction plan * The trillion-dollar question: How do we create sustainable development? * Chinese zero-emissions electric bus prepares for service in London * Muslim scholars name climate change as dire threat * Beware permitting fracking, says farmer who allowed coal methane borehole

20 Jul 15 - Nations have agreed to an international action plan to improve predictions of weather, climate and ice conditions in polar regions, the United Nations says.
---
13 Jul 15 - Pink salmon – the smallest and most abundant of the Pacific salmon species, and a supper table mainstay in many parts of the world – may be swimming toward trouble.
13 Jul 15 - * France may extend coal subsidies to save jobs * Britain scraps zero carbon homes target * Fossil fuel industry must 'implode' to avoid climate disaster, says top scientist * Abbott government...
6 Jul 15 - Diatoms – tiny ocean-dwelling photosynthesisers that produce a fifth of the planet's oxygen each year – may not gulp down more carbon dioxide more enthusiastically as greenhouse gas levels in the...
6 Jul 15 - * Greenhouse gas blamed for climate expulsion driving temperature rises across Pacific nations * China climate pledge inadequate on efficiency, say analysts * UN tells oil giants to stop lobbying...
6 Jul 15 - The climate change crisis involves action from every country, every nation and every person, actor and environmental activist Robert Redford told the United Nations last week.
29 Jun 15 - A Dutch court has ordered the state to slash greenhouse gas emissions nationwide by at least 25 per cent by 2020, in a case that could serve as a blueprint for activists around the world.
29 Jun 15 - We are used to hearing that if everyone lived in the same way as North Americans or Australians, we would need four or five planet Earths to sustain us.
29 Jun 15 - * Outcry as UK plans to privatise green bank * Climate change can destroy 50 years of health and development * Gates to invest $2bn in breakthrough renewable energy projects * Obama sets sizzling...
29 Jun 15 - Global warming is unlikely to mean that fewer people in northern latitudes will die from cold during the winter, according to a study by scientists in the United States.
22 Jun 15 - In a document remarkable for its sweep and its depth, Pope Francis last week unveiled his long-awaited encyclical on the environment, in essence calling on humanity to address a climate and...
22 Jun 15 - * Is Russia moving toward a fracking future? * Carbon emissions from aircraft endanger human health, says US * Venezuela: The climate paradox of the petro-state * It's Prost v Senna again – and...
22 Jun 15 - Fierce temperatures in India doubled the heat-related deaths normally recorded in May − and the government insists natural causes are not to blame.
---