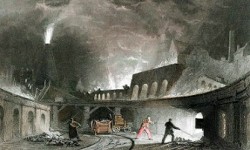 Friday - Continents and oceans in the northern hemisphere began to warm with industrial-era fossil fuel emissions nearly 200 years ago, pushing back the origins of human-induced climate change to the mid-19th century.

Friday - The world has warmed about a degree since the Industrial Revolution, and on our current emissions trajectory we will likely breach these limits within decades.
Thursday - Human activities have taken a heavy toll on our environment. But there may be some hope.

Thursday - A crack is spreading rapidly across Antarctica's fourth-largest ice shelf, hastening the loss of a massive chunk of ice, say scientists.
Thursday - A bill extending California's greenhouse gas emission targets has squeaked by in the state Assembly.

Thursday - With every passing year, Southeast Florida faces more pressure to adapt to climate change.

Wednesday - Russian military expansion in the Arctic as a result of the melting ice-cap is a potential threat to the UK, a Parliamentary inquiry has concluded.
---
Wednesday - The English village of Ashton Hayes is different in an important way when it comes to one of the world's most pressing issues: climate change.
Wednesday - Reports of the pending jellyfish apocalypse have been greatly exaggerated.
Tuesday - The ecological and carbon cost of rainforest destruction goes on accumulating for years after nations halt the conversion of canopy into farmland, scientists have found.
Tuesday - A market-based initiative could help houseowners to escape from coastal properties under threat from rising seas.
Tuesday - Tokyo Governor Yuriko Koike has declared that sustainability will be a key objective of the Tokyo Olympics 2020.
22 Aug 16 - The luxury cruise ship Crystal Serenity is embarking on an historic voyage through the Arctic, and it's likely to herald a surge in similar trips.
19 Aug 16 - Philippines president Rodrigo Duterte has backed down on his threat to ignore the Paris climate deal after a meeting with top US diplomat John Kerry.
19 Aug 16 - Warmer air and sea temperatures conspire to add water vapor to the atmosphere, fueling intense rain events like the one that has devastated Louisiana this week.
19 Aug 16 - The Arctic's ice is disappearing. We must reduce emissions, fast, or the human castastrophe predicted by ocean scientist Peter Wadhams will become reality.
19 Aug 16 - Burning coal has the worst health impact of any source of air pollution in China and caused 366,000 premature deaths in 2013, Chinese and American researchers said.
19 Aug 16 - Australia's biggest environmental philanthropist says private investment to clean up the Great Barrier Reef reef 'doesn't make sense' with current land clearing.
18 Aug 16 - The Japanese government has begun preparations to ratify the Paris climate deal by the end of the year.
---