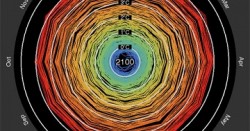 Today 12:00pm - The temperature spiral that took the world by storm has an update. If you think the heat is on in our current climate, you ain't seen nothing yet.

Today 12:00pm - As part of its effort to improve forest cover and so soak up climate-changing greenhouse gas emissions, the government in India has an unlikely partner – the Indian Army.
Today 12:00pm - China expects coal use to fall and greenhouse gas emissions to flatline through 2016, according to analysis of the government's energy strategy by Greenpeace.

Tuesday - Ten years ago, An Inconvenient Truth opened in cinemas in the United States.
Tuesday - The G7 nations have for the first time set a deadline for the ending most fossil fuel subsidies, saying government support for coal, oil and gas should end by 2025.
Tuesday - Two weeks of UN talks in Bonn underline the scope and scale of the challenge facing governments as they work out the implications of the 2015 Paris deal.
Tuesday - The UN's flagship climate fund says it will miss a target to approve $2.5 billion of new projects in 2016 unless more countries submit proposals.
---
Monday - Earth is in a land-degradation crisis.
Monday - Squid are on the move, octopus are going up in the world, and cuttlefish have made themselves at home in a changing ocean.
Monday - Every reference to Australia was scrubbed from the final version of a major UN report on climate change after the Australian government intervened, objecting that the information could harm tourism.
Friday - The latest auction in California's cap-and-trade market for greenhouse gases fell sharply below expectations, as buyers purchased just 2 per cent of the carbon credits whose sale funds a variety of...
26 May 16 - ExxonMobil moved to squash a well-established congressional lecture series on climate science just nine days after the presidential inauguration of George W Bush, a former oil executive.
25 May 16 - German pharmaceutical giant Bayer has announced its intention to offer $62 billion in cash to take over agrochemical company Monsanto, as the debate over the use of the pesticide glyphosate continues.
25 May 16 - Schools in Portland, Oregon, have voted to abandon textbooks that "express doubt about the severity of the climate crisis or its root in human activities".
24 May 16 - The planet would warm by searing 10degC if all fossil fuels are burned, according to a new study, leaving some regions uninhabitable and wreaking profound damage on human health, food supplies and...
23 May 16 - The forerunners of ExxonMobil patented technologies for electric cars and low emissions vehicles as early as 1963 – even as the oil industry lobby tried to squash government funding for such...
23 May 16 - Norway's greenhouse gas emissions rose by 1.5 per cent last year, lifted by the oil and gas sector and industry, making it harder for Oslo to keep promises of deep cuts to limit global warming.
23 May 16 - So far, Donald J. Trump has said very little about climate change and energy policy beyond his Twitter posts on the issues. But more clues about Trump's views on environmental issues have emerged...
20 May 16 - Just three years ago this month, the carbon dioxide monitoring station atop Hawaii's Mauna Loa reached a significant milestone: the first measurement of CO2 concentrations that exceeded the benchmark...
---