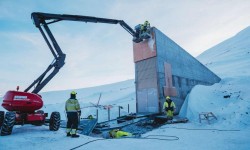 Wednesday - The Arctic global seed vault has reached the milestone of having one million varieties stored in its deep freeze.

Wednesday - Older people can be nudged into taking action on climate change by getting them to think about their legacy, researchers say.

Monday - Lustier plant growth as greenhouse gases climb should counter global heating and atmospheric carbon build-up. But it's not quite so simple.

20 Feb 20 - The oil and gas industry has had a far worse impact on the climate than previously believed, according to a study indicating that human emissions of fossil methane have been underestimated by up to 40 per cent.

20 Feb 20 - Wind, water and solar sources − the renewable energy trio − could meet almost all the needs of our power-hungry society in 30 years.

20 Feb 20 - The changing climate could destroy nearly all remaining coral reefs by the end of the century, according to new research.

20 Feb 20 - Mining giant Glencore has predicted its carbon footprint will shrink by almost a third by 2035, but will not set climate targets for the company.
---
20 Feb 20 - Governments should sharply expand protected areas for animals and plants to cover 30% of the planet by 2030 to pull back from "the precipice of irreversible loss of biodiversity", a group of former...
19 Feb 20 - Jeff Bezos, the Amazon founder and Washington Post owner, has announced that he is donating $10 billion to save the Earth's environment – barely a month after it was revealed Amazon threatened to...
18 Feb 20 - Carbon pricing is emerging as central to international climate negotiations, the Mercator Climate Institute says.
17 Feb 20 - The Earth had its hottest January in recorded history last month, according to the National Oceanic and Atmospheric Administration.
17 Feb 20 - Christiana Figueres, leader of the 2015 Paris Agreement, talks about her new book, The Future We Choose, and why it's crunch time for humanity.
17 Feb 20 - As the climate warms in the decades ahead, billions of acres, most of them in the northern hemisphere, will become suitable for agriculture and could, if ploughed, emit a massive, planet-altering...
14 Feb 20 - BP's new chief executive Bernard Looney has outlined plans to cut the company's carbon emissions from its operations and barrels produced to net-zero by 2050.
14 Feb 20 - Two scientific studies of the number of insects splattered by cars have revealed a huge decline in abundance at European sites in two decades.
13 Feb 20 - Air pollution from burning fossil fuels is responsible for more than 4 million premature deaths around the world each year and costs the global economy about $US8 billion ($NZ12.37 billion) a day,...
13 Feb 20 - The BBC will produce a television series about 17-year-old climate activist Greta Thunberg.
12 Feb 20 - The Green Swan brings a clear message from people who should know: bankers say the climate crisis means major change lies ahead.
12 Feb 20 - Medical experts are concerned that young people's mental health is being particularly hit by reality of the climate crisis.
---