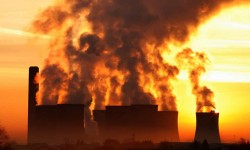 Tuesday - A depressing picture of global power generation has coal still firmly on top. And in a vicious cycle, the very heatwaves and winter freezes that high carbon emissions cause seem to be increasing them.

Tuesday - A warmer world will be more dangerous. As the thermometer rises, so does the risk of conflict and bloodshed in more vulnerable regions.

Tuesday - Ireland has unveiled an ambitious plan to tackle the climate emergency by weaning the state, businesses, farms and households off fossil fuels.

Tuesday - Drought-hit Namibia has authorised the sale of at least 1000 wild animals – including elephants and giraffes – to limit loss of life and to raise money for conservation.

Tuesday - Developing countries are better than richer nations at promising to protect important agricultural species in the future, but do less well in safeguarding existing biodiversity.

Monday - Aerospace companies gathering for the Paris air show this week are turning their thoughts to a future run on electricity rather than fossil fuels.

Monday - Permafrost has begun thawing in the Canadian Arctic more than 70 years early because of climate change, according to new research.
---
Monday - A dose of nature of just two hours a week is associated with better health and psychological wellbeing, scientists say.
Monday - Florida establishes a clear legal framework for self-driving cars to operate within the state.
Friday - Australia has given the final approval for construction to begin on a controversial coal mine to be built by Indian company Adani.
Friday - Heavy on tech, light on any plans to tackle its coal dependency, Japan has released its climate legislation.
Friday - The US creates more planet-warming greenhouse gas emissions through its defense operations alone than industrialised countries such as Sweden and Portugal.
Friday - A new website allows companies to track deforestation in their supply chains as it happens, with campaigners urging more effort to stop it.
Thursday - Carbon emissions from the global energy industry last year rose at the fastest rate in almost a decade.
Thursday - Greenhouse gas emissions in the UK will be cut to almost zero by 2050, under the terms of a new government plan to tackle climate change.
Thursday - The entire African continent faces lethal weather conditions for many of its people.
Thursday - Growing awareness of the climate crisis and a shift to plant-based diets have turned kelp farming into a thriving industry.
12 Jun 19 - How much of a threat is climate meltdown? Should we treat it as the biggest danger to life in the 21st century, or as one of many problems − serious, but manageable?
12 Jun 19 - The highest-capacity hybrid-electric aircraft has taken to the skies in California on its first test flight.
---