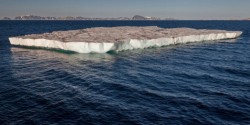 3 Jul 20 - As greenhouse gas emissions soar, ocean sensitivity has quietly helped humanity to slow global heating: the seas have responded by absorbing more and more carbon dioxide from the atmosphere.

30 Jun 20 - Geologists have linked one of the planet's most devastating events to the burning of fossil fuels, as ancient coal fires set in train a global extinction wave.

30 Jun 20 - If microplastics can enter the food web on King George Island, they can probably do so almost anywhere on earth.

19 Jun 20 - Hospital operating theatres could be a new frontier in the battle to cut greenhouse gas emissions.

15 Jun 20 - Worst-case global heating scenarios may need to be revised upwards in light of a better understanding of the role of clouds, scientists have said.

12 Jun 20 - Scientists have set a record for carbon capture and storage using new sponge-like technology that can capture carbon directly from the air.

11 Jun 20 - Chemical engineers have found a new way to turn carbon dioxide emissions from cement-making and other industrial processes into useful products like fuel and plastics.
---
8 Jun 20 - As graphs go, the Keeling Curve is simple, but it clearly illustrates the planet's vexing global warming challenge.
28 May 20 - Back in the 1970s, scientists came up with a revolutionary idea about how Earth's deep interior works.
22 May 20 - Scientists have produced a new generation of experimental solar energy cells that, for the first time, pass strict International Electrotechnical Commission testing standards for heat and humidity.
13 May 20 - Rising temperatures will increase crop losses as warmer soils encourage the growth of pathogenic soil fungi, scientists say.
21 Apr 20 - Windows could replace rooftop solar panels within a decade as a way of generating electricity, scientists say.
16 Apr 20 - Mass groundings of flights caused by the coronavirus pandemic are giving scientists a rare chance to study plane-free skies and pin down how far aviation stokes global warming.
9 Apr 20 - Issues like poor soil fertility are limiting the ability of mature forests to store carbon and help reduce climate change, scientists say.
9 Apr 20 - A mutant bacterial enzyme that breaks down plastic bottles for recycling in hours has been created by scientists.
30 Mar 20 - The global response to the coronavirus pandemic is disrupting climate science.
16 Mar 20 - Global average temperatures so far this year are 1.4deg above pre-Industrial levels – just 0.1deg below the Paris Agreement target.
6 Mar 20 - The idea is simple: capture and concentrate CO2 before it's released to the air and store it deep underground where it can't escape.
4 Mar 20 - A think-tank being launched in Auckland today could give New Zealand – and the world – the tools it needs to make the hard decisions about climate change, says founder Professor Sir Peter Gluckman.
---