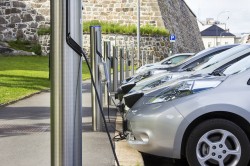 Friday - Electric vehicles can help to keep the air clean in cities – as we've seen recently with the reduction of traffic through covid-19 lockdowns – but they face two obstacles.
3 Jul 20 - The United Nations' aviation emissions offsetting scheme will not take 2020 into account when calculating how much airlines have to pay to neutralise their carbon dioxide output - a move environmental groups say makes a mockery of climate policy.

29 Jun 20 - Nearly a quarter of Wellington's buses will be electric by 2023.

26 Jun 20 - The shipping industry is in urgent need of a makeover: while limited attempts are being made to lessen polluting emissions of climate-changing greenhouse gases in the road transport and aviation sectors, shipping lags even further behind in the clean-up stakes.

24 Jun 20 - The world's largest all-electric ferry completed 10 months of trials last week, as the EU-funded project revealed that battery-powered boats will save operators money compared to their diesel counterparts during their decades of service.

15 Jun 20 - The world's 14 biggest carmakers are on course to miss globally agreed climate targets, a leading sustainable finance think-tank has said, urging investors to do more to pressure boards to change their production plans.

5 Jun 20 - Hydrogen cars won't overtake electric vehicles because they're hampered by the laws of science.
---
29 May 20 - The coronavirus pandemic has grounded thousands of aircraft, contributing to the largest-ever annual fall in CO2 emissions. But at some point the planes will fly again and with them, global emissions.
26 May 20 - Bullet trains are back on Australia's political agenda. As the major parties look for ways to stimulate the economy after the COVID-19 crisis, Labor is again spruiking its vision of linking...
25 May 20 - Replacing just 20 per cent of car miles travelled with e-bike travel could cut Britain's greenhouse gas emissions from transport by up to eight million tonnes a year, new research shows.
22 May 20 - A proposal for new trains to replace diesel engines with electric and expand Wellington's regional rail service has won Government funding – but only to see if the business case stacks up.
14 May 20 - A third of new Toyota vehicles sold in New Zealand are hybrids, the company says.
4 May 20 - National is resisting moves to run the country's rail network on a less-than-purely-commercial footing.
29 Apr 20 - Mercedes-Benz is killing its programme to develop passenger cars powered by hydrogen fuel cells.
21 Apr 20 - A third of New Zealanders intend travelling again when covid-19 pandemic restrictions are lifted, new research shows.
6 Apr 20 - Financial help from taxpayers to airlines hit by the coronavirus crisis must come with strict conditions on their future climate impact, green campaigners have said.
25 Mar 20 - Electric vehicles produce less carbon dioxide than petrol cars across the vast majority of the globe – contrary to the claims of some detractors, who have alleged that the CO2 emitted in the...
20 Mar 20 - General Motors' Bolt and Volt models never sold well, but now the company is touting a battery that has more range than Tesla's.
27 Feb 20 - A new study finds the ride-hailing companies emit nearly 70 percent more carbon thanks largely to a practice known as "deadheading."
---