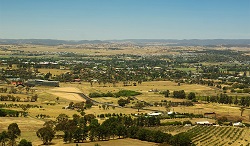 Friday - The NSW state government is considering evacuating the residents of as many as 90 towns seriously affected by drought.

Friday - What is the legacy of Xie Zhenhua, a key architect of the Paris Agreement and one of the world's longest-serving climate diplomats?

Friday - The total damage and economic loss from forest fires in Indonesia this year amounts to at least $5.2 billion, says the World Bank.

Thursday - Nearly every major aspect of the European economy is to be re-evaluated in light of the imperatives of the climate and ecological emergency, according to sweeping new plans set out by the European Commission.

Thursday - The US government is pushing to ensure it can never be held accountable for the damage caused by climate change in vulnerable countries.

Thursday - A plane billed as the first commercial aircraft running entirely on electricity has taken to the skies in Canada.

Wednesday - Exxon Mobil has prevailed in a lawsuit in which the energy giant was accused of downplaying the toll climate change regulations could take on its business.
---
Wednesday - Global temperatures are on course to rise by 3deg to 5deg by the end of the century and global emissions continue to increase. But there are genuine reasons for hope.
Wednesday - There's more than one way to plant a tree – and some of the most widely used techniques aren't up to scratch.
Wednesday - The BBC's new wildlife television series featuring David Attenborough, Seven Worlds, One Planet, marks a drastic departure from previous programmes.
Wednesday - The case for ambitious and transformative environmental policy is being made with increasing fervour and a series of "Green New Deals" have been proposed.
10 Dec 19 - A quarter of the world's population is at risk of water supply problems as mountain glaciers, snow-packs and alpine lakes are run down by global heating and rising demand, according to an...
10 Dec 19 - Two strands of action are being taken by investors against the planet's biggest and most polluting companies to try to coerce them into complying with climate targets.
10 Dec 19 - Denmark's parliament has adopted a new climate law, committing to reach 70 per cent below its 1990 emissions in the next 11 years.
10 Dec 19 - Australia is at risk of becoming a dumping ground for cars pre-charged with a greenhouse gas 1400 times more potent than carbon dioxide, industry groups warn.
10 Dec 19 - International urban environment experts are gathering in Adelaide this week to tackle the challenge of climate change in increasingly hotter cities.
9 Dec 19 - Chile has walked back a plan to announce an enhanced climate target during the Cop25 climate talks it is leading.
9 Dec 19 - Oxygen in the oceans is being lost at an unprecedented rate, with "dead zones" proliferating and hundreds more areas showing oxygen dangerously depleted, experts have warned.
9 Dec 19 - Texas is leading the way to a "looming carbon timebomb" as US output of oil and gas is forecast to rise by 25 per cent over the next decade.
---