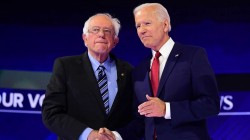 Monday - Once upon a time, many moons ago — ie back in April — Democratic presidential primary candidate Bernie Sanders agreed to exit the race and join forces with his mortal frenemy Joe Biden to help the former vice-president take the White House.

9 Jul 20 - Climate activists sense a turning point in their war against the Trump administration's effort to cement a fossil-fueled future for the United States, with three major defeats for high-profile oil and gas pipeline projects.

6 Jul 20 - Californian dairyman Scott Magneson just keeps on farming, despite the economic fallout from a pandemic and the extreme weather — floods, drought, wildfires — linked to climate change.

25 Jun 20 - When the Obama administration entered the White House in January 2009, the first hope was to put people back to work and also accelerate transition to a clean-energy economy.

25 Jun 20 - Millions of ordinary Americans are facing rising and unaffordable bills for running water, and risk being disconnected or losing their homes if they cannot pay, a landmark Guardian investigation has found.

24 Jun 20 - From New York to Los Angeles, Minneapolis to the Gulf Coast, people of colour suffer disproportionately from climate change, pollution and callous government.

15 Jun 20 - It could soon be safe to think with nostalgia of the snows of yesteryear. Snowstorms in the future in the US could happen less often, with less intensity. And they would be of a smaller size.
---
15 Jun 20 - Just this past March, New York City Council Speaker Corey Johnson proposed making composting mandatory for city residents to help combat climate change. Now, with the coronavirus taking an immense...
9 Jun 20 - US taxpayers could be on the hook for billions of dollars in climate-related property losses as the government backs a growing number of mortgages on homes in the path of floods, fires and extreme...
2 Jun 20 - Renewable energy consumption in the US topped coal consumption in 2019, the first time this has occurred in more than 130 years.
29 May 20 - In March 2017, a scientist named James Enstrom rattled many public health experts by publishing a study concluding that there was no link between fine soot air pollution and premature death.
18 May 20 - A melting glacier in Alaska might trigger a landslide that would cause a major tsunami, scientists have warned.
18 May 20 - One analyst says oil, gas and coal were the biggest pension contributors for 30 years, but now are the worst performing sector—and there are no signs of improvement.
15 May 20 - The Trump Administration is planning to buy one million barrels of oil from US companies after funding to make a larger purchase failed to pass Congress.
15 May 20 - Presidential hopeful Joe Biden has appointed Alexandria Ocasio-Cortez, the avatar of the Green New Deal, and former Secretary of State John Kerry, an architect of the Paris climate agreement, to his...
13 May 20 - Fossil fuel companies and coal-powered utilities in the US are set for a potential bonanza under federal government plans for a bond bailout, part of the rescue package for the coronavirus crisis.
8 May 20 - After three years in office, the Trump administration has dismantled most of the major climate and environmental policies the president promised to undo.
7 May 20 - Life is already bad enough for underpaid and overworked crop pickers in the US, but as lethal heat levels rise they will render outdoor labour in the harvest season increasingly impossible.
5 May 20 - US fossil fuel companies have taken at least $50m in taxpayer money they probably won't have to pay back, according to a review of coronavirus aid meant for struggling small businesses.
---