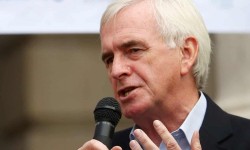 Tuesday - UK Labour plans to give the Bank of England powers to help to check the readiness of City firms to cut carbon emissions and invest responsibly to tackle the climate emergency.

13 Jun 19 - Greenhouse gas emissions in the UK will be cut to almost zero by 2050, under the terms of a new government plan to tackle climate change.

6 Jun 19 - Britain has not used coal to generate electricity for two weeks - the longest period since the 1880s.

24 May 19 - More than 70 Church of Scotland delegates have formally lodged their frustration at the decision of its general assembly not to divest from fossil fuels.

21 May 19 - Glasgow has committed to being the UK's first net-zero city.

16 May 19 - Wales' farming emissions have been put in the too-hard basket by the UK Committee on Climate Change.

16 May 19 - New orchards are appearing across the UK to stop the widespread decline of rare insects and birds, and to slow down climate change.
---
16 May 19 - Coca-Cola bottles and cans are the most commonly found items of packaging pollution on British beaches, new research shows.
15 May 19 - A coalition of major London investors have emerged as key players in forcing BPto be more transparent in how it fights climate change.
14 May 19 - London will have the world's first hydrogen-powered doubledecker buses on its streets next year.
10 May 19 - The UK has produced coal-free energy for seven days in a row - the first time since the industrial revolution.
7 May 19 - The UK will stop warming the global climate by 2050 and urge other countries to follow, under independent advice just published.
3 May 19 - British MPs have endorsed a Labour motion to declare a formal climate and environment emergency,
2 May 19 - The Scottish and Welsh parliaments have separately declared climate emergencies, just as Jeremy Corbyn's Labour Party is expected to push Westminster to do the same for the whole of the UK.
30 Apr 19 - Labour will this week force a vote in the UK parliament to declare a national environmental and climate change emergency.
23 Apr 19 - Greta Thunberg, the 16-year-old Swedish environmental activist, has given her support for a general strike for the climate.
16 Apr 19 - Thousands of people have blocked well-known landmarks and a bridge in central London, bringing widespread disruption to the capital in a "climate rebellion" that organisers say could last several...
16 Apr 19 - Two British companies are joining forces to establish a plant which will turn plastic waste into hydrogen.
5 Apr 19 - The charity running the Edinburgh international science festival is to ban sponsorship from oil companies including Shell and Total after protests by climate campaigners.
---