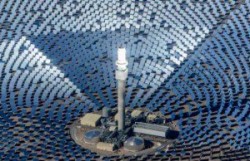 Wednesday - The 150MW solar tower and molten salt storage plant to be built in South Australia could help to reshape Australian power markets, including the end of "baseload" power.

Wednesday - South Australian premier Jay Weatherill has renewed his warning that Labor-led state governments could go it alone on energy policy if the Turnbull government can't resolve its internal battle over the clean energy target.

Tuesday - After a dry winter, NSW is preparing for an early start to bushfires with fire fighters forecasting an "horrific" season.

18 Aug 17 - South Australia will build a 150MW solar thermal plant to bring clean, reliable power to the state.

17 Aug 17 - Indian mining giant Adani, seeking public funds to develop one of the world's largest coal mines in Australia, has been accused of fraudulently siphoning hundreds of millions of dollars of borrowed money into overseas tax havens.

17 Aug 17 - Proposals for Adani's Carmichael coal mine in Queensland threatens not only the Great Barrier Reef, but also global efforts to reduce carbon emissions.

17 Aug 17 - The UK government this week is preparing to complete the $3 billion sale of its Green Investment Bank to a group led by Australia's Macquarie Group.
---
16 Aug 17 - Climate policy in both Australia and the United States is being built upon alternative facts, fake news, outright lies, PR spin and industry-written talking points.
15 Aug 17 - Military and climate experts, including a former chief of the defence force, have warned that Australia faces potential "disastrous consequences" from climate change.
10 Aug 17 - A multibillion-dollar coalmine proposal in Queensland has been granted mining leases years after it was shelved amid falling commodity prices and a ramped-up global response to climate change.
9 Aug 17 - Shareholder moves to sue an Australian bank for failing to adequately disclose its financial exposure to climate change are a sign of things to come, a lawyer says.
9 Aug 17 - The embattled Commonwealth Bank is being sued by shareholders for what they say is a failure to properly disclose the risks to the business posed by climate change.
4 Aug 17 - Australia has a critical shortage of climate scientists, leaving it at serious risk of not delivering essential climate and weather services.
2 Aug 17 - Australia has had its warmest July on record, the Bureau of Meteorology says.
1 Aug 17 - News that deliveries to Australia of the Tesla Model 3 – the company's first sub $60,000 electric vehicle – will not begin until 2019, nearly 3 years after enthusiasts put down a refundable deposit,...
1 Aug 17 - Low-income and disadvantaged Australians are bearing the brunt of energy price rises caused by climate policy uncertainty, a new report says.
28 Jul 17 - Within six months, Queensland will have a 2000km network of electric vehicle charging stations that make up one of the world's longest electric vehicle highways.
27 Jul 17 - Australia's world-leading indigenous land management and carbon farming programmes are spreading internationally, with a formal agreement signed to help to build a similar programme in Canada.
20 Jul 17 - Australians collectively could slash greenhouse gas emissions by a staggering 70 per cent if they joined forces to become energy and climate trailblazers in their own backyards.
---