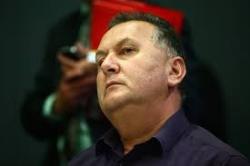 Today 10:00am - Shane Jones' legacy to the Labour Party – and potentially New Zealand - is a policy designed to release the environmental and social potential of forestry, as well as boost economic returns.

17 Apr 14 - Serious questions raised in Parliament about the independence of scientific advice in consent hearings from Government scientists are justified, says a key witness in the Ruataniwha dam hearing.

17 Apr 14 - New Zealand's latest Greenhouse Gas Inventory submitted to the UN confirms National's policies are driving climate change, the Green Party says.

17 Apr 14 - The latest climate crisis report from the United Nations emphasises the need for a truly global agreement in 2015 to ensure efforts to cut greenhouse gases are effective, says Minister for Climate Change Issues Tim Groser

11 Apr 14 - Politicians too afraid of losing votes to talk about climate change are sentencing humanity to catastrophe, says former Prime Minister Sir Geoffrey Palmer.

11 Apr 14 - New Zealanders' love affair with cars and cows has pushed our greenhouse gas emissions up by 25 per cent.

4 Apr 14 - NEW ZEALAND is working on ways to link with emerging carbon markets in Korea and Thailand.
---
4 Apr 14 - NEW Act Party leader Jamie Whyte says that businesses have no obligation to the environment.
28 Mar 14 - CRITICAL issues which threaten New Zealand's 100% Pure positioning will be addressed by planners at a conference in Queenstown next week.
21 Mar 14 - Maori Party co-leader Tariana Turia has weighed into the row over low carbon prices, describing the loss of value of credits given to Maori in Treaty of Waitangi settlements as a breach of human...
21 Mar 14 - The Australian Government's bill to scrap that country's carbon tax has been thrown out of the Senate, prompting speculation that a double dissolution could be looming.
21 Mar 14 - The Prime Minister has been talking about the environment with his Chinese counterpart.
21 Mar 14 - Hold up the trophy. Open the champagne. Climate scientists have easily won the game. According to a recent study, when it comes to the accuracy of forecasts and projections, the climate side is much...
21 Mar 14 - More collaboration is needed to deal with the country's burgeoning urban growth issues, says a new report by the New Zealand Planning Institute.
14 Mar 14 - Labour leader David Cunliffe has just given a speech on the future of New Zealand's economy - without mentioning clean technology and the green economy.
14 Mar 14 - There's still no word from the Government on whether it will boost carbon prices to avoid a $600 million Treaty of Waitangi claim.
14 Mar 14 - Holding the general election on September 20 could mean New Zealand doesn't have a leader in place to attend the United Nations' Climate Summit in New York.
14 Mar 14 - Is misinformation about the climate criminally negligent, asks Rochester Institute of Technology Assistant Professor of Philosophy, LAWRENCE TORCELLO.
7 Mar 14 - The Government still won't confirm that it will not auction NZUs.
---