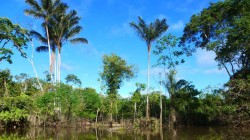 21 Dec 16 - Climate change is already beginning to alter the natural world. A study of 976 plant and animal species worldwide – freshwater, terrestrial and marine – reveals that local extinctions have happened in 47 per cent of their natural ranges.

21 Dec 16 - After more than a year of negotiations, EU member states have come up short in their efforts to find common ground on a carbon market reform seen as necessary if the ambitions of the Paris Agreement on climate change are to be met.

21 Dec 16 - As a famous old song says, they've got an awful lot of coffee in Brazil. But if the findings of New Zealand and Australian researchers are right, that will change over the next 30 years.

21 Dec 16 - A red alert, the highest level in the China's pollution warning system, has been issued in at least 23 cities as smog cancelled flights, shut factories and stopped traffic.

21 Dec 16 - Ten years of effort finally paid off for Las Vegas this week when officials announced the city government will now be powered entirely by renewable energy.

20 Dec 16 - We weep at the disappearance of endangered species but avert our eyes to the causes of Earth's destruction.
20 Dec 16 - In less than two weeks, 2016 will officially be the hottest year on the books in more than 120 years of record keeping by US agencies. It will be the third straight record-setting year — and of the 17 hottest years, 16 have been this century.
---
20 Dec 16 - Federal support for research and development into clean tech should appeal to incoming president, says Microsoft billionaire Bill Gates.
20 Dec 16 - Scientists have published a set of unprecedented ocean observations near the largest glacier of the largest ice sheet in the world: Totten glacier, East Antarctica. And the result was a troubling...
20 Dec 16 - Autonomous buses are likely to be better for passengers and the environment, but not everyone is excited.
19 Dec 16 - The Green Climate Fund board has approved eight funding proposals worth $US315 million ($NZ452m) at a meeting in Samoa.
19 Dec 16 - The emerging biofuel industry is casting the net wide to find solutions to two environmental problems: reducing waste and increasing fuel production.
19 Dec 16 - Officials in 24 states have urged US president-elect Donald Trump to kill the centerpiece of President Barack Obama's strategy to combat climate change and shut down coal-fired power plants.
19 Dec 16 - With little more than a month left in office, the Barack Obama administration is quietly trying to accomplish one last big thing on climate change: creating a policy for relocating entire towns...
19 Dec 16 - The statistics are impressive: sales of electric vehicles in China are likely to reach 400,000 this year, a more than 150 per cent increase on the figure for 2015.
19 Dec 16 - People working in green buildings think better in the office and sleep better when they get home, a new study has revealed.
19 Dec 16 - The California Energy Commission has passed sweeping energy-efficiency standards for computers and monitors in an effort to reduce power costs.
16 Dec 16 - Rampant road building has shattered the Earth's land into 600,000 fragments, most of which are too tiny to support significant wildlife, a new study has revealed.
16 Dec 16 - US president-elect Donald Trump has appointed Tesla and SpaceX CEO Elon Musk to his Strategic and Policy Forum.
---