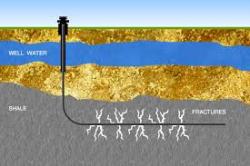 Friday - Technology isn't ready to clean up fracking's radioactive legacy. By ALAN HERBERT, senior lecturer in radioactive waste disposal and remediation at the University of Birmingham, and TREVOR JONES, visiting lecturer in nuclear decommissioning and radioactive waste management at the University of Birmingham.

Friday - By ALEX KIRBY, London.- Europe has the technology and the raw material to make a big cut in the amount of oil its transport uses, researchers say - but it will fail to reap the benefits on offer unless the European Union comes up with more radical policies.

Friday - The European Union has reached a preliminary deal on a law that will exempt long-haul flights from paying for carbon emissions until 2016.

Friday - How countries plan, build and manage their cities today will determine the outcome of global efforts to achieve a sustainable future, says the United Nations.
Friday - * Europe's banks in $1-tril risk from carbon bubble * Chinese premier declares war on pollution in economic overhaul * EU carbon trading fix goes into effect * Australia climate cuts 'insulting sovereignty of other countries'

Friday - Temperatures across Australia were, on average, almost 1°C warmer than they were a century ago, according to a new report.

Friday - By TIM RADFORD.- Global warming could have dramatic consequences for ocean circulation in the Antarctic, according to new research.
---
Friday - As much of Europe recovers from the severest winter in several centuries, scientists say average annual flood losses could be almost five times greater by mid-century.
Friday - A 98-hectare development in Townsville has won developer Defence Housing Australia an EnviroDevelopment green tick from the Urban Development Institute of Australia.
Friday - Now in its fourth year, Otago Polytechnic's Graduate Programmes in Sustainable Practice is providing New Zealand companies, organisations and a variety of projects with graduates qualified in...
28 Feb 14 - The Climate Change Authority's new report on emission reduction targets makes a compelling argument for Australia to go much further in cutting greenhouse gas emissions, writes CLIVE HAMILTON,...
28 Feb 14 - Dairy farmers could collectively save $42 million through electricity efficiency measures in the dairy shed, says the Government's energy efficiency agency.
28 Feb 14 - The idea of the "green economy goes in and out of fashion, not least because it is rarely defined and frequently misunderstood, writes PAUL EKINS, Professor of Resource and Environmental Policy,...
28 Feb 14 - A Northland childcare centre with a grass roof, a Christchurch medical centre and a Tauranga office building with an innovative ventilation system are marking a milestone in New Zealand's sustainable...
28 Feb 14 - By ED KING .-More than 60 countries responsible for 88 per cent of global greenhouse gas emissions now have legislation aimed at cutting carbon pollution and promoting green growth.
28 Feb 14 - By TIM RADFORD.- Here's a way to make cattle emit lower volumes of methane through their digestive tracts: give the beasts a higher-quality diet.
28 Feb 14 - * EU plan to cut supply of carbon permits passes into law * Abbott 'must treble minimum emissions target to stay credible' * Greens set to block bid to end auction of carbon units * Green lobby...
28 Feb 14 - Geneticists have cracked the code for one of nature's fastest-growing plants: Spirodela polyrhiza, or duckweed - and the pay-off could come with higher deliveries of biofuel at lower cost to cropland...
28 Feb 14 - Rising seas could swallow as many as 1500 of Indonesia's islands by 2050, according to a report from the Maplecroft Climate Change Vulnerability Index.
---