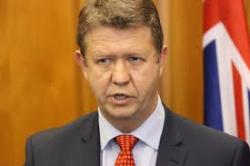 Today 10:00am - A Labour Government would put $100 million a year into clean-tech companies.

Today 10:00am - A United Nations chief dismayed at the lack of resolve toward the climate crisis; a daunting deadline for negotiating a new treaty; 125 or so heads of state; a sprawling agenda of fossil fuels, food, forestry and finance; a train of think tanks hauling gigabytes of green data; countless teach-ins, press conferences, art shows - plus tens or even hundreds of thousands of activists marching through midtown Manhattan, demanding action now.

Today 10:00am - Activists next week will try to seize an opportunity to put the climate movement alongside the Civil Rights and the Vietnam anti-war movements.

Today 10:00am - Two companies in Japan recently announced that they are to begin building two huge solar power islands that will float on reservoirs.

Today 10:00am - * More than 500 Korean firms face CO2 emissions cap * Carbon markets gaining momentum in the US * Fracking workers exposed to dangerous amounts of benzene, study says * France aims for 'energy positive' public buildings * Do we tax carbon emissions or trade them? Economists dig into the problem * Solar-powered ambulances awarded Government funding

Today 10:00am - We are in the middle of one of the biggest experiments in human history. At its core is the homogenisation of global food systems, which increasingly must deliver the same products to an expanding population across the world.

Today 10:00am - Milk, a precious resource in many parts of the world, has become a throwaway commodity in wealthy countries.
---
Today 10:00am - The unprecedented drought affecting São Paulo, South America's giant metropolis, is believed to be caused by the absence of the "flying rivers" - the vapour clouds from the Amazon that normally bring...
Today 10:00am - By TIM RADFORD.- The news is enough to make climate campaigners choke on their high-fibre breakfast cereal: if Americans adopted the dietary guidelines suggested by their own Department of...
Today 10:00am - Australian scientists have successfully replicated one of the crucial steps in photosynthesis, opening the way for biological systems powered by sunlight which could manufacture hydrogen as a fuel.
Today 10:00am - The launch of Future Super, which claims to be the first super fund in Australia to exclude fossil fuels and their major supporting companies from its investment portfolio, has drawn significant...
Today 10:00am - With the failure of international agreements to fight climate change, the way is open to viewing the role of renewables as more than agents for reducing carbon emissions. Indeed, is it possible for...
Today 10:00am - The vast quantities of water needed to release oil and gas by fracturing rock formations are not available in large areas with the richest deposits – posing major challenges to the future viability...
Today 10:00am - The Obama administration has proposed several ad-hoc, multi-country economic agreements, and in doing so has abandoned de facto the World Trade Organisation as insufficiently malleable to its...
8 Sep 14 - With nearly $2 billion pledged in sustainable development partnerships, the United Nations last week wrapped up its small island developing states conference in Samoa and kicked off a drum roll of...
8 Sep 14 - There are still doubts. The statistics might be proved wrong. But it looks as if China might be starting to wean itself off its coal consumption habit.
8 Sep 14 - UN Secretary-General Ban Ki-moon is attempting to prevent world leaders sleepwalking into disaster by asking them to make new pledges at his climate summit this month on cutting greenhouse gases.
8 Sep 14 - Korea's booming car industry appears to have won over the government in the country's latest road map for emissions reduction.
8 Sep 14 - Coming soon to a farm near you: just about every possible type of pest that could take advantage of the ripening harvest in the nearby fields.
---