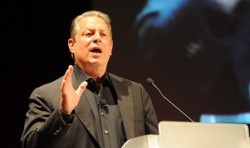 Today 11:00am - Ten years ago, An Inconvenient Truth opened in cinemas in the United States.
Today 11:00am - The G7 nations have for the first time set a deadline for the ending most fossil fuel subsidies, saying government support for coal, oil and gas should end by 2025.
Today 11:00am - Two weeks of UN talks in Bonn underline the scope and scale of the challenge facing governments as they work out the implications of the 2015 Paris deal.
Today 11:00am - Norway has become the first country in the world to commit to zero deforestation.
Today 11:00am - Nearly one quarter of China will be covered in forest by 2020 if the country implements its "eco-civilization" project.
Today 11:00am - Leakage of natural gas from drilling and pipework means more methane is entering the atmosphere.
Today 11:00am - The UN's flagship climate fund says it will miss a target to approve $2.5 billion of new projects in 2016 unless more countries submit proposals.
---
Monday - Spot NZUs were $14.95 bid/$15.10 offered on CommTrade this morning, with the last fix at $15.05.
Monday - Rex Tillerson, the boss of oil giant ExxonMobil, said cutting oil production was "not acceptable for humanity" as he fought off shareholders' and activists' attempts to force the company to fully...
Monday - Earth is in a land-degradation crisis.
Monday - Whatever happened to energy crops? A decade ago, the UK authorities confidently expected farmers to devote swaths of land to growing the likes of short-rotation willow and poplar and perennial...
Monday - With the world's population expected to exceed nine billion by 2050, scientists are working to develop new ways to meet rising global demand for food, energy and water without increasing the strain...
Monday - The Australian Government on Friday made a low-key announcement of its new Low Emissions Technology Roadmap. To be developed by the CSIRO, it will aim to "highlight areas of growth in Australia's...
Monday - Squid are on the move, octopus are going up in the world, and cuttlefish have made themselves at home in a changing ocean.
Monday - Donald Trump has vowed that if elected president he would dismantle the Paris global treaty and maximise the production of coal, oil and natural gas.
Monday - Every reference to Australia was scrubbed from the final version of a major UN report on climate change after the Australian government intervened, objecting that the information could harm tourism.
Friday - We almost expect that any large-scale, big impact inner-city development will be a skyscraper, but for smaller cities in the UK these proposals can still appear as fairly extreme, and their approval...
Friday - More than 8.1 million people worldwide are now employed by the renewable energy industry – a 5 per cent increase from last year.
Friday - Following the recommendation of the ExxonMobil board of directors, shareholders voted against six resolutions that would have addressed climate change at the company's annual shareholder meeting in...
---