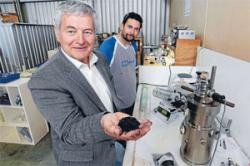 Tuesday - Investors in New Zealand's largest equity crowd-funding offer have received their shares.

Tuesday - Worldwide field trials show that just one degree of warming could slash wheat yields by 42 million tonnes and cause devastating shortages of this vital staple food.

Tuesday - A battery that could treble electric car mileage and cut costs is among the innovations moving closer to reality on the frontiers of science.

Tuesday - The energy market in Germany saw a spectacular change last year as renewable energy became the major source of its electricity supply − leaving lignite, coal and nuclear behind.

Tuesday - Our children will enjoy in their homes electrical energy too cheap to meter, said Lewis L Strauss, chair of the US Atomic Energy Commission, in 1954.

Tuesday - Climate change is as much an economic problem as an environmental one. The effects of climate change, such as damage from more severe weather or health problems from higher temperatures, will impose a cost on society.

Tuesday - Energy leaders see price volatility and the future of a climate framework as the biggest uncertainties facing the industry.
---
Tuesday - Knowledge of agricultural genetic resources needs to grow more quickly because of the critical role they have to play in feeding the world as climate change advances faster than expected, according...
Tuesday - Africa will be able to feed itself in the next 15 years. That's one of the big "bets on the future" that Bill and Melinda Gates (http://www.gatesfoundation.org/) have made in their foundation's...
Tuesday - * Ban Ki-moon: Lack of focus on green investment 'troubling' * World's leading companies join campaign for 100% renewable power * EU to launch diplomatic offensive ahead of Paris climate talks *...
Tuesday - A New Zealander is in the Middle East working to reduce the environmental impacts of a major sea port project.
Tuesday - The United Nations has its first top official whose only job is to deal with climate change.
Tuesday - New Zealand companies with ground-breaking renewable energy technologies are being invited to compete for a slice of a $US4 million prize.
22 Dec 14 - Global wood production has recovered from the economic downturn of 2008-2009 and is showing steady growth for the fourth consecutive year.
22 Dec 14 - The end of the year is nigh and it's a time for Christmas and New Year parties and gatherings. In the southern hemisphere that means barbecues and beaches. In the northern hemisphere it's mulled wine...
22 Dec 14 - WORLD WEB: * UN boss: Lima was a reality check, and leaders need to step up for Paris * Green bonds sell big in 2014 as finance bids to help climate * Washington targets polluters with...
22 Dec 14 - Australia's emissions of climate-changing greenhouse gases are going up and up – and are set to rise by more than 50% over 1990 levels by 2020, according to new research.
22 Dec 14 - The Netherlands, Austria, Belgium and Sweden have issued a joint call to ban the microplastics used in detergents and cosmetics, saying the measure will protect marine life – and seafood – from...
22 Dec 14 - Scientists predict that lethal heat waves in Europe, and ice storms and big freezes across the globe, could become regular events if greenhouse gas emissions are not controlled.
---