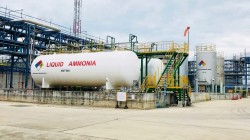 Wednesday - Ammonia has until now been used chiefly in the fertiliser industry as a way to return nitrogen to the soil. But it also has potential in boosting renewables – both as a replacement for hydrogen in long-haul shipping and as a way of storing and transporting hydrogen.

Wednesday - United Nations Secretary-General Antonio Guterres on Tuesday called on wealthy nations to end coal use by 2030 so the world can meet its goals to curb global warming, urging G7 nations to make that commitment before or at a leaders' summit in June.

Tuesday - The sheep-and-beef industry says a Government report recognising carbon storage on farms is significant – especially if it opens the door to collecting carbon credits from mature native forests.

25 Feb 21 - Gas companies in Europe and America are looking at using the existing gas network to serve industrial "clusters" of hydrogen users in sectors like chemicals, cement and steelmaking, adopting a "phased approach" endorsed by the European Commission.

24 Feb 21 - Electricity generator Mercury noted in its financial update yesterday that the ClimCom draft report is good news for the renewable electricity sector.

23 Feb 21 - Here's the bad news: Unless India opts for a totally new energy policy - a revolutionary switch to a clean future - the world has no chance of avoiding dangerous climate change.

19 Feb 21 - Scroll through all the emojis on your phone, and you'll find a gas pump, an oil drum, and … zero sign of clean energy.
---
18 Feb 21 - Most of the world's planned hydrogen projects and the biggest chunk of related investments this decade are expected to be in Europe, a new industry report says.
15 Feb 21 - Genesis Energy says it is advancing plans for more renewable electricity generation – but is also preparing to fire up an extra fossil-fuel turbine at Huntly this winter if needed.
15 Feb 21 - As more households and industries have opted to harness the sun's energy, a small but definite shadow is nagging at the many manufacturers who have put their faith in solar power's future.
15 Feb 21 - Bitcoin is a huge energy hog. And Tesla's recent announcement that it had bought $1.5 billion bitcoin — and will soon accept the cryptocurrency as payment for its cars — will only encourage more...
12 Feb 21 - Shell has set new carbon emissions goals to become a net zero carbon energy company by 2050, but will continue to grow its gas business by more than 20 per cent in the next few years.
11 Feb 21 - A project to build a giant island providing enough energy for three million households has been given the green light by Denmark's politicians.
2 Feb 21 - Royal Dutch Shell is betting on its expertise in power trading and rapid growth in hydrogen and biofuels markets as it shifts away from oil, rather than joining rivals in a scramble for renewable...
27 Jan 21 - BlackRock, the world's biggest investment fund manager, has threatened to sell shares in the worst corporate polluters in a bid to support the goal of net-zero carbon dioxide emissions by 2050.
27 Jan 21 - Improving energy efficiency creates far more jobs than generating it, and at the same time provides a way out of the covid crisis by bringing prosperity.
9 Dec 20 - The operator of the Huntly coal-and-gas-fired power station says it will cut greenhouse gas emissions in line with the Paris Agreement.
8 Dec 20 - The much-loved combination of beer and chips is being harnessed to tackle climate change.
7 Dec 20 - Gas suppliers, users and consultants are joining forces to assess the potential to use biogas to power industry and homes.
---