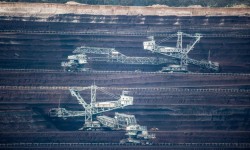 Tuesday - Engineering firms in Australia are under increased pressure from their own employees to abandon controversial fossil fuel projects, as the sector turns its attention to the climate crisis.

17 Oct 19 - Farming communities in Australia are bitterly divided over an epidemic of land clearing they say is sabotaging efforts to address climate change.

16 Oct 19 - Queensland has proposed two-year jail sentences for Extinction Rebellion protesters caught with a locking device used to fix people in public places.

15 Oct 19 - Summer might be more than six weeks away, but out-of-control bushfires have already torn across parts of eastern Australia in recent days, destroying homes and threatening lives.

7 Oct 19 - Protesters who disrupt traffic should have their welfare payments cut and be subject to mandatory jail sentences, Australia's home affairs minister Peter Dutton has declared.

3 Oct 19 - The New South Wales government is considering legislation that could limit the ability for planning authorities to rule out coalmines projects based on the climate change impact of emissions from the coal once it is burned.

1 Oct 19 - Livelihoods in Australia are now at risk from drought worsened by climate change, a predicament more familiar to developing countries.
---
1 Oct 19 - Two huge renewable hydrogen projects have been planned for the heart of Queensland's major coal and gas regions.
30 Sep 19 - Stockton beach in New South Wales is being washed away by dramatic coastal erosion which has already claimed a childcare centre.
26 Sep 19 - An Australian mining billionaire has launched a business-driven initiative to try to tackle the hundreds of millions of tonnes of plastic waste produced every year.
23 Sep 19 - Canberra will become the first city outside Europe to shift from fossil fuel to 100% renewable energy.
23 Sep 19 - A hoax photo that claims to show rubbish left behind by Australian climate strike protesters is circulating on Facebook, despite being revealed as fake months ago.
18 Sep 19 - A petition launched just days before the World Cup opens in Japan calls on the All Blacks to dump their principal sponsor AIG over ties to a controversial Australian coal mine development.
17 Sep 19 - More Australians are drowning as the country faces record high temperatures, lifesavers have warned.
12 Sep 19 - Faced with a ferocious summer with little rain forecast, the New South Wales government has embarked on a Noah's Ark type operation to move native fish to safe havens.
11 Sep 19 - Australians are increasingly concerned about droughts and floods, extinctions and water shortages associated with climate change, according to new research.
11 Sep 19 - Australia's minister responsible for drought and natural disasters, David Littleproud, has said that he doesn't "know if climate change is manmade".
6 Sep 19 - In Queensland, it seems the legacy coal generators are deciding not to ramp down as the market might expect. Instead, some observers suspect they are trying to force the solar plants out of the...
4 Sep 19 - The Australian Medical Association has formally declared climate change a health emergency, pointing to "clear scientific evidence indicating severe impacts for patients and communities now and into...
---