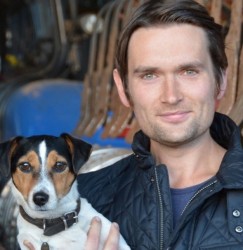 6 Nov 19 - BY JOE STANLEY | As a cattle farmer I come under constant criticism, but UK livestock production is among the most sustainable in the world.

7 Oct 19 - By CHIKA UNIGWE | Young people in the global south have been tackling the climate crisis for years. They should be celebrated, too.
18 Sep 19 - By TIM FLANNERY | In this age of rapidly melting glaciers, terrifying megafires and ever more puissant hurricanes, of acidifying and rising oceans, it is hard to believe that any further prod to climate action is needed.
9 Sep 19 - New Zealand climate scientist Professor Jim Salinger and United States meteorologist Professor Jose D Fuentes explain why they've told the Government to be much harder on methane emissions than it is planning to be.

20 Aug 19 - By GILLIAN ANDERSON | A new ocean treaty hangs in the balance. Our leaders must act boldly, and grasp the opportunity to protect these wild spaces.

9 Aug 19 - By GEORGE MONBIOT | The fossil-fuel lobby is threatened by public concern over the climate crisis. So it's buying influence to get the results it wants.
5 Aug 19 - By ISABELLA KAMINSKY | We need to make driving to the school gates as unacceptable as handing a baby a lit cigarette.
---
2 Jul 19 - By SARAH GARD | Pasture management, alongside livestock solutions, shouldn't be overlooked as a tool for mitigating climate change.
1 Jul 19 - By NICKY HAWKINS | The climate story must balance talk of urgency with hopeful and creative ideas if we are to inspire positive change.
11 Jun 19 - By DERMOT O'GORMAN | Over the past five years Australia's standing in the Pacific has declined dramatically because of an unwillingness to take strong action on climate change.
30 May 19 - By BRIAN EASTON | Can we consume limited resources forever? Is economic growth just a Ponzi scheme in which we borrow from the future? Is economic growth as we know it coming to an end?
21 May 19 - By GAIA VINCE | A four-degree-warmer world is the stuff of nightmares and yet that's where we're heading in just decades.
20 May 19 - By MICHELLE CAIN | A separate target for methane from sheep and cattle has been painted as a sop to farmers; on the contrary, it puts the onus on the sector to curb warming.
13 May 19 - Organic farmer and former Green Party co-leader JEANETTE FITZSIMONS says farmers can cut methane now while increasing farm profits.
10 May 19 - By ROB LAW | My intellectual and rational understanding of climate change has shifted to much more of an emotional and personal one.
24 Apr 19 - By BILL McKIBBEN | We have the technology to prevent climate crisis. But now we need to unleash mass resistance too – because collective action does work.
9 Apr 19 - By JULIA P G JONES | Sir David Attenborough's latest project, the Netflix series Our Planet, has the usual incredible shots of nature and wildlife, but the series is a little different from his past...
20 Mar 19 - By PHIL McDUFF | Policy tweaks won't fix climate change. We need to throw the kitchen sink at it with a total rethink of our relationship to ownership, work and capital.
13 Mar 19 - This Friday's strike by school students calling for action on climate change has the support of some of our wisest citizens. Wise Response Society secretary DUGALD MACTAVISH explains why.
---