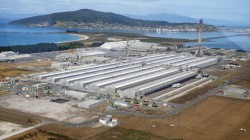 Friday - Mining giant Rio Tinto says it wants its globe-spanning operations to reach net zero greenhouse gas emissions by 2050 and will spend $US1 billion over the next five years to reduce its carbon footprint.

Friday - If you're confused what the "circular economy" is, or what it means for a company to go "net-zero," you're far from alone.

Friday - FIFA aims to reach carbon neutrality at the next World Cup, to be hosted by Qatar in 2022, in spite of environmental challenges linked to the location of the event.

Thursday - Climate change could become a "catastrophic" threat to global security, as people lose their livelihoods, fall ill and battle over scarce water and food, a host of US security, military and intelligence experts have warned.

Thursday - Within 50 years, a third of all plant and animal species could be caught up in a mass extinction, as a consequence of climate change driven by ever-rising temperatures. What is new about this warning is the method, the precision, the timetable and the identification of a cause.

Wednesday - The Arctic global seed vault has reached the milestone of having one million varieties stored in its deep freeze.

Wednesday - Older people can be nudged into taking action on climate change by getting them to think about their legacy, researchers say.
---
Monday - Lustier plant growth as greenhouse gases climb should counter global heating and atmospheric carbon build-up. But it's not quite so simple.
20 Feb 20 - The oil and gas industry has had a far worse impact on the climate than previously believed, according to a study indicating that human emissions of fossil methane have been underestimated by up to...
20 Feb 20 - Wind, water and solar sources − the renewable energy trio − could meet almost all the needs of our power-hungry society in 30 years.
20 Feb 20 - The changing climate could destroy nearly all remaining coral reefs by the end of the century, according to new research.
20 Feb 20 - Mining giant Glencore has predicted its carbon footprint will shrink by almost a third by 2035, but will not set climate targets for the company.
20 Feb 20 - Governments should sharply expand protected areas for animals and plants to cover 30% of the planet by 2030 to pull back from "the precipice of irreversible loss of biodiversity", a group of former...
19 Feb 20 - Jeff Bezos, the Amazon founder and Washington Post owner, has announced that he is donating $10 billion to save the Earth's environment – barely a month after it was revealed Amazon threatened to...
18 Feb 20 - Carbon pricing is emerging as central to international climate negotiations, the Mercator Climate Institute says.
17 Feb 20 - The Earth had its hottest January in recorded history last month, according to the National Oceanic and Atmospheric Administration.
17 Feb 20 - Christiana Figueres, leader of the 2015 Paris Agreement, talks about her new book, The Future We Choose, and why it's crunch time for humanity.
17 Feb 20 - As the climate warms in the decades ahead, billions of acres, most of them in the northern hemisphere, will become suitable for agriculture and could, if ploughed, emit a massive, planet-altering...
14 Feb 20 - BP's new chief executive Bernard Looney has outlined plans to cut the company's carbon emissions from its operations and barrels produced to net-zero by 2050.
---