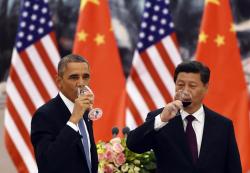 28 Sep 15 - China, the world's largest carbon polluter, has reiterated its carbon trading commitment and has pledged $3.1 billion in climate financing to assist developing countries.

28 Sep 15 - The United Nations General Assembly has adopted a set of bold new global goals, which Ban Ki-moon hailed as a universal, integrated and transformative vision for a better world.
28 Sep 15 - India, the world's third-largest polluter, is planning to balance development with environment protection as it tackles climate change.

28 Sep 15 - * Q&A: Obama opens up on climate change * Pope to Congress: Act on issues of life and death, including climate * Shell accused of strategy risking catastrophic climate change * BP tops the list of firms obstructing climate action in Europe * Fading coal industry in China may offer chance to aid climate * Renewable energy outstrips coal for first time in UK electricity mix * Brewery turns utility into Texas-size solar art

21 Sep 15 - For years, scientists and environmentalists have debated the best ways to conserve and protect natural resources from pollution and over-exploitation.

21 Sep 15 - * Australian homes among first to get Tesla's Powerwall solar-energy battery * Ministers unite on mandate for Paris climate talks * Canada having a green energy boom — with or without PM Harper * Pakistan ordered to enforce climate law by Lahore court * Migrant crisis: 'If we don't stop climate change, what we see now is just the beginning' * Cameron gives top environment policy job to oil man ahead of major climate talks * Volkswagen just re-released everyone's favourite hippie-van …...

21 Sep 15 - In recent years there has been significant movement toward land acquisition in developing countries to establish forestry plantations for offsetting carbon pollution elsewhere in the. This is often referred to as land grabbing.
---
14 Sep 15 - At the world's last blockbuster climate summit, in Copenhagen in 2009, the person in the president's chair was former EU climate commissioner and Danish environment minister Connie Hedegaard.
14 Sep 15 - Back in 1839, public health expert J. F. Murray published his article The Lungs of London, in Blackwood's Edinburgh Magazine. Even then, city dwellers appreciated the advantages of open, green spaces.
14 Sep 15 - * Australian solar farms given $350m push * Civil aviation falling short of climate commitments * Southern Ocean showing revival in carbon absorption ability * Israel's 300 days of sun no help as...
7 Sep 15 - Much of the world still lacks clean, safe water. Progress on sanitation is falling far short of the United Nations' Millennium Development Goals.
7 Sep 15 - Internationally renowned artists have released a song urging world leaders to reach a global agreement during the Paris climate conference in December to limit the impacts of climate change.
7 Sep 15 - * Shell to axe thousands of jobs amid $7 billion in spending cuts * What do chief executives really think about climate change? * Climate action will reduce risk of heart disease, say experts *...
31 Aug 15 - Two academic papers inspired a media firestorm, polarising popular opinion and scientists, on whether global warming was in some way responsible for Hurricane Katrina.
31 Aug 15 - * What does China's Black Monday mean for the climate? * Total brings down the curtain on coal operations * You can fight climate change and grow the economy, says Lord Stern * Government accused...
24 Aug 15 - A far-reaching call to avoid runaway climate change and to build a more just and sustainable global society has been launched by Islamic leaders.
24 Aug 15 - * Feeling the heat: Earth in July was hottest month on record * Norwegian fund divests from four Asian companies over palm oil * How coal giant Adani charmed Australia's political elite * 1000...
24 Aug 15 - In a bid to get closer to the Millennium Development Goal of halving the 2.5 billion people without sanitation access, innovative solutions are being tested across the globe.
17 Aug 15 - Inadequate infrastructure is widely recognised to be holding back Africa's development and lowering the quality of life of its citizens.
---