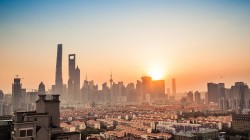 Tuesday - China issued $US36.9 billion worth of green bonds in 2016, dominating the global market in climate-friendly infrastructure investment.

Tuesday - The humble fruit sticker may seem an unlikely cause for environmental concern but removing it from produce could create huge savings in plastic, energy and CO2 emissions.

21 Dec 16 - After more than a year of negotiations, EU member states have come up short in their efforts to find common ground on a carbon market reform seen as necessary if the ambitions of the Paris Agreement on climate change are to be met.

21 Dec 16 - As a famous old song says, they've got an awful lot of coffee in Brazil. But if the findings of New Zealand and Australian researchers are right, that will change over the next 30 years.

21 Dec 16 - A red alert, the highest level in the China's pollution warning system, has been issued in at least 23 cities as smog cancelled flights, shut factories and stopped traffic.

20 Dec 16 - We weep at the disappearance of endangered species but avert our eyes to the causes of Earth's destruction.
20 Dec 16 - In less than two weeks, 2016 will officially be the hottest year on the books in more than 120 years of record keeping by US agencies. It will be the third straight record-setting year — and of the 17 hottest years, 16 have been this century.
---
16 Dec 16 - THE EUROPEAN UNION will cancel a billion pollution permits under a package of carbon market reforms agreed by EU lawmakers yesterday.
16 Dec 16 - A climate lawsuit by a Peruvian farmer and mountain guide against energy company RWE has just been dismissed by Essen district court in Germany.
15 Dec 16 - Climate-related financial disclosures should be part of the public reporting of companies, a major new report says.
15 Dec 16 - Bank of England governor Mark Carney has warned that the fight against climate change will be jeopardised unless companies with big carbon footprints come clean about their exposure to global warming...
15 Dec 16 - It's climate change news the kids didn't want to hear ... Santa's reindeer might not be up to the job this Christmas.
14 Dec 16 - Retreating glaciers clearly document regional climate change over decade-long periods of time, suggesting that today's shrinking glaciers are conclusive evidence that the climate is changing, says a...
13 Dec 16 - One year ago today, with huge relief, scarcely able to believe their achievement, world leaders finally agreed to reduce emissions of carbon dioxide.
13 Dec 16 - A study published today in the journal Nature reveals just how sensitive the Earth's climate might be to changes taking place in Antarctica.
13 Dec 16 - Squeezed budgets and rising energy demand will significantly heighten the demand and use of renewable and energy efficiency technologies across the Middle East, says a new white paper.
12 Dec 16 - Canadian Prime Minister Justin Trudeau has announced that carbon pollution will cost $10 ($NZ10.63) a tonne in 2018, rising by $10 a year until it reaches $50 ($NZ53.16) in 2022.
12 Dec 16 - In school, we learnt that the tropical zone is defined as the hot region of our planet – between the tropics of Cancer and Capricorn.
12 Dec 16 - People who argue that climate change is not happening or that the scientific case for it is overstated – climate deniers – should probably start preparing for a more robust response from scientists...
---