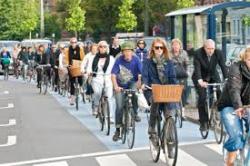 17 Apr 14 - More than 76,600 people could become employed by green transportation businesses, and 10,000 lives would be saved, if major European cities adopted Copenhagen's bicycle sharing system, says a new report.

11 Apr 14 - Ship transport is energy efficient, but it is also a significant source of emissions because of the globalised world huge transportation needs. In large measure, these vessels are powered with high-sulphur fossil fuels.

11 Apr 14 - Choosing tyres which grip well but are also fuel efficient can save money and reduce carbon emissions, says Consumer NZ.

11 Apr 14 - By LYNETTE DRAY.- Although aviation emissions contribute only 3 to 5 per cent of the total impact on the planet's climate, this is steadily growing and is a surprisingly intractable problem to solve.

4 Apr 14 - A commercial-scale biodiesel project nearly stymied by the withdrawal of Government support is to go ahead.

4 Apr 14 - NEW ZEALAND clean-tech company LanzaTech has been lured to Illinois with more than $US1 million worth of tax credits.
4 Apr 14 - By DOUGLAS CRAWFORD-BROWN.- Biofuels alone are unsustainable, but can still help to combat climate change.
---
4 Apr 14 - EUROPE has postponed action to regulate international aviation emissions.
28 Mar 14 - ONE OF THE companies involved in a $13.5 million project investigating the viability of turning wood waste into biofuel says it is not involved in the NXT Fuels project.
28 Mar 14 - By KIERAN COOKE.- The European Parliament has voted in favour of changing the design of goods lorries throughout the EU - from their present brick shape to a more streamlined-looking vehicle.
21 Mar 14 - Flights to and from Europe should not be exempted from Europe's emissions trading scheme, the Environment and Public Health Committee of the European Parliament says.
7 Mar 14 - By ALEX KIRBY, London.- Europe has the technology and the raw material to make a big cut in the amount of oil its transport uses, researchers say - but it will fail to reap the benefits on offer...
21 Feb 14 - By THOMAS BRAUNL. Cars are the second most expensive investment after the family home, a status symbol and, in some cases — just visit a major motor show — a love affair.
7 Feb 14 - Several of the largest international oil companies, along with other major companies, are taking the prospect of international carbon pricing seriously, writes BARRY NAUGHTON.
20 Dec 13 - The High Court has dismissed Greenpeace's challenge to the EPA's decision over Anadarko's oil exploration in the Taranaki Basin.
20 Dec 13 - Seven "green" aviation routes have been introduced across Asia Pacific.
20 Dec 13 - A second truck stop is to sell Z Energy's low-emissions diesel additive.
6 Dec 13 - The NXT Fuels biofuels refinery project could be a breakthrough for the industry, says fuel retailer Gull New Zealand.
29 Nov 13 - An motoring organisation has earned national recognition for leading the way with energy-efficient buildings and cutting carbon emissions in Australia.
---