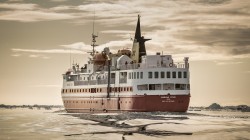 Today 9:00am - Countries remain split on a framework for tackling the climate impact from shipping after two days of UN-backed talks in London.

Today 9:00am - Connected cars and trucks are intended to make driving safer and easier. The chances of success all come down to humans.

Tuesday - Imagine Project sets out to cut waste in the industry by renting rather than selling bikes, which can then be returned and refurbished when the child outgrows them.

19 Oct 16 - New Zealand now has more than 2000 electric vehicles – twice as many as at the start of the year.

17 Oct 16 - Some of New Zealand's largest businesses are pledging to convert their vehicle fleets to electricity, collectively avoiding more than 3000 tonnes of carbon dioxide emissions a year within three years.

14 Oct 16 - The number of plug-in electric cars on the world's roads is set to pass the landmark of 2m vehicles by the end of this year, with industry observers saying the electric car revolution is finally under way.

13 Oct 16 - Major investors have warned the automotive industry it needs to accelerate its readiness for a low-carbon world if it is to retain their support and prosper.
---
12 Oct 16 - Germany's Bundesrat has approved a resolution that calls for a ban on new internal combustion engines by 2030.
12 Oct 16 - Every new or refurbished house in Europe will need to be equipped with an electric vehicle recharging point, under a draft EU directive expected to come into effect by 2019.
11 Oct 16 - A push by the shipping and oil industries for a five-year delay to curbs on toxic sulphur emissions would cause an extra 200,000 premature deaths from lung cancer and heart disease, says a new report.
10 Oct 16 - A futuristic electric urban car has met its half-million-euros funding target in less than two days.
7 Oct 16 - A global carbon market for aviation that could see New Zealand offsetting three million tonnes of emissions a year is going ahead.
7 Oct 16 - Tesla electric cars and batteries are coming to New Zealand.
7 Oct 16 - US plug-in vehicle sales reached a quarterly record for the three-month period that ended September 30.
4 Oct 16 - Planning and co-operation could see the freight sector cut greenhouse gas emissions by 30 per cent, says an international expert.
3 Oct 16 - A new global market-based measure for aviation emissions could see New Zealand having to offset 3 million tonnes of greenhouse gases a year.
3 Oct 16 - Last year's jump in New Zealand's fossil-fuel consumption from transport probably put an extra 500,000 tonnes of greenhouse gases into the atmosphere, an expert says.
3 Oct 16 - A UN negotiation is inching towards a landmark deal to curb emissions from airplanes, although environmental groups have warned that the plan will not go far enough to help slow climate change.
30 Sep 16 - Toyota is considering making every future Prius a plug-in hybrid.
---