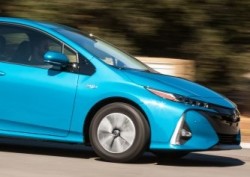 Friday - Toyota is considering making every future Prius a plug-in hybrid.
Tuesday - Delegates from more than 190 nations today will begin an 11-day meeting in Montreal to determine the final form of a scheme to reduce greenhouse emissions from the aviation industry.
23 Sep 16 - New Zealand will join an international market-based system to reduce aviation emissions, the Government has just announced.
22 Sep 16 - New Zealand is considering its position on international plans to reduce the aviation industry's impact on the climate.

22 Sep 16 - A new study says that achieving limits on temperature rise agreed at last year's Paris climate conference will require a massive switch to zero emissions electric-powered vehicles, coupled with the development of a completely decarbonised power sector.

22 Sep 16 - Tokyo aims to introduce self-driving vehicles by the time the Olympic Games are staged there in 2020.

21 Sep 16 - It was a mistake – a monumental, world-class mistake. Cars for everyone was one of the most stupid promises politicians ever made.
---
21 Sep 16 - For unlimited clean energy, Toyota is turning to one of the dirtiest places there is: the toilet.
20 Sep 16 - New Zealand needs 1.2 million light electric vehicles on the road by 2030 to meet its Paris Agreement emissions reduction target, a report shows.
20 Sep 16 - Government departments are so cash-strapped they can't afford to buy electric vehicles, the transport minister says.
19 Sep 16 - One of the Government's support parties is promising to do what Treasury advised and what the Government has refused to do – offer cash to anyone buying electric vehicles.
19 Sep 16 - International Drive Electric Week last week saw new electric vehicle charging stations opened in Nelson, Thames Wellington and Auckland.
16 Sep 16 - Rail will continue to out-perform road transport when it comes to climate change, regardless of whether it's using electric trains or not, KiwiRail says.
16 Sep 16 - The last gasoline-powered car will have to be sold by about 2035 to put the world on track to limit global warming to the most stringent goal set by world leaders last year, a new study says.
15 Sep 16 - Government suggestions that improved fuel efficiency will get New Zealand's transport emissions under control are nonsense, an expert says.
15 Sep 16 - BMW is planning a big shift in its electric vehicle strategy that would greenlight electric versions of some of its most important vehicles, including the 3-series sedan, X4 crossover and iconic Mini.
14 Sep 16 - Manufacturer Proterra is debuting a new electric bus, called the Catalyst E2 Series, that can drive up to 560 kilometres per charge.
13 Sep 16 - Severe turbulence, which recently forced the emergency landing of a transatlantic flight, is on the rise. But why and what can be done?
12 Sep 16 - Truck and bus operators could save thousands of dollars a year under road-user charge exemptions now before the Government.
---