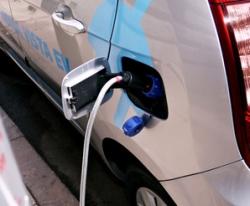 18 Jan 16 - Jaguar Land Rover has become the latest car manufacturer to announce its entry into the world's first fully electric racing series – the FIA Formula E World Championship.

30 Nov 15 - The UK government is giving no sign that it intends to replace fossil fuels with renewables, so the only way to avoid the carbon emissions from burning natural gas and oil is the widespread use of carbon capture and storage technology to extract CO₂ from the exhaust gases.
9 Nov 15 - A Green Party government would give tax breaks to companies using electric vehicles and giving staff public transport passes to get to and from work.

2 Nov 15 - Lexus' hydrogen-powered LF-FC sedan has been unveiled at the Tokyo Motor Show.
27 Oct 15 - Cities will lead the drive on climate change, says Auckland Mayor Len Brown.

27 Oct 15 - International aviation could meet climate commitments using only high-quality emission reductions, a new report shows.
27 Oct 15 - Dutch team Nuon Solar celebrated victory in a nail-biting race to the finish line at this year's Bridgestone World Solar Challenge from Darwin to Adelaide.
---
19 Oct 15 - Electric trucks are on the agenda for a transport industry conference this week.
12 Oct 15 - Air New Zealand appears to support a global carbon market for the aviation industry.
28 Sep 15 - Volkswagen has set aside €6.5 billion to cover the costs of the growing scandal over cheating on emissions tests in the US.
21 Sep 15 - After a slow start, electric vehicles are gaining in popularity. London is now host to an electric car-sharing service, which proved successful in Paris.
7 Sep 15 - The Government is looking at ways to encourage the switch to electric vehicles. But it is keeping the details secret.
31 Aug 15 - The future of aviation is dependent on finding an alternative power source. Is electricity the answer?
10 Aug 15 - Passenger cars are still the most popular transportation mode. In 2014, nearly 68m were produced globally.
10 Aug 15 - Cars are one of the biggest threats to the planet. The transport sector accounts for more than 60% of global oil consumption and about a quarter of energy-related carbon emissions, and it's seen as...
10 Aug 15 - The disappearing Arctic ice cap will boost trade between north-west Europe and countries such as China, Japan and South Korea by making the sea routes far shorter, according to economic analysts.
20 Jul 15 - Scientists say wind patterns altered by climate variability are costing airlines millions of dollars in extra fuel and flying time − and increasing CO2emissions.
13 Jul 15 - Treasury's advice that the Government should stop propping up KiwiRail because it is too expensive fails to take into account the carbon cost of transporting freight by rail.
13 Jul 15 - Trend-spotters may have declared the car is dead for 20-somethings in central London or Paris but among the rest of humanity sales of the ubiquitous gas-guzzler continue to climb.
---