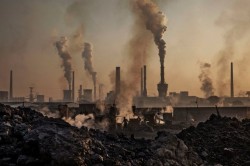 Monday - Carbon dioxide emissions could fall by the largest amount since World War Two this year as the coronavirus outbreak brings economies to a virtual standstill, according to scientists.

31 Mar 20 - The covid-19 pandemic shutdown is improving New Zealand's air quality.

27 Mar 20 - Businesses struggling to complete a 2019 emissions return because of the state of emergency in New Zealand must apply for an extension before Tuesday.
11 Mar 20 - Treasury says it is putting its best foot forward in a bid to cut its own greenhouse gas emissions.

5 Mar 20 - Global failure to address climate change a decade ago means emissions must now drop at 7 per cent a year to meet the Paris Agreement, prompting scientists to call for the world to switch into crisis mode.

18 Feb 20 - Air New Zealand's greenhouse gas emissions are rising faster than its emissions-reduction schemes are coping with, a new paper shows.

17 Feb 20 - Greenhouse gas emissions from the Marsden Point oil refinery have fallen 20 per cent as a result of a deal exempting the refinery from the Emissions Trading Scheme, the company says.
---
4 Feb 20 - Stop using the worst-case scenario for climate warming as the most likely outcome — more-realistic baselines make for better policy.
31 Jan 20 - National MP and former climate minister Nick Smith says his Emissions Trading Scheme has seen New Zealand out-perform Australia on emissions reduction.
19 Dec 19 - New Zealand's projected greenhouse gas emissions are falling.
30 Oct 19 - As the notion of flight shame is taking off around the world, emissions from aviation are making a small but growing contribution to global warming.
29 Oct 19 - National Party deputy leader and former climate minister Paula Bennett says when it was in power, her party stabilised greenhouse gas emissions, while under this Government they will keep rising...
4 Oct 19 - New Zealand has today ratified the Kigali Amendment to the Montreal Protocol, promising to reduce the use of climate-damaging hydrofluorocarbons.
5 Sep 19 - Reaching net zero emissions is easy for us to aim for but much more difficult to deliver – and worse, we might be focusing on the wrong objective.
2 Sep 19 - Auckland University students have won their five-year campaign to get the institution to stop investing in fossil fuels.
12 Aug 19 - Money instead of carbon credits was used to offset half the greenhouse gas emissions liable under the Emissions Trading Scheme last year - creating a potential financial liability for taxpayers.
25 Jul 19 - New Zealanders are getting more worried about climate change, and most don't think we'll be able to cut our emissions in time to avoid its impacts.
25 Jul 19 - European funds managing $2 trillion in assets have called on cement companies to slash their greenhouse gas emissions, warning that a failure to do so could put their business models at risk.
23 Jul 19 - A New Zealand company whose products are responsible for more than a million tonnes of greenhouse gas emissions a year says it is setting emissions reduction targets in line with the Paris Agreement.
---