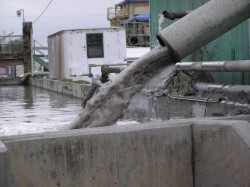 Wednesday - Scientists have developed a "green" cement that could go a long way to cutting the construction industry's emissions and making it more sustainable.

Tuesday - William Nordhause was awarded the 2018 Nobel Prize in Economics. But his predictions of what global heating will cost us are dangerously at odds with the science.

13 Nov 19 - A new battery technology that could significantly reduce the price of electric cars and home battery systems has taken a major step towards commercialisation.

7 Nov 19 - New research shows how everything from wood to ultraviolet light and ultrasound can replace fossil-fuel-intensive heat sources in industrial processes.

7 Nov 19 - The Government is paying $26m for a ringside seat to an international space mission helping to tackle climate change.

6 Nov 19 - Leading New Zealand climate scientist Professor James Renwick says an 11,000-strong global statement by scientists warning of "untold suffering" as the climate changes should be taken seriously.

24 Oct 19 - Science, as it's mostly practised today, is not up to the task of delivering timely knowledge on solutions to climate change.
---
23 Oct 19 - As the climate emergency becomes ever more acute, scientists need to alter the way they approach it – or face being part of the problem.
23 Oct 19 - Wonky weather has given us the smallest Antarctic ozone hole on record since the 1980s, according to NASA.
17 Oct 19 - Forget the laboratory - substances to solve some environmental problems can be easily created in a kitchen, new research shows.
11 Oct 19 - Stanley Whittingham, the Nobel Prize recipient cited for making the "first functional lithium battery," came to his discovery in the 1970s as a research scientist at Exxon.
27 Sep 19 - Certain wasps and flies which lay their eggs in specific species such as aphids could be a sustainable form of pest control.
17 Sep 19 - The Government is putting $10 million into breeding cows that produce more milk and fewer greenhouse gases and can withstand heat.
13 Sep 19 - Healthcare workers backing zero carbon emissions say chemicals used increasingly to anaesthetise patients are potent greenhouse gases.
6 Sep 19 - Plastic pollution is being deposited into the fossil record, research has found, with contamination increasing exponentially since 1945.
2 Sep 19 - From mushrooms to cow manure, the fashion industry is trying to find new materials to make clothing more sustainable.
30 Aug 19 - Humans have been putting themselves ahead of the state of the planet for at least 4000 years, scientists say.
15 Aug 19 - A seaweed that can cut livestock methane emissions is almost ready for commercial production, scientists say.
15 Aug 19 - Last year was the fourth-warmest since the 1800s and sea levels the highest on record, a new study finds.
---