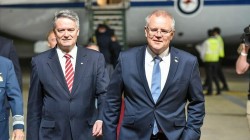 Today 12:00pm - An Australian former minister widely criticised by environmentalists has made it to the final two contenders to lead the Organisation for Economic Co-Operation and Development

1 Mar 21 - The leaders of the International Monetary Fund and the World Bank are vowing to step up efforts to combat climate change by looking more closely at climate-related financial stability risk and using other tools at their disposal.

26 Feb 21 - Who should pay the huge costs of climate change's damage? There's a case for corporate climate polluters to contribute.

23 Feb 21 - The Environment Select Committee starts hearing submissions on the Climate Change Response (Auction Price) Amendment Bill today.

22 Feb 21 - Vulnerability to climate change is bad for sovereign credit ratings, says the International Monetary Fund.

19 Feb 21 - Amundi, Europe's biggest asset manager, say it will seek more specifics from companies at upcoming shareholder meetings about their plans to reduce emissions.

18 Feb 21 - OECD Secretary General Ángel Gurría is bowing out with a climate-rallying cry, saying action on environmental crises must be the defining focus of wealthy countries after covid.
---
17 Feb 21 - New World Trade Organisation head Ngozi Okonjo-Iweala brings an awareness of climate issues to the UN trade body, where member states are set to clash over carbon border taxes.
16 Feb 21 - Major financial investors are to be urged by the world's largest shareholder advisory firm to vote against company board members if they fail to address global heating in their roles.
9 Feb 21 - Tesla co-founder Elon Musk is offering $138 million for inventions that remove carbon dioxide from the atmosphere or oceans.
28 Jan 21 - Almost two-thirds of the 1.2 million people surveyed in about 50 nations say global warming is a crisis.
14 Dec 20 - BP, Glencore and Rolls-Royce are among eight FTSE 100 companies who have refused to comply with investor demands to disclose their carbon dioxide emissions, as the UK government prepares to compel...
10 Dec 20 - The grasslands of northern China and Mongolia could be about to lurch into a climate tipping point, an irreversible sequence of heat and drought.
3 Dec 20 - Humanity is facing a new war, unprecedented in history, the secretary general of the UN has warned, which is in danger of destroying our future before we have fully understood the risk.
3 Dec 20 - The United Nations-backed Production Gap report projects a 2 per cent annual rise in global fossil fuel output this decade, when 6 per cent cuts are needed in line with a 1.5deg warming limit
25 Nov 20 - Can you put a price on pollution? Some of the world's biggest economies are doing just that as they wrestle with how to make good on grand pledges to tame planet-warming emissions.
14 Oct 20 - Late last year, the Dutch Supreme Court issued a decision that could have implications for countries around the world.
14 Oct 20 - Thirty of the world's largest asset owners, with portfolios worth a combined $US5 trillion, have committed to cutting the carbon emissions linked to companies they invest in by up to 29 per cent...
12 Oct 20 - POPE FRANCIS is urging people to pull investments from companies that are not committed to protecting the environment, adding his voice to calls for the economic model that emerges from the...
---