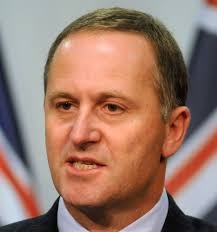 Monday - Prime Minister John Key today will lead a high-powered call for an end to fossil fuel subsidies – despite the fact his Government is subsidising fossil fuel exploration.
Monday - Labour leader Andrew Little has used today's shadow cabinet reshuffle to send a strong signal on climate change and environmental issues, by boosting the issue up the rankings, appointing a spokesperson specifically for Pacific Islands climate change issues, and introducing a water portfolio.

Monday - Retaining the one-for-two subsidy for emitters will cost taxpayers $400 million – and that's just at today's carbon prices, says climate law expert Simon Watt.
Monday - Agriculture should not be treated any differently from any other trade-exposed industry, says the man who led the previous Emissions Trading Scheme Review.

Monday - Cutting production is not the only way for New Zealand to offset agricultural emissions, says a forestry expert.
24 Nov 15 - The Emissions Trading Scheme review is under way.
24 Nov 15 - Agriculture - responsible for nearly half New Zealand's greenhouse gas emissions - is not part of the Government's just-announced review of the Emissions Trading Scheme.
---
23 Nov 15 - The Government has given the clearest signal yet that it intends to push carbon prices up as part of a package to meet the expected $30 billion cost of New Zealand's 2030 emissions reduction target.
23 Nov 15 - The world is now in abrupt climate change, says a New Zealander who was one of the first scientists in the world to talk about human-induced climate change.
23 Nov 15 - Bluff aluminium smelter owner Rio Tinto – which threatened to quit New Zealand if a carbon price was introduced - is one of the world's worst-prepared mining companies for carbon regulation, says a...
23 Nov 15 - Rising sea levels have been in the news lately, with the release of the Parliamentary Commissioner for the Environment's report into their likely impact on New Zealand. But while we tend to think of...
16 Nov 15 - Fonterra and 11 other major New Zealand companies failed to disclose to a global business organisation information about what they are doing on climate change.
16 Nov 15 - Replacing traditional light bulbs with energy-efficient LED bulbs might seem like a simple job – unless you own some of the country's largest shopping centres and offices.
16 Nov 15 - Climate Change Minister Tim Groser says he has given no advice to Finance Minister Bill English on protecting people's pensions against the risk of stranded assets in fossil fuel companies.
16 Nov 15 - Parliamentary Commissioner for the Environment Dr Jan Wright will on Thursday release her report on the implications for New Zealand of sea level rises.
9 Nov 15 - New Zealanders need to halve their greenhouse gas emissions by 2030 to do their fair share – and that's on 1990 levels, not the Government's new favourite baseline of 2005 - officials say.
9 Nov 15 - Parliament might have just a month of work left on its schedule for the year, but there's still no sign of the promised Emissions Trading Scheme review.
9 Nov 15 - The Trans-Pacific Partnership Agreement envisages countries working together to build a low-carbon economy.
2 Nov 15 - Companies representing a significant chunk of the Australian stock exchange will this week announce new commitments to fighting climate change.
---