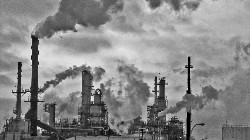 Monday - Twelve years ago, the American Petroleum Institute ran an ad in the print version of the Washington Post. "If you like $4 gasoline," it read, "you'll love the House Climate Bill."

Thursday - When Weatherly Oil and Gas filed for bankruptcy in February 2019, the company was walking away from several hundred Texas wells.
24 Feb 21 - United States federal energy regulators say they will examine threats that climate change and extreme weather events pose to the country's electric reliability in the wake of last week's deadly Texas freeze that left millions of people without power.

23 Feb 21 - Big companies donated to climate deniers in the US Congress—even while claiming to care about climate change. When those same lawmakers denied the results of the presidential election, the bill came due.

12 Feb 21 - The United States − per head of population perhaps the world's most prodigal emitter of greenhouse gases − can reverse that and have a carbon-free future within three decades, at a cost of no more than $1 per person per day.

28 Jan 21 - United States president Joe Biden has unveiled a radical change in direction from the Trump era by halting fossil fuel activity on public lands and directing the United States government to start a full-frontal effort to lower planet-heating emissions.

27 Jan 21 - The United States will "make good" on financial commitments to developing countries struggling with climate change, top US climate envoy John Kerry has told a summit of world leaders.
---
22 Jan 21 - Joe Biden has moved to reinstate the US to the Paris climate agreement just hours after being sworn in as president, as his administration rolls out a cavalcade of executive orders aimed at tackling...
10 Nov 20 - United States president-elect Joe Biden promises to usher in a more confrontational era of climate diplomacy, putting a spotlight on major emitters slow-walking climate action
9 Nov 20 - Joe Biden is heading to the White House with a promise to overturn four years of US retreat on climate action.
9 Nov 20 - The election of Joe Biden as president of the US could reduce global heating by about 0.1C, bringing the goals of the Paris agreement "within striking distance", if his plans are fulfilled, according...
6 Nov 20 - The race for the White House could take days or weeks to settle, with big implications for prospects of tackling the climate crisis.
5 Nov 20 - The United States is now officially the only country in the world refusing to participate in global climate efforts, with the fate of the crisis hanging on the still uncalled presidential election.
21 Oct 20 - Oil company ConocoPhillips has a problem; it wants to pump 160,000 more barrels of oil each day from a new project on Alaska's North Slope, but the fossil fuels it and others produce are leading to...
16 Oct 20 - United States supreme court nominee Amy Coney Barrett refused to say whether she accepts the science of climate change, under questioning from Kamala Harris, saying she lacked the expertise to know...
15 Oct 20 - Every so often you come across a piece of writing so extraordinary that you cannot help but share it. One such piece is a sermon on global warming by American pastor John MacArthur.
9 Oct 20 - Former Federal Reserve Chair Janet Yellen said bipartisan concern over climate change could see the United States adopt a tax on carbon emissions, with the proceeds shared with households, if...
8 Oct 20 - In last week's United States presidential election debate, Donald Trump claimed: "We have now the lowest carbon. If you look at our numbers right now, we are doing phenomenally."
5 Oct 20 - Michael Mann, one of the most eminent climate scientists in the world, believes averting climate catastrophe on a global scale would be "essentially impossible" if Donald Trump is re-elected.
---