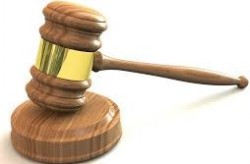 Thursday - The Government is looking for someone to build and run its new carbon-credit-auctioning platform.

Thursday - Greenhouse gas emissions from freight currently shipped through Auckland will increase 400 per cent if the portís operations are shifted to Northland, a new critique says.

Thursday - Ten years ago, the National Government was negotiating with the Maori Party for crucial votes to get its amendments to the Emissions Trading Scheme through Parliament.

Wednesday - The Governmentís environmental agenda is threatening the countryís mining industry and an orderly transition to a low-carbon economy, Bathurst Resources says.
Wednesday - Ten years ago, farmers were threatening to again drive their tractors to Parliament as they did in 2003.

Tuesday - Pig farmers say their industry is responsible for only a fraction of the countryís greenhouse gas emissions and should be treated differently from other agricultural businesses.

Tuesday - Ten years ago, Fonterra failed to persuade the Government to continue giving it free carbon credits, costing the cooperative more than $100 million.
---
Monday - Greenhouse gas emissions from farming will fall 12 per cent by the middle of the century even without a carbon price, Treasury says.
Monday - Anyone with an interest in climate change and carbon trading is probably flat-out trying to put together submissions on a host of Government consultations.
Monday - Ten years, a Parliamentary select committee was deadlocked over changes to the Emissions Trading Scheme so reported proposed legislation back to the House without changes.
15 Nov 19 - The Government is looking at setting a maximum bid lot to stop a handful of entities getting control of the New Zealand carbon market.
15 Nov 19 - The National Party says it supports farmers who marched on Parliament yesterday demanding a halt to the planting of carbon forests on productive farmland.
15 Nov 19 - Ten years ago, the International Energy Agency said carbon prices would need to double to make clean technologies economically viable, and warned that fossil fuel use would need to peak by 2020.
14 Nov 19 - New Zealandís zero-carbon legislation becomes law today.
14 Nov 19 - Since the Chinese market closed, 58 per cent of New Zealandís plastic waste now goes to Asian countries with weak regulations and high rankings as global sources of marine plastic pollution.
14 Nov 19 - Ten years ago, the Government was being warned that an Emissions Trading Scheme without a cap on total emissions could cost a lot more than officials were predicting.
13 Nov 19 - Climate-saving projects could get an easier run under the Resource Management Act, says a Government-commissioned panel of experts.
13 Nov 19 - Forestry bodies say the organisers of a protest in Wellington tomorrow over the planting of forests on farmland are misleading the public.
13 Nov 19 - Mercury is going ahead with plans to build the countryís largest windfarm.
---